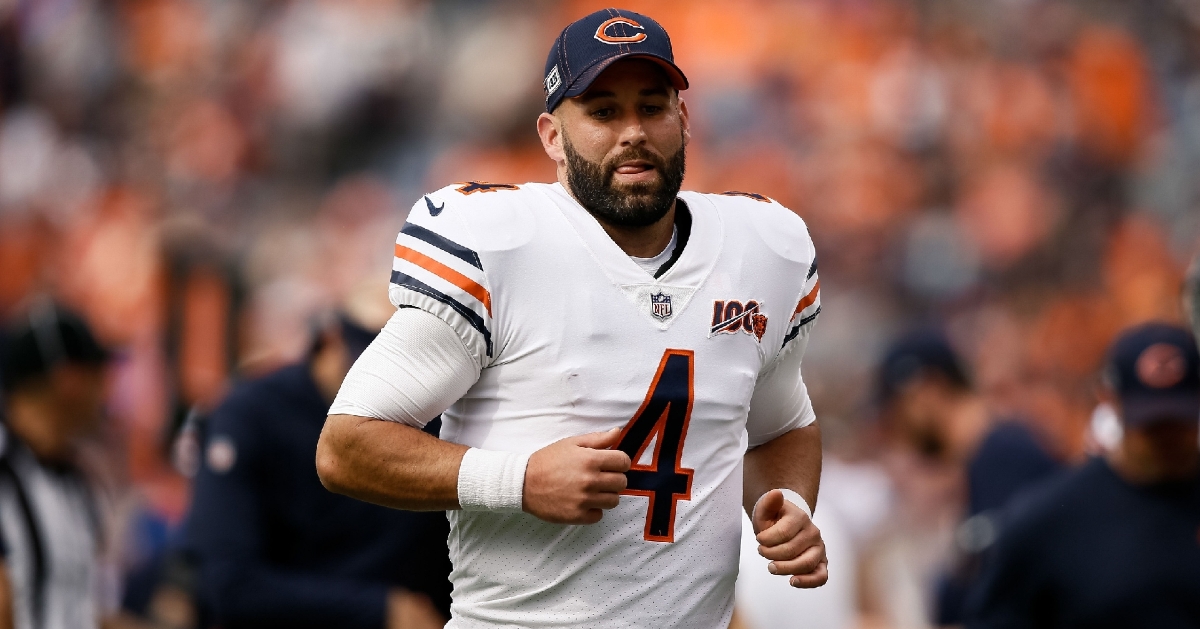 | | |
| --- | --- |
| Commentary: Is Chase Daniel a better option than Trubisky? | |
---
Whenever a team trades up in a draft, that means they usually see something in a player that not too many other people see. When that same team picks second and trades up to get to that spot most of the time, it is a move made to acquire a franchise player. That was exactly what the Bears did in the 2017 NFL draft when they traded up to get the Number two selection, drafting franchise quarterback hopeful Mitch Turbisky instead of taking potentially Pat Mahomes and Desean Watson among others.
Whatever it was that the Bears saw in Trubisky, no one will know, but right from the moment that pick was made, there was a ton of scrutiny as many people believed it was a reach pick for a quarterback with third-round grades. After an up and down start to his rookie season, Trubisky won the starting job in week five when Mike Glennon went out injured. He never looked back securing the job for good heading into year two.
With Matt Nagy at his side helping to groom him, Trubisky led the Bears to new heights a season ago as they finished with their first playoff appearance since the Jay Cuttler days giving fans a reason to hope for the future. Sure, the defense was the main reason for the Bears success a season ago, but Trubisky still played well enough to give the Bears 12 wins and an NFC North division crown.
2019 was supposed to be the year when we learned a lot about Trubisky as many people believe year three is when a quarterback starts to come into his own. However, through four games, Trubisky has shown minimal to give Bears fans optimism that he is their franchise leader moving forward. That leads me to the question, do the Bears have a quarterback controversy in 2019 as Chase Daniel played hero this weekend.
On paper and looking at physical tools, no one would argue that Trubisky is a better quarterback than Daniel. With 10 years of NFL experience under his belt, Daniel has been nothing more than a backup whom has started six career NFL games. However, talent doesn't always tell the story as some quarterbacks just fit better in certain systems. Could Daniel be the better option for this Bears offense?
We have seen this in several occasions the past few seasons as career backups have thrived in a specific system winning the job from a starter who was more talented on the field. The 2017 Vikings with Case Keenum and 2018 Philadelphia Eagles with Nick Foles are the most recent examples as both of those guys beat out more skilled quarterbacks but fit better with the team's offensive mindset during their tenures there.
Nagy did help develop Trubisky much faster than people expected last season, but he still has a long way to go. In Daniel's case, he spent time in Kansas City as Alex Smith's backup where Nagy was an assistant under Andy Reid. That helped Daniel not only get familiar with the system but made things an easy choice for him to move to Chicago as the backup in 2018. With all ready multiple seasons of experience in a Nagy run system, it was an easy adjustment for Daniel who showed us Sunday that he could lead this Bears team as good if not better than Trubisky.
Being a young quarterback in the Nagy system is extremely difficult because of how complex things are. That is what makes Daniel such an asset to this team. Not only does he have three more years of experience in this system, he has learned it a few different ways so understands all the fluidity inside and out of the offense. With Trubisky injuring his shoulder in the first quarter Sunday, Daniel stepped in and not only looked like a starter, but a starter that has been running this offense for years as he churned up the Vikings defense for three quarters.
With uncertainty about how severe the injury to Trubisky is, the Bears will most likely lean on Daniel this week as he prepares to take first-team reps for the first time all season. The big question will come later down the road when Trubisky returns as to where the Bears should turn to at the quarterback position.
If Daniel struggles to get things done, then the choice to plug Trubisky back in would be rather easy. However, let's say Daniel plays the next four weeks and the Bears go 3-1 or even 4-0. Would you stick with the hot hand in Daniel or would you go back to Trubisky knowing you used a first-round pick on him. This answer is a lot harder than you might think but at some point, you would have to ride Daniel out especially if the team is winning.
Not only did Daniel come into a difficult situation against a great Minnesota team, but he also made their defense look bad without any first-team reps during the week. What do you think will happen should he get all the first-team reps this week? Not only would the offense continue to flourish but the chemistry with each player on the offensive side of the ball would increase also.
Just look at how the Bears offense looked with Daniel on the field Sunday. They looked more comfortable with him under center and it seemed like things flowed more fluidly than when Trubisky was taking snaps. It almost reminded me of the Foles/Wentz situation last season where Wentz struggled to keep the Eagles afloat only to have Foles step in the final three weeks of the season to take them to the playoffs. I get that same sense with what Daniel has done in his few starts he has made with the Bears.
Have a reliable backup is always a good thing, but when that backup emerges as someone who could lead your franchise then the situation becomes all that trickier to handle. Daniel is a veteran and at this point in his career, he understands that if he goes back to the bench it must be for the best of the team. However, if the Bears continue to build off what Daniel did in his performance this week, Chicago may have a big question to answer this offseason regarding who should be the quarterback of the future.
Victory Monday! Talk about a TEAM WIN in all 3 phases…we heard you last night Soldier Field!! Best part of the night for me was watching P-Man run wild after the game where "Dada Play!" pic.twitter.com/Q59hXwdVo7

— Chase Daniel (@ChaseDaniel) September 30, 2019
Movin' the chains. ?

Tom Thayer breaks down how @ChaseDaniel effectively ran the offense vs. Minnesota.
??: https://t.co/7MeOkDxLcF pic.twitter.com/mKurbDb6Lv

— Chicago Bears (@ChicagoBears) October 1, 2019
?? Snap Judgement: The @ChicagoBears are better with Chase Daniel at QB. ??

"I think so at this time." ??

??: @DCarr8 | @NFLTotalAccess pic.twitter.com/GYUKHMgY1U

— NFL Network (@nflnetwork) October 1, 2019