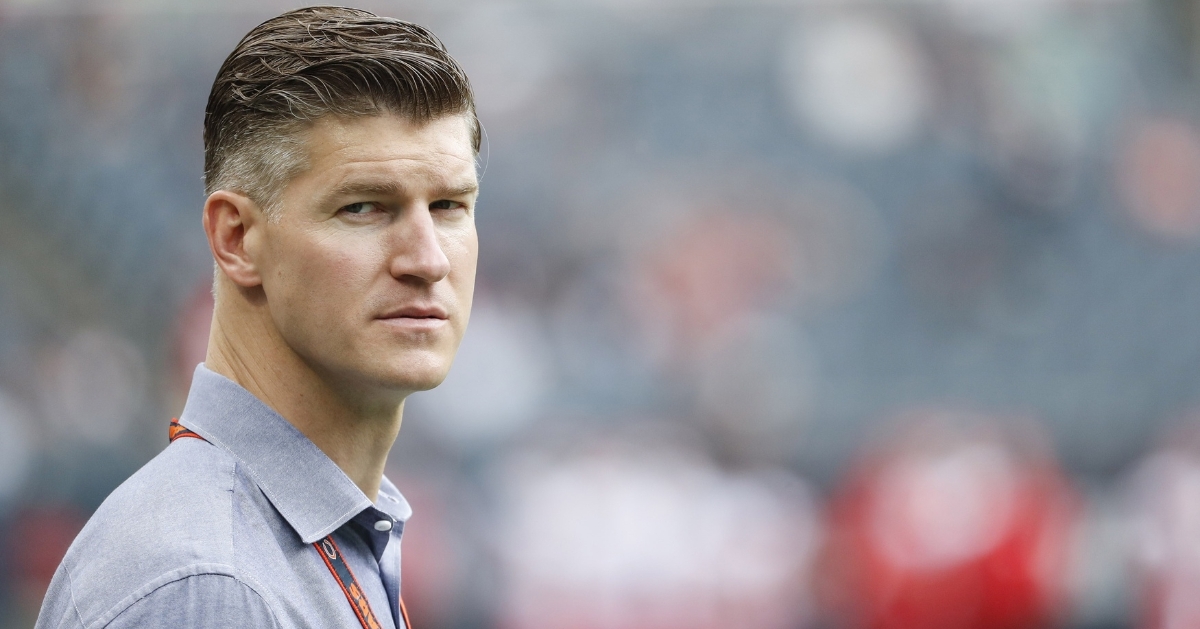 | | |
| --- | --- |
| Commentary: This could be Ryan Pace's last stand | |
---
| | | |
| --- | --- | --- |
| Friday, December 17, 2021, 10:06 AM | | |
With four weeks left in the 2021 NFL season, I think we can all assume that the Bears will not only miss the playoffs, but are going to finish with a losing record for the first time since 2017. That tells you a lot when you look at Matt Nagy and his coaching tenure, but up until this season, he never had a losing season.
For the better part of the last two years, Nagy has been on the hot seat, and after watching how things went down after their 3-2 start, where they are 1-7 since he needs to go. However, what about the man who hired him in Ryan Pace? Much like Nagy, Pace has seen his fair share of criticism over the last few years, and plenty of fans want him to go just as much as Nagy.
At this stage, Pace isn't in as much hot water as Nagy is, but that doesn't mean his position as GM is locked in stone beyond this season. For the Bears to get back to being one of the better teams in the NFC and to consistently contend, they need a complete overhaul in the front office, and that goes from the coaching staff on up.
If that is the case, that would mean that Pace and Nagy would both be gone, but there are some conflicting reports that Pace would possibly be offered the opportunity to stay on in some form of an advisory role like John Paxson did with the Bulls. Many Bears fans have said they would love to see Louis Riddick hired as the next GM, and I agree that he would do a phenomenal job.
However, looking at how cushy his ESPN gig is right now, it might be hard to pry him away from the television side of things and into a GM role, even if that is a dream come true. Rick Smith is another name that is starting to pop up as a possible replacement. The time has come for the Bears to hire a new team president and overhaul the front office for this team to become serious threats for the first time in nearly 40 years.
Chicago needs to find someone who is not only an intelligent person when it comes to the business and financial side of things, but someone who understands the game of football both inside and out. They also need to make sure their next hire wants to be a winner.
Smith is not only a two-time Superbowl champion as a coach, but has been around winning organizations in the past and knows what it takes to win. From 2000-2005 he was the director of pro personnel for the Denver Broncos after previously serving as an assistant on that staff. He then became the general manager of the Houston Texans in 2006 and held that position through the 2017 season. Say what you want about the Texans now, but when Smith was running the show, they were a consistent playoff-caliber team that not only won the AFC South Several times but had the pieces in place to be a Superbowl team.
During his time as GM, Smith was also holding the Executive VP role for six seasons, so he comes highly regarded with a successful front office
background behind him. Smith has been out of the game since 2017, but for any team that is considering retooling their front office, Smith has to be on their list of guys to consider and talk to.
When you look at his tenure with the Texans, he was not only responsible for drafting J.J. Watt, but also Deshaun Watson and DeAndre Hopkins, as those players were the building blocks to what was an impressive seven-year run for the Texans. Smith spent 12 years as the decision-maker in Houston, where the Texans went 92-100 during his time. However, nine of those 12 years saw the team finish .500 or better as there were some lean years mixed in with that success.
Despite the success he had, which included four playoff appearances in six years, a power struggle started to take place inside the organization. Add that to his wife battling breast cancer, and Smith felt it would be best if he took a leave of absence before ultimately being let go by the Texans. Since his departure from Houston, you can see the position the Texans are in so clearly he was not the problem, and more so the solution to their success.
Now on the open market in terms of a GM or President of Football operations candidate, it would be interesting to see if Smith wants back in and if he would like to take over another struggling franchise. Unlike Houston, Chicago comes with rich history and is in one of the biggest markets in the country. Players have always liked to play with or against the Bears when they are winning, and that is what the next president needs to focus on.
The focus should no longer be about building for the future, but this team has the talent to win and need to focus on that. Once the winning starts, more players will come to Chicago as players often sign with winners. This franchise hasn't done much over the last decade, and it would be a breath of Fresh Air to have someone come in with a winning mindset and trickle that down the line.