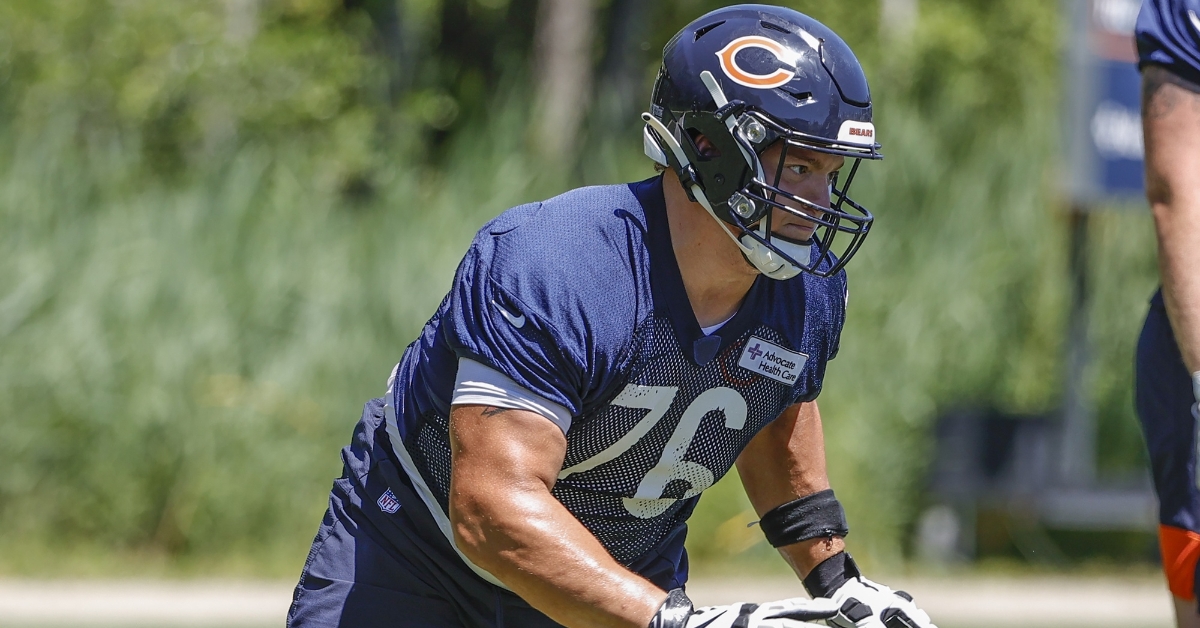 | | |
| --- | --- |
| Bears need to heal up, get Tevin Jenkins ready, and more | |
---
| | | |
| --- | --- | --- |
| Friday, November 12, 2021, 1:16 PM | | |
For the first time this season, the Bears are guaranteed not to lose this weekend. They are also guaranteed not to win either as this will be the Bears bye week. It couldn't have come at a better time as Chicago is sitting at 3-6 on the season and riding a four-game losing streak, so it is a good time for them to step back and clear their heads.
Chicago is also just 1.5 games out of the playoffs at this point, so even without playing, they may find a way to close that gap depending on what happens during the weekend. As bad as Chicago has played this season, there is still a glimmer of hope that this team will turn it around, and they will have seven more weeks after the bye to get that done.
This is one of the more crucial bye weeks in recent memory for the Bears as the future of Ryan Pace and Matt Nagy may hinge on how this team comes out for the final seven weeks of the season.
Here are some things the Bears need to accomplish during their bye week:
Get Tevin Jenkins ready
After drafting Tevin Jenkins in the second round of the 2021 NFL draft, it was considered one of the steals of the draft, given he was graded as a first-round talent. Expected to play a significant role this season and for many seasons, Jenkins has yet to suit up for Chicago as he has been dealing with back issues since training camp.
It appears he is on the verge of returning as Jenkins has not only been on the practice field the last two weeks, but is starting to get worked into game action. Given the status of Jason Peters and his age, the Bears will need to replace him at left tackle following this season. Jenkins is the one who they want, and he needs as many game reps as possible.
No one knows when or if Jenkins will get on the field this season, but Chicago needs to consider it if he is healthy and ready to go. This is an excellent time for him to continue working and getting reps, as this week off is an extra week of preparation for him.
We have a Tevin Jenkins sighting, he does exist ?? @GBraggsJr23 pic.twitter.com/Ak7bCcVpv6

— Joe Castleman (@sportsnut83) November 9, 2021
Get healthy
The NFL bye week period has never made sense to me. Some teams have a bye in week five, while others need to wait until week 12 or 13. There is no continuity between anything, and often it gets frustrating because specific teams are playing more consecutive games than others. One solution could be having a universal bye week in either week nine or 10 where every team has a bye week that week and can continue on their business.
This season worked out perfectly for the Bears as they earned a bye week at the halfway point of the season. Over the last few weeks, the Bears have seen several of their big-name defensive players go down with injuries as Khalil Mack, Eddie Jackson, and even Akiem Hicks, at times, were missing time due to injuries.
Considering the Bears defense is a far cry from what it once was, losing anyone of your better defensive players hurts, and it certainly exposes Chicago for who they are. For Chicago to make the postseason, they need to get healthy, and this is the perfect time for all these players to get some much-needed non-contact rest and focus on getting healthy for the remainder of the season.
No changes for the #Bears in terms of injuries last night. ARob has a hamstring injury and Akiem has an ankle injury.

— Zack Pearson (@Zack_Pearson) November 9, 2021
Prepare for a strong second half of the season
Unlike Baseball, or basketball where you are playing at least 82 games, football is different as an entire season is comprised into a 17-game sprint. That means that one loss here or there could ultimately seal your fate as a playoff team, as you may not have enough time to make up that loss.
Chicago once again is finding themselves in that situation as they have dropped several games this season they shouldn't have and have fallen out of playoff contention because of it. However, if I could offer a silver lining, the first half doesn't matter anymore as this Bears team can make some noise the second half of the year.
With the schedule getting easier, Chicago will use this bye week to get healthy, recharge, and focus on the second half and the task at hand. The Bears know they need to win a minimum of five if not six games over the second half of the season to position themselves as a possible playoff team.
Is that difficult to do? Yes, but the Bears have the talent to make a run if they can get out of their old ways. Justin Fields showed his true potential on Monday night. The defense, although struggling, is missing some key pieces, and the offensive line appears to have help on the way as Jenkins is getting close to returning.
This tells me that the Bears are having things fall into their lap, and they control their destiny. As much as fans want Nagy and Pace to be shown the door, that may not happen if they put together a strong second half to make some noise. Look for a much different team out of this bye week as you will have a coach on life support coaching for his job the rest of the way.