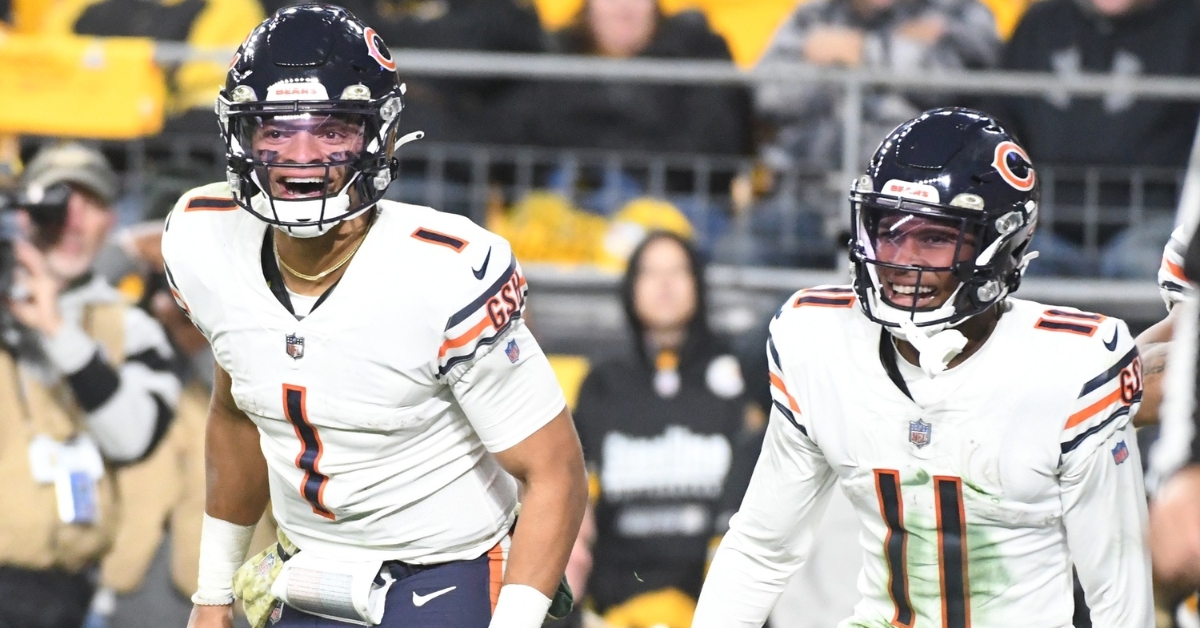 | | |
| --- | --- |
| Bears News: Darnell Mooney has future stardom written all over him | |
---
When the Bears added Allen Robinson to their Wide Receiver core four years ago, he was expected to be the team's no. 1 receiver. Robinson didn't disappoint across his first three seasons, averaging close to 100 receptions and more than 1000 yards in his first three seasons. It was the type of play you would expect from a No.1 and something the Bears hadn't had since the Brandon Marshall and Alshon Jeffrey days.
However, over time, you could see frustration setting in with Robinson, and ironically it wasn't a result of the team's poor play. Robinson was playing at No. 1 receiver level and was putting up numbers in line with some of the best in the game. When he signed with Chicago, he signed for a bargain, but had to prove he was capable of living up to that No. 1 billing.
After doing that for several seasons, Robinson grew unhappy with his contract situation and expected to get paid like a No. 1 WR. Although he does have a point that he deserved the money, the Bears also had him under contract for this season, so Robinson needed to honor the original contract before seeking a new deal.
That didn't seem to sit right with him, and he made it clear that he wanted out of Chicago. Ultimately, Robinson took the franchise tag to return to the team this season, but the veteran receiver is no longer happy in Chicago and will all but likely be with a new team next season. As difficult a pill as that will be to swallow, it may be the best decision for both parties as his lack of production this season is a concern leaving fans wondering if he is performing poorly on purpose.
Once Robinson leaves, the Bears will be looking for a new No. 1 option and may target one via free agency or the draft. However, if things continue at their trajectory, the Bears will not need to look for a new No.1 as they have their future No. 1 guy on the roster right now in Darnell Mooney. Drafted in the fifth round out of Tulane last season, Mooney showed plenty of potential as a rookie emerging as the team's No.2 by the season's end.
His mix of speed, great hands, and pristine route running made him a reliable target that Mitch Trubisky trusted in key moments down the stretch. Now in his second season, Mooney has not only made significant strides to improve himself, but he has emerged as the team's No.1 threat this season which could be a sign of things to come in the future. Not only does his 36 receptions lead the team, but so do his 450 yards and two touchdowns.
Which receivers are defeating single-man coverage the most?

56% - Calvin Ridley
54% - A.J. Brown
53% - Keenan Allen
51% - Kalif Raymond
51% - Jakobi Meyers
51% - Darnell Mooney
51% - Odell Beckham Jr.
51% - Cooper Kupp
50% - Tee Higgins
50% - Marquise Brown

All routes (min 50)

— Context Matters (@dwainmcfarland) November 12, 2021
What looked to be a reliable No. 2 when it comes to Mooney has quickly emerged into a future star as he has become Justin Fields favorite and most trusted option on the field. That bodes well for the future as Fields will most likely be with Chicago a long time, and Mooney could follow if this connection holds true. Finding receivers in the draft is easy, but finding trusted receivers in the late rounds is not an easy task.
Darnell Mooney's emergence as the #Bears WR1 this year is a big development for several reasons. The on-field stuff is obvious -- and he's only getting better. But the fact he's on a 5th-round rookie contract through 2023 gives Chicago HUGE cap flexibility moving forward.

— Bryan Perez (@BryanPerezNFL) November 17, 2021
For all the hate and criticism that Ryan Pace has taken for the moves he has or hasn't made, the one thing you must give him credit for is the ability to find talent in the later rounds of the draft. Not only was Tarik Cohen a mid-round pick, but guys like David Montgomery and Mooney appear to be middle-round steals who have a bright future in Chicago.
Mooney, in particular, reminds me a lot of the path that Stephon Diggs took when Minnesota drafted him. The former Maryland start was one of the more intriguing playmakers in the draft class, but a rash of college injuries sidelined him for a chunk of his college time, forcing him to fall to the fifth round. When the Vikings selected him, their goal was to use him as a special teams player, but a strong preseason landed him as the team's No. 3 receiver to open the season.
After sitting the first few weeks with an ankle injury, not only was Diggs unleashed, but he quickly rose up the depth chart to become the team's No. 2 behind Adam Thielen. A few seasons later, Diggs was now the team's no. 1 and has become one of the top five receivers in the league with the Buffalo Bills.
Mooney is talented like him and has improved so much from year one to year two that you have to like his chances in the future. He hasn't even scratched the surface of who he can be yet, but Mooney will be the guy in Chicago going forward, given the connection he has already established with Fields.
"11-6 sounds really, really good," Mooney told reporters Monday. "We can do it. There's nothing in front of us that we can't handle, so we just gotta go out there and do it."