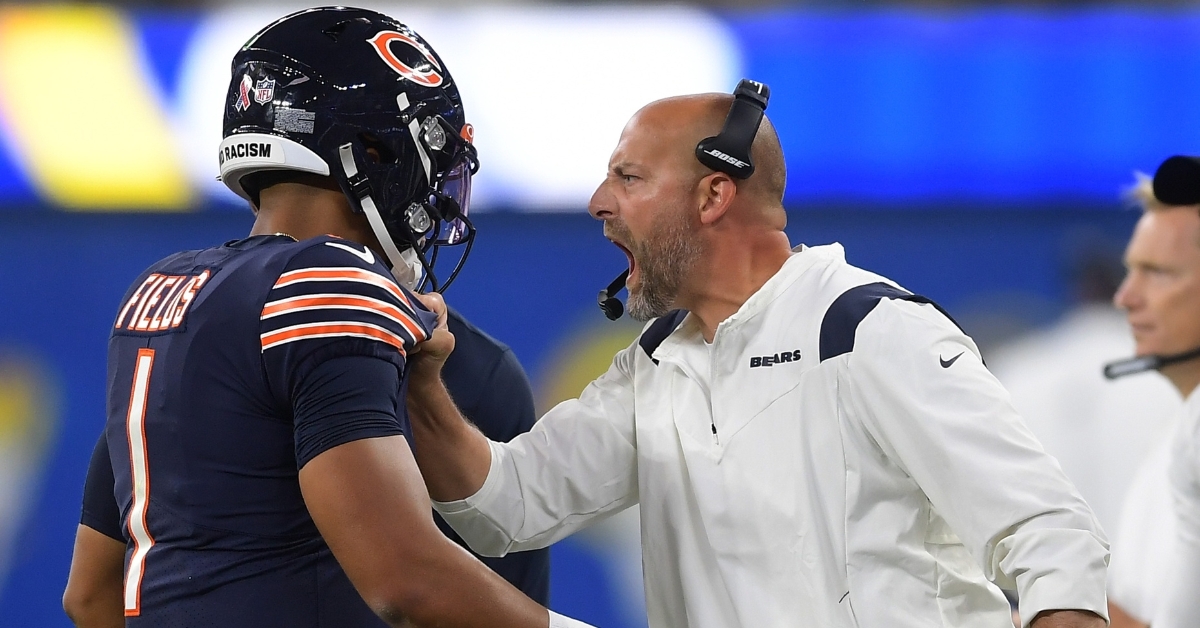 | | |
| --- | --- |
| Dissecting the Bears' ugly loss to Rams | |
---
| | | |
| --- | --- | --- |
| Tuesday, September 14, 2021, 1:00 PM | | |
Now that fans have had more than 24 hours to recover from the Bears loss on Sunday night let's dive into things a bit more. For starters, despite the results being less than appealing, there were plenty of things to like while watching that game.
For starters, fans got to see Justin Fields on the field for the first time in a regular-season game, and despite limited plays, he did score a touchdown. That shows you that Matt Nagy won't hesitate to use Fields even if special packages are designed for him.
The running game was also a pleasant surprise, especially during the first half. David Montgomery ripped off a 40-yard run on the opening possession and had his way with the Rams defense early on. He needs to continue to shoulder a lot of the load offensively this season if the Bears want to reach the level they want to do and take pressure off Andy Dalton and that passing game.
Although not great, the offensive line did a decent job against the Rams despite Dalton running for his life at times. All you need to do is point to how they contained Aaron Donald throughout the game. Donald still made his presence felt throughout the duration of the game, but when you look at how badly that line performed during the preseason, it was a pleasant surprise to see them keep him in check.
For the Bears' offseason this year, there was a lot of anticipation building for that week one contest against the Rams, only to see them fall flat on their face. I understand that this season is 18 weeks and 17 games, so there is still plenty of time left, but watching the Bears play on Sunday should have fans worrying a little bit.
Perhaps the most concerning thing of all is the defense and, in particular, the secondary unit of this team. Ever since Vic Fangio left to become the
Broncos head coach, the Bears defense has been good, but not at the level they once were. Chuck Pagano filled in as the team's defensive coordinator the last two years, and despite having his defense consistently in the top 10, the Bears felt the need to part ways with him in favor of Sean Desai this offseason.
A Fangio disciple, Desai was hired given his familiarity with the Bears defense and his experience working under Fangio, and knowing what works and what doesn't. If Sunday night is an indication of how things are going to go defensively, the Bears are in serious trouble. For the most part, they did an excellent job against the run, but the Bears couldn't get any pressure on the QB, and the secondary got torched.
That is a serious concern when you are carrying only four cornerbacks on your active roster, especially when looking at some of the receivers the Bears will see this year. What is even more concerning is the lack of impact plays Khalil Mack had on Sunday, and that is going back to last year. Mack had a good year last year, but not a great year, and hasn't come close to the same player he was in 2018. The Bears gave up a lot for him to join this team, and if his production doesn't improve, it is looking like a bad deal.
Another area of concern on the defensive side of the ball is the sudden decline of Eddie Jackson. Once a top-three safety in this league, the Bears elected to give Jackson a lucrative contract extension, and since then, it seems like he has checked out. There were countless plays on Sunday that left fans scratching their head to the point of what he was thinking. He is the veteran in that secondary group who is supposed to be the leader and looked like anything but a veteran on Sunday. The Bears need the Jackson of old, or they are in serious trouble.
While the lack of defense was the biggest story, we can't forget about the offense, especially in the running game. After gashing one of the best rushing defenses in the NFL in the first half, Montgomery was non-existent in the second half, which hurt the Bears. A big reason for that was a 13-point deficit this team was facing which forced Nagy to abandon the run sooner than he would have liked.
However, Nagy continues to prove he has no business being a play-caller in this league. After being billed as one of the best offensive gurus and one of the better minds that Andy Reid has ever worked with, he has yet to show that it is putting the Bears behind the eight-ball in Chicago. When you look at the success he had in Kansas City and Philadelphia, for that matter, I think most of it was personal as opposed to coaching. Nagy has been trying to build an offense like the Chiefs, but that simply isn't possible to do in Chicago. The sooner he realizes it, the better off he will be, and that may be the wake-up call he needs to give up play-calling duties in favor of Bill Lazor.
Sticking with Nagy and the offense, the chatter for Fields to start is getting louder and louder, especially after a lackluster performance by Dalton. There were moments when Dalton looked good and made some solid throws, but while interception in the red zone summed up the night for Chicago as that was a horrible decision.
We saw Fields get on the field for a few plays as the Bears came into that game with specific packages designed for him. Well, Chicago better start creating more plays for Fields because Dalton isn't the answer. That may mean that Fields will be the starter sooner rather than later, which could be good news for Chicago and bad news for defenses.
Sean McVay said it himself when he was talking about his team preparing to see Fields. It would be naive for any team to think Fields won't be used during games even if he is not the starter. Fields gives the Bears the best chance to win not only now, but in the future, and it is mind-boggling that Nagy is being as patient as he is when it comes to pulling the trigger on him.
I understand wanting to be patient and make sure he is ready, but the only way to know if he is ready or not is to let him play in regular-season action. When you consider that the Bears were looking to trade for Russell Wilson and Deshaun Watson over the winter, Fields is a similar quarterback in terms of the skillset he brings to the table. Nagy has to know that Fields would have a similar game plan to those two, so why wasn't one of those put in play before signing Dalton.
With a home game against Cincinnati coming up this weekend, Dalton may get one more crack as the starter, especially against his former team. Should he win and play well then, he stays the starter, but should he lose or win and play poorly, the Bears have no choice but to go with Fields. This is looking like 2017 all over again when the Bears signed Mike Glennon in the offseason only to draft Mitch Trubisky No. 2 overall.
Glennon started the first four games of the season before getting hurt, and then it was Trubisky's job. I see a similar thing happening this season minus the injuries. Dalton is the Bears starter for now, but don't look for him to be the starter in week five or six. For all the bad this team endured this weekend, most of their issues are easy fixes. Now they have 16 games to get back on track and make something happen.