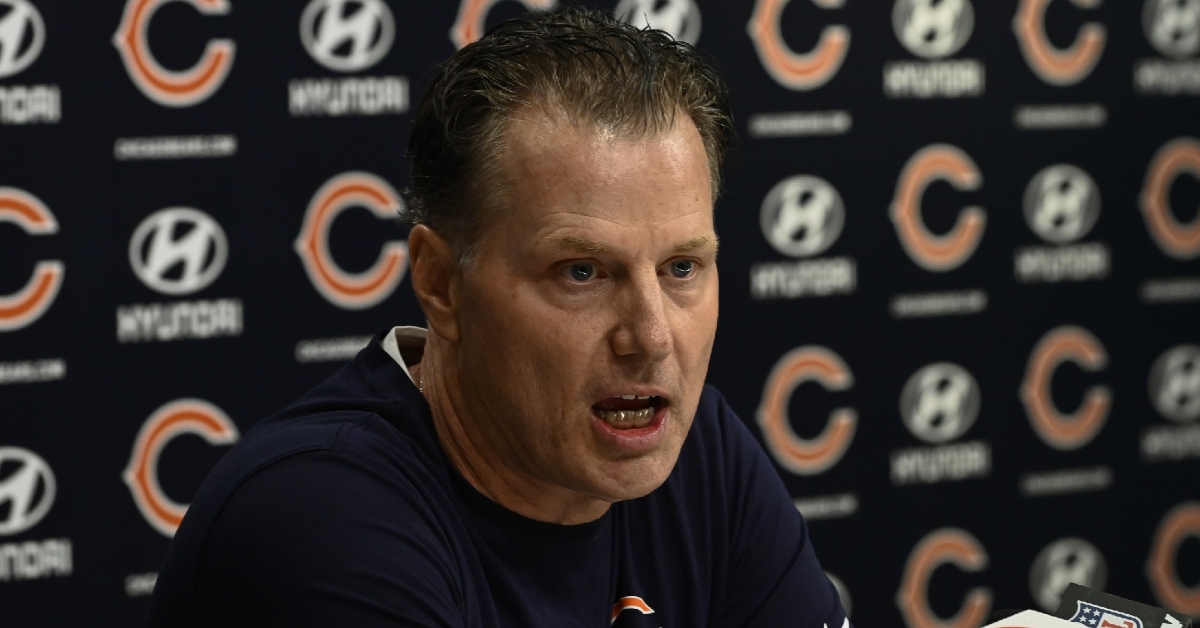 | | |
| --- | --- |
| Eberflus still confident in Bears passing game | |
---
| | | |
| --- | --- | --- |
| Thursday, October 6, 2022, 9:32 AM | | |
If you thought the last few years were brutal offensively, fans haven't seen anything yet. We are four weeks into the NFL season, and the Chicago Bears are making a ton of NFL history, just not in a good way.
Despite being one of the better rushing teams in the league, which has propelled guys like David Montgomery and Khalil Herbert to have big games, the Bears passing game has taken a significant step backward. So much so that the Bears rank dead last in every passing category and are on pace to throw for the fewest yards in a season. Not exactly an ideal situation when you have a top 15 QB in Justin Fields leading this offense.
You can point to many reasons why there have been struggles, and that starts with the lack of a true No. 1 WR, a mediocre offensive line, and the lack of WR depth overall. Throw in the first-year offensive coordinator calling the plays in Luke Getsy, and this is something that is going to take a while to get right. Some have said that Getsy is trying to have Fields play like Rodgers, and if that is the case, he needs to stop doing that.
Fields is no Rodgers, nor will he ever be, so trying to mold him into that type of player is not smart. Instead, this offense needs to start playing to Fields and his strengths by rolling him out of the pocket and letting his athletic ability take over. Despite all the early season struggles, Eberflus is very optimistic about the passing game's direction.
As a head coach, what are you supposed to say, but when you are a fan watching all this unfold, how can you think there is any optimism left in the passing game?
According to NBC Sports Chicago, Eberflus said, "Loved the way Fields was throwing the ball downfield against the Giants, which is something he didn't show too much his first three games."
After being held to under 50 yards receiving in his first three games, it was nice to see Darnell Mooney finally show up as his 56-yarder helped spark a 93-yard day. Mooney isn't the only one who is off to a slow start, as TE Cole Kmet has been under a microscope all season. Despite minimal yards on Sunday, he did have three catches, so it was also nice to see him getting much more active on the offensive end.
If the optimism quote wasn't a head-scratching quote, why not look at this one from Eberflus, who said, "The game Kmet had is growing proof that that passing game is going and good things are coming in the future."
To take it a bit further, Justin Fields may have delivered the most puzzling quote of them all, and Bears fans do not know how to react to it.
When asked why the Passing game wasn't working by Chicago Sun-Times reporter Jason Lieser, Fields's response was, "Who said it isn't working?" Lieser then referenced the stats as to why it wasn't working, and Fields doubled down with "Stats don't Matter."
In a way, he is right, stats typically don't matter, but if he thinks the passing game is working after four weeks, the Bears have bigger issues to worry about. That comes off the wrong way and gives fans a sense that he is cockier than anything and isn't willing to work to get better. I know that is not the case, but he needs to be careful about how he words his responses when asked difficult questions.
Fields growth as a player is vital to this team's success, and through 14 games as a starter, there hasn't been much growth. That is becoming a concern for Bears fans everywhere as he is starting to fall into a common trap that no one wants to be a part of.
No one will argue that Fields is perhaps the most athletically gifted QB in the game apart from Lamar Jackson. However, athleticism can only get you so far if you can't make the standard throws. We have seen from Ohio State QBs in the past that they often put up godly numbers in college because they tend to have the best talent around them.
Once they get to the NFL, that changes as the talent pool is far more spread out. To take matters further, there has not been an Ohio State QB that has panned out at the NFL level, and that has to be a concern for Bears fans. Look, I am not saying to give up on Fields just yet. However, if you don't see significant improvement the rest of this season and into next, you have to wonder what the Bears thought process will be when drafting QBs.
The Mitch Trubisky pick was a bust, Fields hasn't panned out quite yet, and the last great QB the Bears had was Jay Cutler, who was acquired in a trade and wasn't that great. If the Bears have had more success on the trade route when it comes to QBs, they may go that route again should Fields continue to struggle.