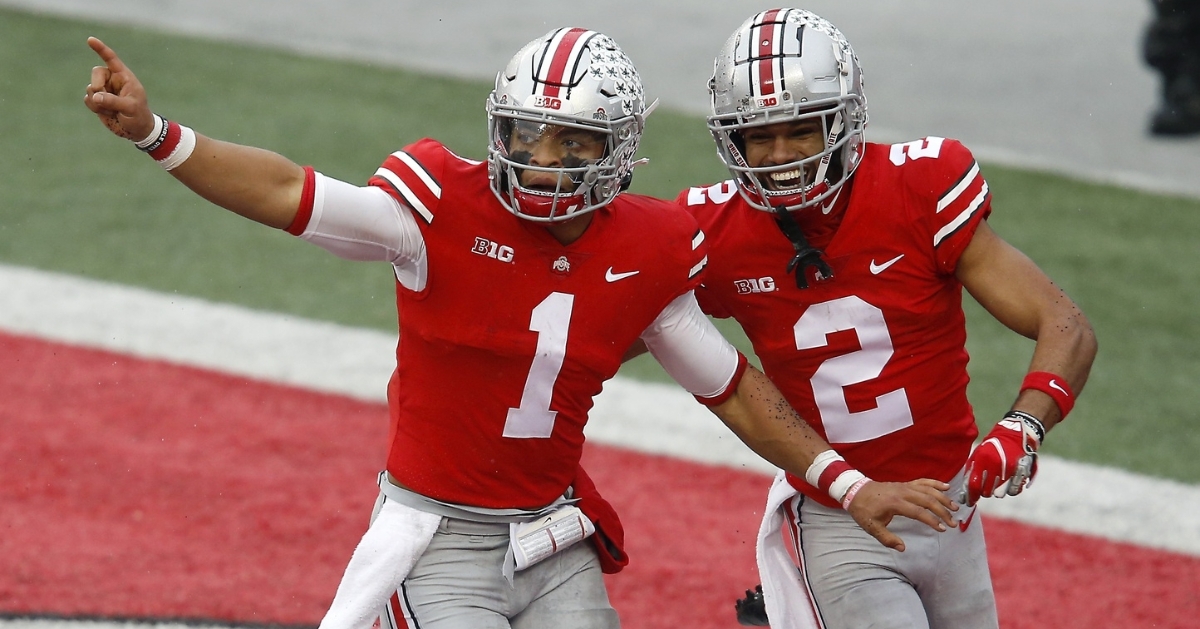 | | |
| --- | --- |
| Bears News: Fields to Olave 2.0 is fun to think about | |
---
| | | |
| --- | --- | --- |
| Thursday, March 3, 2022, 9:01 AM | | |
Finding success at the NCAA level is hard enough. Finding success at the NFL level, now that is an entirely different story. Soon-to-be second-year man Justin Fields found out the hard way that having success at the NFL doesn't come easy, and it often is a cruel journey to get there.
After being one of the most dynamic QBs at Ohio St. for two straight seasons, Fields entered the NFL draft, where the Bears made him the No. 11 overall pick. There were plenty of times during the season where Fields showed everyone what he was about and why he very easily could be the franchise QB this team is searching for. However, there were also times when he struggled as the rookie growing pains were on full display.
A big reason for his success at Ohio St. was a cast of offensive weapons that made tons of plays. While most of those weapons are not in the NFL to this point, we are starting to see some of them coming into the league, and one of his favorite targets has his sights set on Chicago. For those who don't know, we are talking about OSU WR Chris Olave, who has made it clear he wants to play with Fields again.
Not only did these two hook up for countless big plays during Olave's time with the Buckeyes, but they had a connection that many players have. That type of connection may translate well at the NFL level as we are starting to see college Qbs and Wars team up at the NFL level. It all started with Terry McLaurin and Dwayne Haskins in Washington.
That was followed by Jaylen Waddle and Tua with the Miami Dolphins, and even Jamar Chase and Joe Burrow have proven that you can have the same type of college success at the NFL level. With Olave set to enter the NFL draft, would Chicago entertain the idea of reuniting him with Fields, and how will they play together at the NFL level?
With the NFL combine set to begin in the coming days, this is the time when NFL prospects aim to impress scouts in hopes of improving their draft stock. A second-round grade by most, Olave has first-round talent and could look to cement himself as a first-round caliber player this weekend. Although that is a good thing for him, the Bears do not have a first-round pick, so the second round is their best shot unless they make a trade to get more pics.
Obviously, Olave wants to be selected as high as possible. However, he has touched on the discussion of him and Fields playing together, and you can tell he is thinking about it. Both men complement each other very well, and the chemistry these guys had when on the field is not coachable and would instantly make the Bears better on the offensive end.
Not as explosive as some of the Buckeyes' other players, Olave had a monster season with Fields, and this is a match made in heaven should it happen again. During Field's first year, Olave was one of his favorite targets as he hauled in 49 passes for 849 yards and 12 scores. One year later, those numbers were slightly less, but with 50 receptions, 729 yards, and eight scores, Olave still proved to be a valuable asset and one who would produce when on the field.
With the success of Chase and Burrow this season and seeing how Waddle and Tua played together, you can't help but love the possibility of this happening in Chicago. Fields established a great connection with Darnell Mooney this season, but it seemed as if he couldn't trust anyone outside of him.
Olave would not only give Fields another playmaker, but would give him someone to trust alongside Mooney. Although the Bears will not be the only team in on Olave, initial mock drafts have the Bears landing him, so there is that to think about. This team is eager and hungry to get better on the offensive end, and this could be one way to get that done.