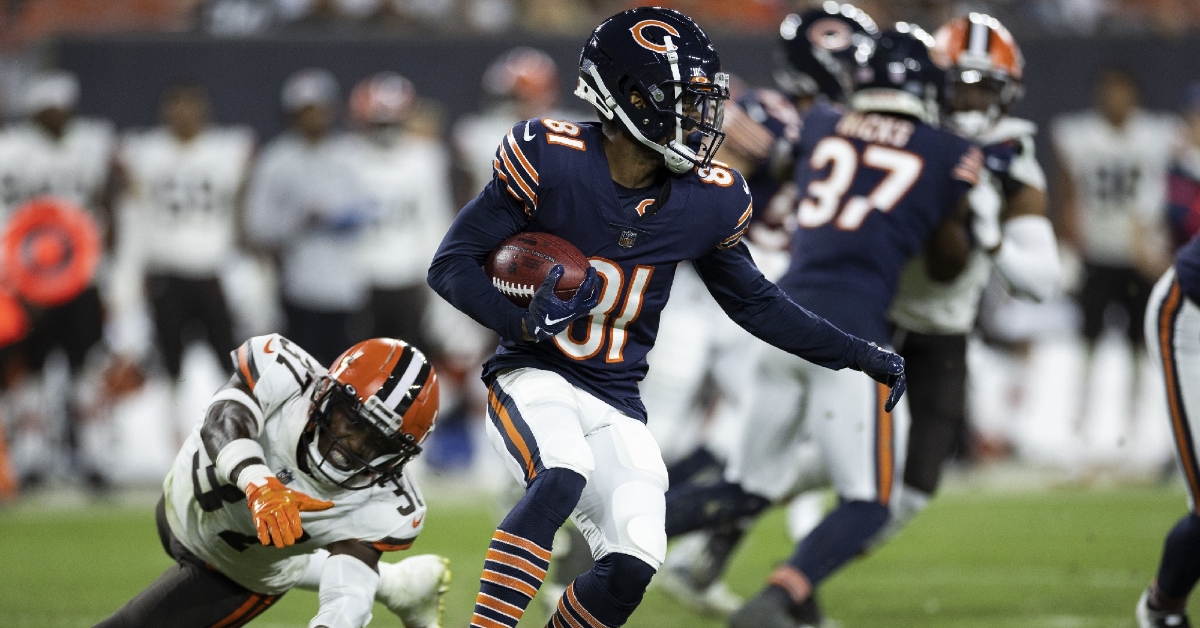 | | |
| --- | --- |
| Former Bears players eager for shot in XFL | |
---
| | | |
| --- | --- | --- |
| Tuesday, December 13, 2022, 9:00 AM | | |
Now that the Bears are officially returning from their bye week, it is the stretch run of their NFL season. With four games left to play, it would be nice for this team to win some games and gain momentum heading into the 2023 season. However, as an organization, you also want to secure that No. 2 pick in the draft to help you build towards the future.
Looking at the Bears final four games, you could argue that all of those games will be losses as things will get tough for this team.
In today's column, I decided to take a step away from the Bears and take notice of some former Bears that aim to continue their NFL careers.
These players played with the Bears in the past, but for whatever reason, they could not last with the team long-term. Because of that, their NFL careers have been hanging on by a thread, and they are now looking to have one more shot at salvaging it. With the XFL draft officially complete and returning this spring, NFL teams will soon have an opportunity to watch these teams and give some of these players a second chance on an NFL roster.
Kevin Tolliver (CB): The primary goal of the XFL is to give players some exposure in hopes of landing on an NFL team's practice squad. For Tolliver, that is what he is aiming to do as he is the most notable Bear on the list of XFL players. Tolliver played in Chicago during the 2018-19 seasons, but had a minimal role at best while on the team.
Across those two seasons, he played in 27 games, with two coming as starts, and registered 32 tackles with four passes defended. Tolliver was drafted in the 17th round by the Houston Roughnecks and will look to prove he has what it takes to be given another shot.
Kevin Shaa (WR): If this name sounds familiar, it may be because Shaa was a part of the Bears roster this spring. The former Liberty University standout, Shaa, was an undrafted Free Agent pickup by the Bears and turned a few heads during training camp.
Given what he showed in camp and his overall potential, Shaa seemed like a lock to land on the Practice squad before ultimately being released. Now, he will look to take his talents to Seattle, as the Sea Dragons drafted him sixth overall in the first round. When you are taken that high, someone must believe in your abilities, and now he is eager to show the Bears made a mistake by letting him go.
While those are the two most prominent names on this list, several other former Bears were taken. Some may ring a bell, while the others may have fans asking who these guys are. CB Dee Virgin was added to the Guardians roster and taken in the 14th round.
OL LeCale London was another UDFA pickup by the Bears in recent seasons, but for whatever reason, was unable to latch on the practice squad. He is now on the Arlington Renegades roster and is hoping to be given an opportunity to prove himself.
The former Chicago Bear looking to make a name in the XFL is former Ohio RB De'Montre Tuggle. This may be the least familiar of the names, as he came from a mid-major school, but still went on to post great numbers. Any time you put up solid numbers in the backfield, you are worth a look and the Bears gave him a brief look.
Now, Tuggle is being given a great opportunity as he was taken in the second round by the Renegades. When you consider that 1700 players were eligible for 528 roster spots, teams must get those spots down to 400 before the season starts. That puts these players in some good company to be given a shot this season.