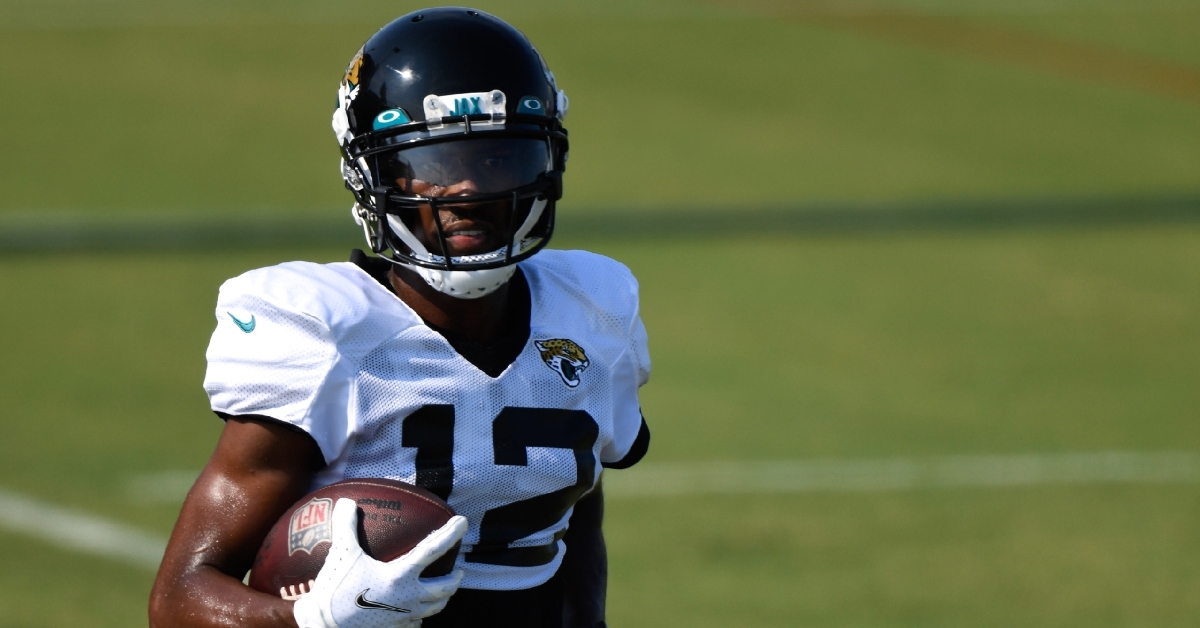 | | |
| --- | --- |
| Former Jaguars receiver worth a shot for Bears | |
---
| | | |
| --- | --- | --- |
| Thursday, August 11, 2022, 12:46 PM | | |
There is never a good time for a football team to go through injuries. What is even worse is when that team suffers those injuries during training camp, which could alter how they perform during the regular season. That is the position the Chicago Bears find themselves in right now, as they have been hit with the injury bug.
What makes matters worse is that the injury bug has affected one position, the WR position. Fans already saw Byron Pringle go down with a calf injury, but now N'Keal Harry went down with an ankle injury that could keep him out until November. Needless to say, losing two players who were looked at as Week 1 contributors is not what anyone wanted to hear, but the Bears still have plenty of options capable of stepping up.
That said, look for Ryan Poles to continue searching for help as he wants to keep an open mind and his options open for where help could be found. The free agent market is the likely source at this point, and there is one WR on the market that could not only come cheap, but could help the Bears in more ways than one.
I am talking about former Jacksonville Jaguar and Minnesota Viking Dede Westbrook, who is still available for the taking. Westbrook is not the biggest name on the market, and he is not someone that will challenge for a ton of playing time. He is, however, one of the better special teams players in the game and could be a diamond in the rough for the Bears if the price is right.
Counting the injuries to Pringle and Harry, the Bears have also seen David Moore go down with an injury, along with Velus Jones and Dante Pettis not practicing for undisclosed reasons. That means the Bears are down five WRs heading into their first preseason game, so it would be wise for them to figure out how to add some help.
Westbrook is not only available, but would come cheap and is worth at the very least a look. The former fourth-round pick from the University of Oklahoma, Westbrook has logged 160 catches across his NFL career for 1720 yards and nine scores. Those numbers were put up in 40 games as injuries have shortened his career in the early stages.
His most recent injury was a torn ACL in 2020 which led to the Jaguars releasing him prior to the 2021 season. The Minnesota Vikings didn't wait long when it came to scooping him up, and they gave him an opportunity to show he was healthy. However, Westbrook was way down on the loaded depth chart as he had just 10 catches for 68 yards last season.
Now a free agent again, Westbrook is looking for another opportunity to show he is healthy and can play at this level. At 28 years old, Westbrook still has plenty of time to have an excellent NFL career, but he needs to prove he can be healthy for an entire season first.
Armed with 4.39 speed, Westbrook would be the perfect addition to the Bears in terms of speed as they have added tons of speed guys this offseason. Fans have seen what he can do when healthy, and if he can get back to putting up those 500-700 yard receiving seasons, no one will bat an eye if he is added to the team.
The Bears will not be alone when it comes to adding his services, as he recently turned down a deal to return to Minnesota. That makes me believe he is looking for brighter things elsewhere or a fresh opportunity to play. Even if his receiving numbers are not what they used to be, Westbrook is still a valuable asset, especially in the punt return game.
With the Bears in line for a punt returner, adding Westbrook becomes much more intriguing as he would also add help in that area. This is not the position the Bears wanted to be in come their first preseason game, but now they need to figure out where to go next.