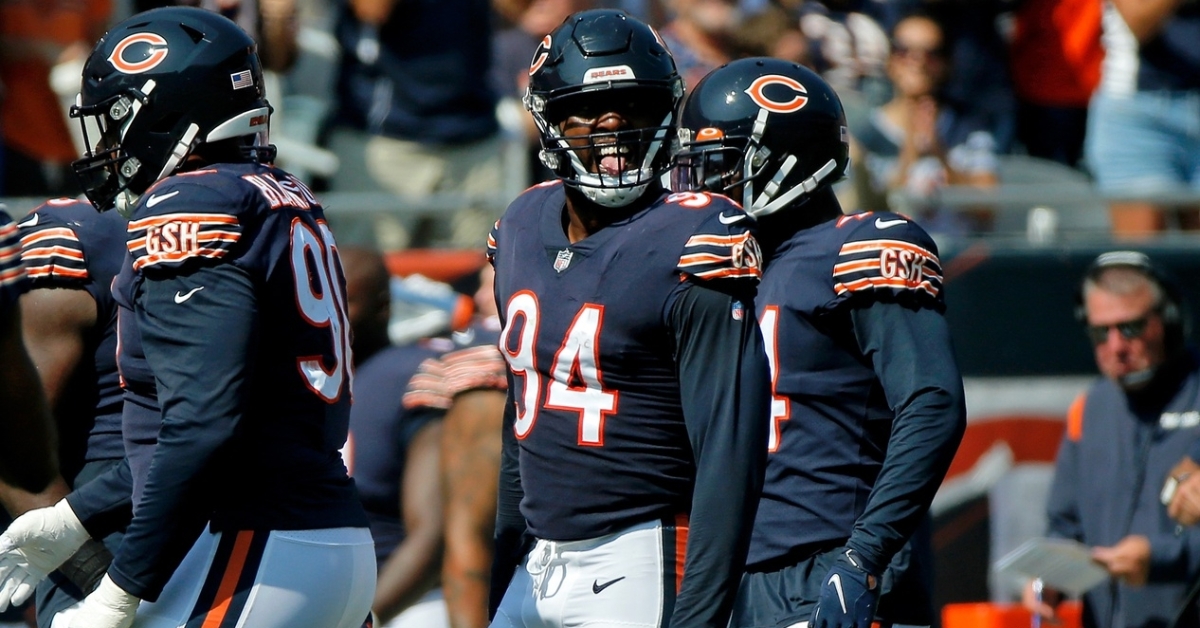 | | |
| --- | --- |
| Four options should Bears trade Robert Quinn | |
---
As minicamp is underway across the NFL, there are a few storylines around Bears camp. On the offensive side of the ball, you have 2021 second-round pick, Tevon Jenkins, seeing second-team reps, which doesn't sit well once the season begins. You also have the WR room and all the players looking to step up behind Darnell Mooney.
However, the most significant storyline in camp sits on the defensive side as LB Robert Quinn has been a no-show thus far. To take it a bit further, Quinn wants out of Chicago, and this may be his way of making that publicized. Coming off the season he had and knowing that Khalil Mack is no longer on the other side of him, Quinn is in the position of potentially having a down year as he will have no help alongside him.
He is also coming off a historic season, so if he is looking to get traded, tons of teams are going to be in on him, which could benefit the Bears. While it would help the Bears in the future, which this regime has been doing a great job building towards, losing Quinn would hurt them this season unless they go out and add another pass-rushing LB to take his place.
Although there are not many big names out there, Chicago has options to consider should they want to move on from Quinn and continue to focus on the future.
Here are four options:
Justin Houston
One of the more obvious moves would be bringing in Houston, who played under Matt Eberflus in Indianapolis. Despite being up there in age and coming off a down season, Houston had two great years under Eberflus, where he accumulated eight sacks and 11 sacks in those two seasons.
That would be plenty of production for the Bears and would give them a great short-term solution. It would also net them some picks in 2023, which will only help the team going forward.
Jason Pierre-Paul
Another older veteran who is surprisingly on the free-agent market is Jason Pierre-Paul. A defensive end by trade, Paul moved to LB last season, which could have been why he struggled so much. His 2.5 sacks were one of the lowest totals of his career, but he still can make things happen on the defensive end.
Although his sack numbers were way down, in three years with the Buccaneers, Paul played exceptionally well and helped anchor that defense that won the Superbowl two seasons ago. He also has experience playing in both a 4-3 and 3-4 scheme, where he has been in the dirt on the line and sitting back in the LB position.
Carlos Dunlap
With the Seattle Seahawks going through a full-scale rebuild, guys like Dunlap were not retained. Dunlap would be a great addition to this Bears roster, but when you consider how deep of conversations he is in with Carolina, it is only a matter of time until he becomes a Panther.
However, if Ryan Poles can get in touch with his agent to temporarily hold off on a signing, he may convince the veteran LB to come to Chicago. He saw action in just 38% of snaps last season yet logged 8.5 sacks. Can you imagine what he could do with an increased snap count, which would happen on the Bears.
Carl Nassib
The AFC West will be the toughest division in football, and there is no argument for that. However, players from that division are looking for new homes, and Nassib is one of them. Not as exciting as the other three options, Nassib is more of a household name, especially when you consider he is the first openly gay man to have a significant role on an NFL team.
Nassib will not give you the production where he can get you eight-plus sacks a season, but he has been consistent. That consistency has averaged around six sacks a year, and at this point, I think the Bears would rather be consistent more than anything.
Upgrade Your Account
Unlock premium boards and exclusive features (e.g. ad-free) by upgrading your account today.
Upgrade Now