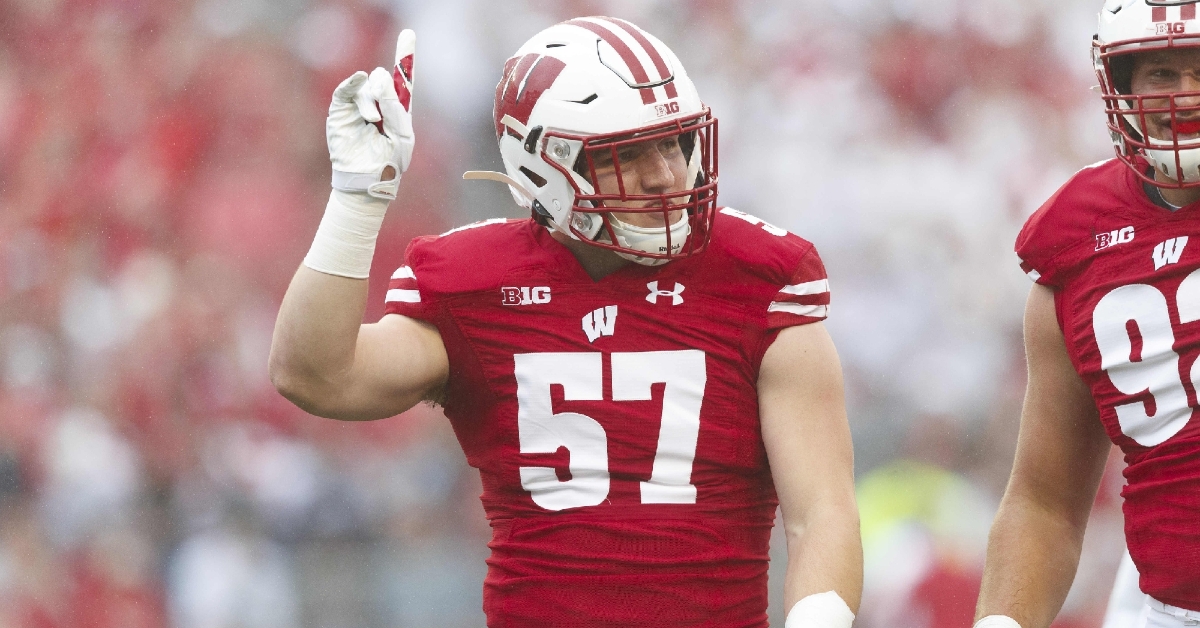 | | |
| --- | --- |
| Getting to Know: Bears LB Jack Sanborn | |
---
| | | |
| --- | --- | --- |
| Friday, May 20, 2022, 9:39 AM | | |
Yesterday we talked about the Bears picking up Landon Lenior and how he could be one of the steals offensively among undrafted free agents. Switching to the other side of the ball and the Bears may not have only received the steal of the undrafted market on the defense, but quite possibly the steal of the entire undrafted class.
When you talk about college football in the midwest, the BIG 10 is king. One of the more successful programs in the BIG 10 for the better part of the last two decades has been the guys to the North in the Wisconsin Badgers. Led by defensive coordinator Jim Leonard, the Badgers have had a top-five defense nationally the past few seasons and are a nightmare to face.
A big reason for the incredible defense is a front seven that makes life miserable and a linebacking core that flies around the field. One of those linebackers was Jack Sanborn, who is now in Chicago on an undrafted deal. Sanborn went undrafted is shocking, but to have him choose the Bears out of everyone else has to be considered a win.
At 6-1 237 pounds, Sanborn may be a bit undersized right now, but that can all change once he puts in the work. Apart from that, this is a player who dominated at Wisconsin, and one Bears fans should be excited to see on the field come training camp and once the preseason starts.
Take away his freshman season, where he was limited to just four games, and Sanborn was a staple in that Badgers defense playing 34 games across his final three seasons. During that time, he accumulated 221 tackles, with 80 coming in 2019 and 89 coming this past season.
You can see Sanborn having a knack for getting in the backfield as he tallied 29 tackles for a loss, including a ridiculous 16 tackles for a loss this season. He also added five sacks this year and 11.5 in his career with four interceptions, three forced fumbles, and two fumble recoveries. The bottom line is that this guy was a playmaker on defense and has an excellent opportunity to make this roster and could see significant time if he does.
How he went undrafted is beyond me, especially when you look at his overall traits and what he does well at. For starters, he has above average lateral movement, but has very quick feet along the line of scrimmage. Those quick feet make it easy for him to avoid blocks on the line of scrimmage, and he does a great job navigating to where the ball is traveling.
Not as physical as you would think, Sanborn does more than hold his own as he plays bigger than he looks. He is patient yet knows when to attack on the field as he does a great job following the QB with his eyes to make things happen. One thing the Bears want to see from him is how good of a Blitzer he can be, considering the Badgers sent him a ton.
When you look at his negatives, some are more nit-picky than anything, starting with his overall athleticism. A lot of scouts say he is not explosive and can lack juice. I have yet to see anything of that nature as he was very explosive on the field.
Again, his speed is uninspiring, but when you watch him play, he is one of the first to the ball so take what you want from that. Mainly a zone coverage guy; the Badgers rarely used him in man coverage, so that could be something to work on in camp. Another scout said he was not a very good tackler, and I urge fans to watch the tape because that doesn't seem accurate.
Sanborn was a four-star talent that became a three-year starter at Wisconsin. He was viewed as a potential fourth or fifth-round talent in this year's draft yet went undrafted. Sanborn should be at the top of that list when you talk about diamonds in the rough, and the Bears are going to see why soon enough.