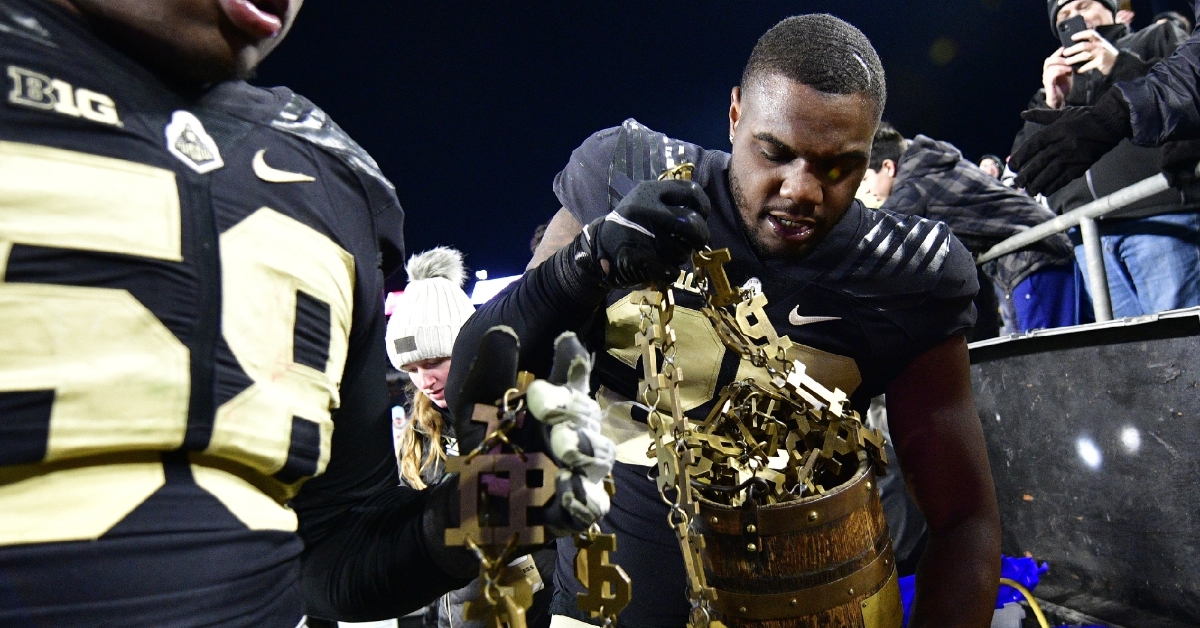 | | |
| --- | --- |
| Getting to Know: Bears LB Jaylan Alexander | |
---
When it comes to the undrafted free agent market, you could argue that the Bears did the best among the 32 NFL teams. Not only did they add a ton of potential offensive weapons in WRs, but they filled some significant depth needs on defense.
One of those depth needs happens to be at the linebacker position where Jaylon Alexander was signed. Since Roquan Smith seems like he wants to be traded, linebacker depth is more critical now than ever before.
When it comes to Alexander, he is no stranger to playing in big games as he hails from Purdue University. A bit undersized at 6-1 and 237 pounds, there is potential for him to be a playmaker, but it is just a matter of if he will get a shot or not.
What he lacks in overall athleticism, Alexander makes up for it in the open field, where he is an above-average tackler in the open field. That means when given the opportunity to make a play via a one-on-one situation, chances are he will make that play. When you look at his career numbers, you can see that he logged 226 total tackles across his four seasons. With that came 16.5 tackles for a loss despite just one sack, as he had a knack for being around the ball.
One thing you notice on film when you watch him play is his ability to chase a ball carrier down in pursuit. His low center of gravity allows him to showcase his strength, while his hustle makes it easier for him than most to take down running backs. Not big when it comes to sacking the QB, but he does a great job filling lanes and plays run-stopper against ball carriers.
You would typically like more production from a linebacker than what he gives you, but stopping the run is a massive part of the NFL game, and Alexander certainly does that. Not knowing what the Bears defensive scheme will be, this is a player who loves to play in Zone coverage or the Tampa 2 formation that has become so famous.
Looking at his production, you can see the potential, but he has some serious concerns. Lack of size and height is the most prominent concern, but he is also someone without a true position. Known as a tweener, Alexander is not strong enough or physical enough to play on the inside, but his lack of speed makes him a liability on the outside. That alone will make it hard to play any linebacker positions perfectly, as he may need to improve every aspect of his game to have a shot.
Not a quick athlete, Alexander will never be the fastest player on the field, but he can be the smartest when it comes to being where he needs to be to make plays. Another area that is a huge concern and will require a ton of work is his limited vision, as he is easily fooled by misdirection. He also lacks range and lateral agility in coverage.
That means that Alexander would often struggle to make plays against some of the more elusive RBs or ball carriers as they easily were able to beat him. When you consider some of the open field playmakers that the NFC North and the rest of the division have, it would be a nightmare scenario for him if he can't make those plays in space.
At this point, Alexander is being brought in as a training camp body and will have a difficult road making it through camp to make this team. However, that doesn't mean he will not give it his all to try and make something happen.
Upgrade Your Account
Unlock premium boards and exclusive features (e.g. ad-free) by upgrading your account today.
Upgrade Now