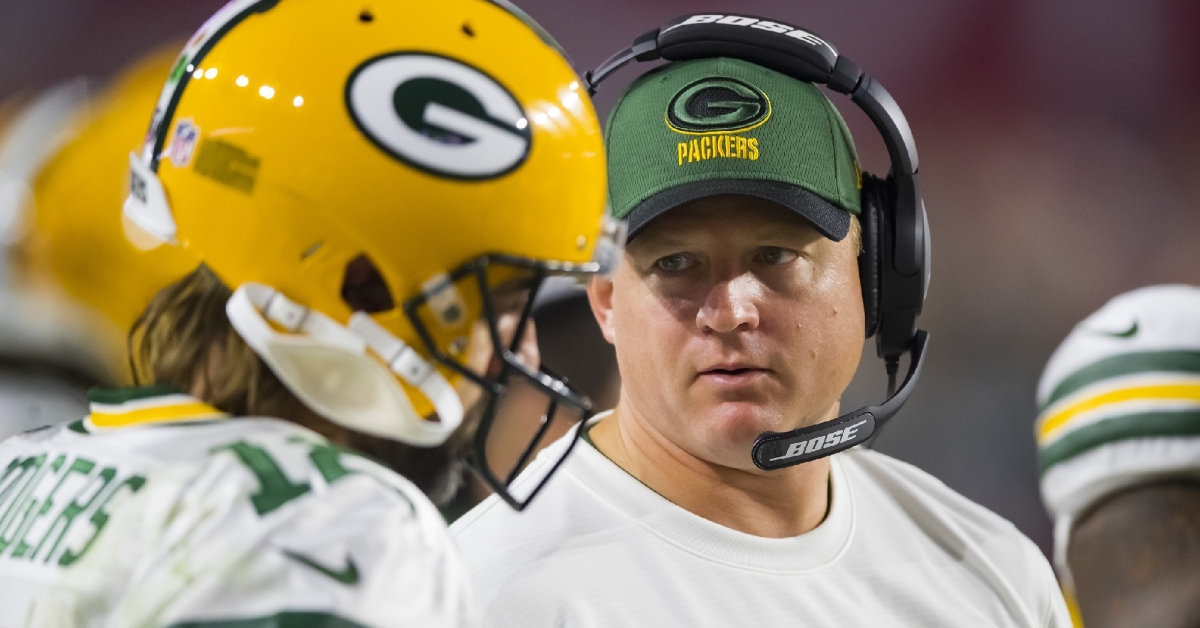 | | |
| --- | --- |
| Getting to know: Bears offensive coordinator Luke Getsy | |
---
Now that Matt Eberflus has been hired to be the next head coach of the Chicago Bears, it is time to round out his staff. The defensive minded head coach knows a thing or two about coaching up a good defense, but he must now focus on the development of Justin Fields as that is critical for the Bears long-term success.
Like most young QBs, their development hinges on an innovated play-caller that can come in and use Fields strengths. Less than 48 hours after taking the job, Eberflus found his offensive coordinator appointing former Green Bay Packers OLine coach Luke Getsy for the position. Unlike many offensive coordinators that Eberflus was looking at, Getsy doesn't have prior experience calling plays, so this will be interesting, to say the least.
However, you can't fault Eberflus for going after a guy that was part of the Packers organization and helped coach up one of the best passing attacks in the NFL. Hiring someone without previous play-calling experience is a daunting task, but this one could work out well for the Bears. Getsy gets to come into Chicago and build his own playbook as everyone from last year's staff will most likely be gone.
Secondly, when building that playbook, Getsy also has to decide what type of scheme he wants to run to maximize the plays he creates. Finally, play-calling will be critical as you will only be as successful as your play calling is. Getsy has never held any of those roles in the past, but has performed various job titles across the way to get this promotion.
In his first run with the Packers in 2014-15, Getsy was an offensive quality control coach before becoming the wide receivers coach from 2016-17. Getsy then took his talents to the NCAA level, where he worked with Mississippi St. in 2018 as the offensive quality control coach. During his year there, the Bulldogs had one of the better offenses in the SEC, so Getsy learned a lot from that season.
After his one year in college, Getsy was back in the NFL, where he rejoined the Packers organization. In 2019, Getsy took on the QB coach role before adding passing game coordinator to his name the last two seasons. Despite not calling plays at the NFL level, Getsy worked with Aaron Rodgers for several seasons, including the previous two, as the passing game coordinator. Since taking over that role, we have seen Rodgers play at an MVP level not once, but twice. You have to give Getsy credit for getting the most out of Rodgers the last two seasons.
Now that Getsy is appointed offensive coordinator with the Bears, his overall responsibilities will reach a whole new level and something he has never seen before. In addition to creating the plays that will fit the system he wants, he will be the leading offensive voice in meetings. Basically, he will be the head coach of the offense, which comes with a ton of responsibility.
Along with that title comes the daily job to work with and improve Fields after a less than stellar rookie season. Let's be clear here, Fields is no Rodgers, and no one is expecting him to be, but that doesn't mean he won't have a great NFL career. Fields has all the tools to make it in this league, but Getsy will be in charge of making sure Fields doesn't take too many bumps along the way.
When you look at an offense that was ranked in the bottom five in the league last year, Getsy knows he will have his work cut out for him this season. However, bringing in Getsy immediately makes this team better. He has worked with one of the greatest ever to play the QB position, so you know he has plenty of insight to give Fields next season and beyond.
Upgrade Your Account
Unlock premium boards and exclusive features (e.g. ad-free) by upgrading your account today.
Upgrade Now