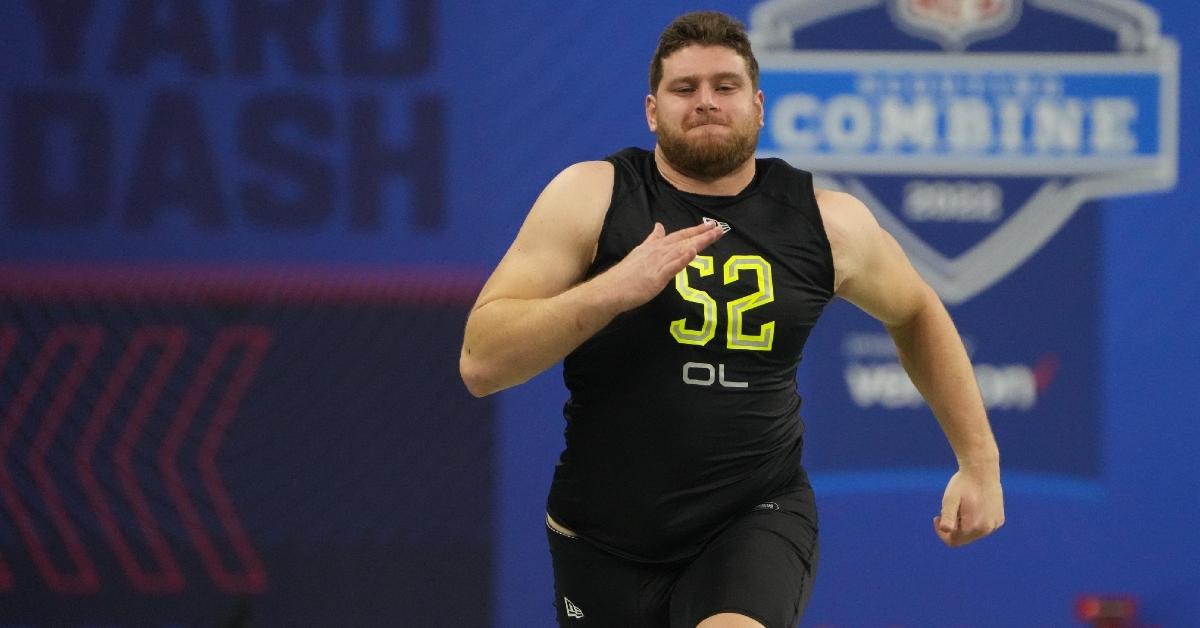 | | |
| --- | --- |
| Getting to Know: Bears OL Zach Thomas | |
---
When you hear Zach Thomas's name associated with the NFL, you often think of the great Miami Dolphins MLB. However, a new Zach Thomas is coming to the party, and he is joining the Chicago Bears after getting drafted this season.
With Chicago addressing some of the needs this team wanted to focus on during the first three rounds, the offensive line was still a need that many fans wanted this team to address. They did add to the offensive line earlier in the draft and then doubled down by selecting Thomas in round six.
The 6-5 308 pound guard from San Diego St. is big for a guard and is physical. That is something the Bears offensive line lacked last season, and they are hoping his physicality translates to the NFL.
Listed as a fifth or sixth-round pick, Thomas fell to where many had him going, and the Bears saw some value in him in round six. After redshirting during his first season, Thomas went on to play all 13 games in 2017, but played them in a reserve role. Once 2019 arrived, Thomas grabbed the starting right tackle position and played the final nine games of that season.
The last two seasons have shown how much Thomas has improved as he earned second-team all-Mountain West in 2020 and then upped that to First-Team all-Mountain West in 2021. Listed as a guard, for now, Thomas will most likely move to the tackle position where he spent most of the last three seasons.
He can play both tackle and guard. Thomas is someone you can use in the run blocking side of things he specialized at in college. The Bears are a run-first team, so this is a player who fits that need. Thomas is the perfect fit for a zone-read blocking scheme and does a great job keeping his feet moving to stay locked on a defender.
The Bears love flexibility, and Thomas gives them flexibility at multiple positions, which is good. Other traits that stand out as strengths for Thomas is that he is incredibly strong and has the body mass to put on more muscle and strength. He is so successful because he comes off the snap incredibly well, which allows him to get into the second level with ease.
He is also someone who stays low and engages in run blocking until that final whistle blows. His active feet show how athletic he is for someone of his size, and he does a great job of staying connected to his blockers. When you have a mobile QB like Justin Fields, you need someone who can hold their blocks longer, and Thomas can do just that.
You would think that he could have landed higher than the sixth round with all those positive traits. The bottom line is that he was a sixth-rounder which means there is still a lot to his game that needs work. He may be explosive off the snap for starters, but that explosiveness doesn't translate into initial contact with his blockers.
His hand placement can also get away from him, and if he does that at the NFL level, blockers will toss him aside. He needs to do a better job recovering and getting those hands to reset on a defender for as good as he is at holding blocks. He also needs to redefine his overall technique to maximize his pure strength on the field.
Don't get too excited about this pick. Thomas is not someone coming in to start, and if he does start, that means the Bears are going through a massive rash of injuries. However, that doesn't mean he doesn't have a spot on this team. Unlike some of the other offensive linemen on this team, Thomas seems to fit the mold that Luke Getsy and the offense want to become.
That alone gives this team some confidence in him, even as a reserve player. This season, Thomas may not see the field much, if at all. However, with continued work and improvement could be a valuable bench asset to this Bears unit.