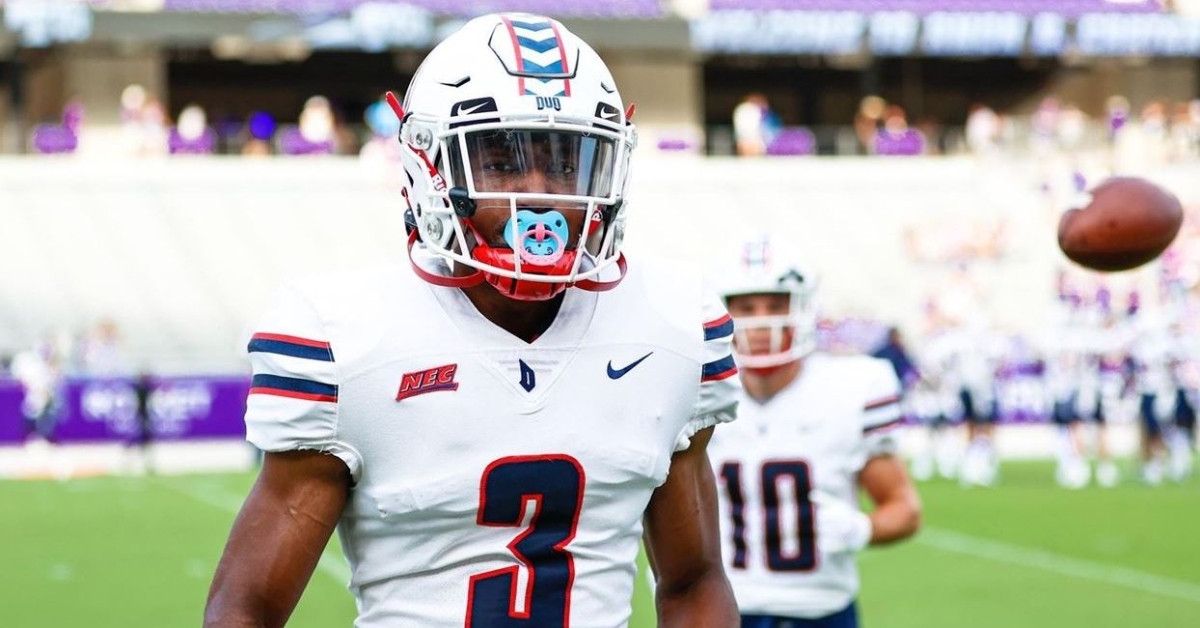 | | |
| --- | --- |
| Getting to Know: Bears WR Cyrus Holder | |
---
| | | |
| --- | --- | --- |
| Monday, June 6, 2022, 10:22 AM | | |
The Chicago Bears did a lot of post-draft homework this year, especially when adding undrafted free agents. That is what happens when you sign 16 additional players beyond what you already signed, with a large portion of those players coming as skill-level players to help the offense.
Another one of those skill-level players happens to be Cyrus Holder, the WR from Duquesne (St. Francis PA transfer). Holder follows suit as to what the Bears did a lot of during the undrafted free agent period, which was adding players from the FCS side of things who had success and had the potential to succeed in the NFL.
When it comes to the FCS, unless you are one of those fans who follow and keep tabs on it religiously, you only see the players that are broadcasted live from the elite programs. Regardless, the FCS has a lot of talented players who have finally started to get the recognition they deserve. Holder is one of those players and a WR the Bears can't wait to see when he gets to camp.
At 6-3 and 198 pounds, Holder has good size, while his 4.43 40 speed shows that he is also a speedy runner, which the Bears needed. After transferring to Duquesne from St. Francis, PA, Holder immediately became part of the Dukes offense and showed plenty of potential from day one.
2020 saw Holder accumulate 23 for 491 yards, which is nearly 22 yards per reception. That is elite at any level and adding five touchdowns shows that the production was also there. He then added 37 receptions for 629 yards in 2021 and eight more scores. You look at those two seasons, and Holder averaged more than 19 yards per reception, which is a big-time playmaker.
With the Bears lacking true over-the-top playmakers, Holder is the definition of a playmaker and someone, the Bears would love to have on their roster to take the top off of a defense. One of the more intriguing things that follow Holder is that he came from schools that typically don't pass much and went on to put up the numbers he did.
That alone helped put his name on the NFL map, but he also has plenty of scouts feeling that he could put up numbers similar to that in the NFL if given a consistent role or chance. His ability to use his speed in the open field and take the top off the defense is something the Bears have lacked in recent seasons and would be a huge help to this offense and Justin Fields.
He is also a freak athlete who could provide the Bears with a smaller version of Cordarrelle Patterson, who was more of a swiss army knife when he was with this team. I know many people are going to look at his numbers and the fact that he didn't play against the best competition and potentially hold that against him.
While that point is valid to some degree, you never know what you will get out of a player until you give them a chance. Holder is considered a long shot to make this team, but he may be one of the favorites to at least make it through mini-camp and reach the training camp portion of things.
Once there, who knows what could happen as he may have a shot to showcase his skills during the preseason. Fans saw what Rodney Adams did with Fields in the preseason last year, where if Holder comes in and has that type of chemistry, the Bears will be foolish not to consider him for some role on this team. Regardless, he should have no issue landing with someone if the Bears are not it for him.