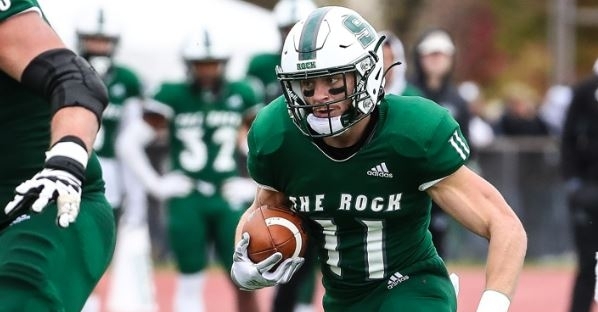 | | |
| --- | --- |
| Getting to Know: Bears WR Henry Litwin | |
---
One of my favorite parts of the undrafted free agent process is looking to see where players come from and where they were initially slated to fall. Often, this is when you have potential late-round options or steals fall to the undrafted ranks, and that is when a lot of teams make the first move to grab them.
When it comes to college football, it isn't just the FCS and FBS that steal the show, as you still have D2 and D3. The Bears are about to see some D2 skill on the field as Henry Litwin joins this team from Slippery Rock College. The 6-1 195-pound Litwin has a consistent playmaker with Slippery Rock, where he finished his career as the program's all-time leader in receptions.
The four-time all-district player and three-time All America knows what success looks like on the football field and will continue to put the work in to get results. What is perhaps even more remarkable when looking at his stats, all of those numbers came after sitting out a season as he didn't play in 2017.
Starting in 2018, Litwin burst onto the scene, hauling in 51 catches for 841 yards and eight scores. One year later saw him post his best season at the collegiate level, where he brought in 103 receptions for 1509 yards and an impressive 21 scores. Following a year where COVID didn't allow a 2020 season to happen, Litwin was back on the field in 2021, looking to produce again.
Although the yardage (1042) and touchdowns (13) were down, anyone would kill for that season. Those numbers, mixed with what he did in the years past, saw him finish college with 221 receptions for 3392 yards and 42 touchdowns. Unlike the other receivers the Bears drafted who are known for their speed, Litwin is not a burner and is known as your typical possession WR.
Looking at his body of work, I see someone with Cooper Kupp build, but plays a lot like Eric Decker or Wes Welker. While he isn't known for speed, many scouts undervalue his athleticism as a player, and that needs to change. He is very athletic, and it may give him a leg up to make this team over some of the other options.
For those not familiar with Slippery Rock, it is a small Division 2 school with a rich football tradition. So, for Litwin to go from one historic program to one of the most storied franchises in NFL history, not many can dream about. To go a bit further, Slippery Rock was a town that loved football, and when the game was on, everyone tuned in. It sounds very similar to Chicago, doesn't it where sports are a huge part of this city.
Whenever you draft players or sign free agents, you look for leaders in the locker room. Litwin may not be the most vocal leader, but he is a great leader and often leads by example. While it is nice to have those vocal leaders, Litwin gives tips to players based on his play and lets that do the leading for him.
Looking at how he fits into the Bears system is a huge question, but Litwin is someone who, with the right scheme, has the potential to be a playmaker. When you look at his catching stats from college, not only is he reliable, but he was someone the team could count on at any moment. You need seven yards, and he would get you eight. You need a first down, and he would fight for those yards to get you one.
Given his size, you could see him play on the outside, but the slot appears to be his desired role. Either way, Litwin is a player who will play wherever he is needed, and that alone is enormous. Seeing D2 or D3 players translate to the NFL is always worth watching because it shows the amount of talent that comes from small schools.
Litwin is a talent who may not have been FBS worthy, but would have played in the FCS had he elected to transfer out. Out of the first two undrafted WRs, we talked about, Litwin has the best chance to make this team and contribute as a WR. Either way, look for him to be a practice squad guy who should get plenty of looks from teams across the league.
Upgrade Your Account
Unlock premium boards and exclusive features (e.g. ad-free) by upgrading your account today.
Upgrade Now