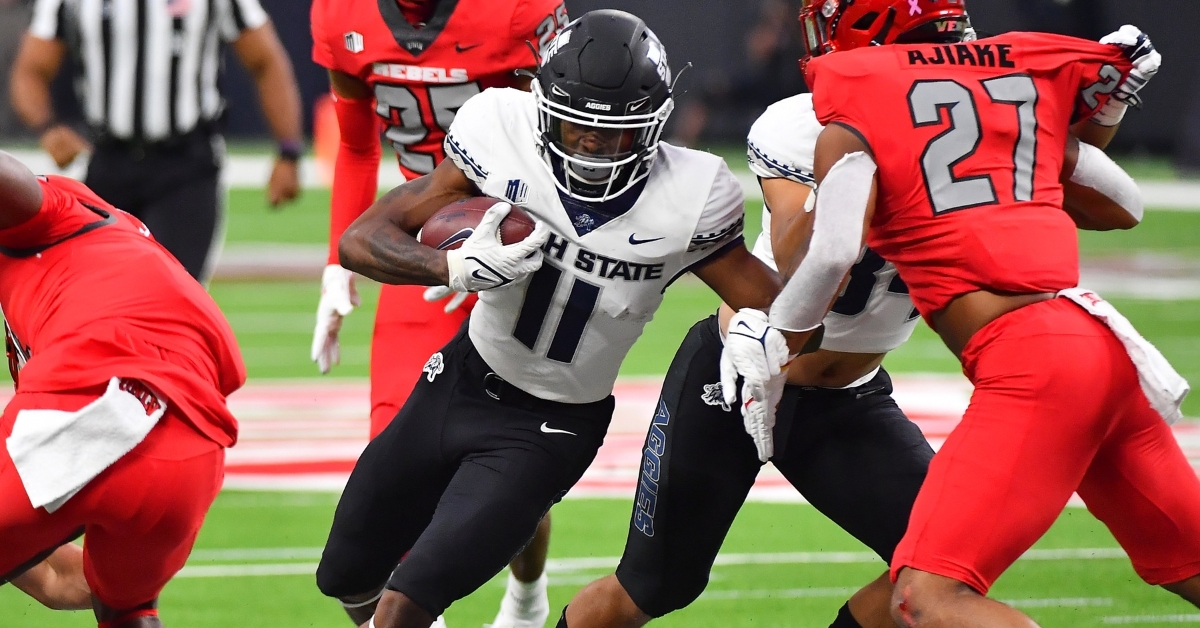 | | |
| --- | --- |
| Getting to Know: Bears WR Savon Scarver | |
---
| | | |
| --- | --- | --- |
| Tuesday, May 17, 2022, 9:36 AM | | |
Although the Bears were not as aggressive as most fans would like when it came to drafting a receiver, they did a great job of adding them via the undrafted free agent market. At this time, the Bears took not one, not two, but four receivers to add to their team, with Savon Scarver as one of those options.
Another undersized option at 5-11 and 175 pounds, Scarver is a perfect slot receiver option for this team as he was clocked at 4.48 for his 40-yard dash time. Ranked as a sixth-round prospect by most, Scarver fell to the seventh round before eventually out of the draft all together.
His dream of landing on an NFL roster wouldn't go away as he will be joining the Bears and will look to make this team. Unlike most receivers in this class, Scarver was limited in his WR reps as he totaled just 757 yards and five scores across four seasons. He did better than most were return kicks, as he could be a massive asset to the Bears' special teams.
In five seasons with Utah St., Scarver returned over 100 kicks for 2935 yards which is good for 27.4 yards per average. Scarver also broke free for seven career touchdowns as he was a big play waiting to happen. When you look at who the Bears have lost recently, especially in the return game, you can see why the Bears are taking a flyer out on Scarver.
Despite his limited reps at the WR position, scouts have watched a ton of film on him and love his game a lot. That could make him a high upside player if these skills translate to the NFL, which is what everyone in Bears nation wants.
Scarver is a savvy route runner who uses excellent awareness to set up his routes for starters. He has shown the ability to get separation on deep routes and the physicality you love to see when going over the middle.
Scarver does a great job locating the ball despite his lack in overall height and size and isn't afraid to go up and make a play in traffic. If he has a QB with the ability to make all throws, Scarver should be fine as he knows how to maximize his speed.
Perhaps the one aspect of his game that every scout and QB covets is his strong hands. No matter the ball is thrown, if Scarver is close enough to get his hands on it, chances are he will make the play for you, and that is precisely what the Bears are looking for out of the WRs.
While those may be better traits than most fans gave him credit for, Scarver does lack size on the outside, which will make it hard to win on the outside consistently. However, working the middle of the field is his specialty, and that is where the Bears would love to see him in action.
His lack of elite speed sometimes causes him to freeze in the middle of the route as he tries to juke his defender. If he does win on the outside by chance, Scarver needs to use his hands a lot more as we have seen far too many body catches.
The Bears will learn about him during training camp, if he can handle the NFL game and how quickly he can adjust to it. Given his lack of experience on the receiving side of things, it could take him longer to figure things out. However, the potential is there, and the Bears are banking on his potential as a player.