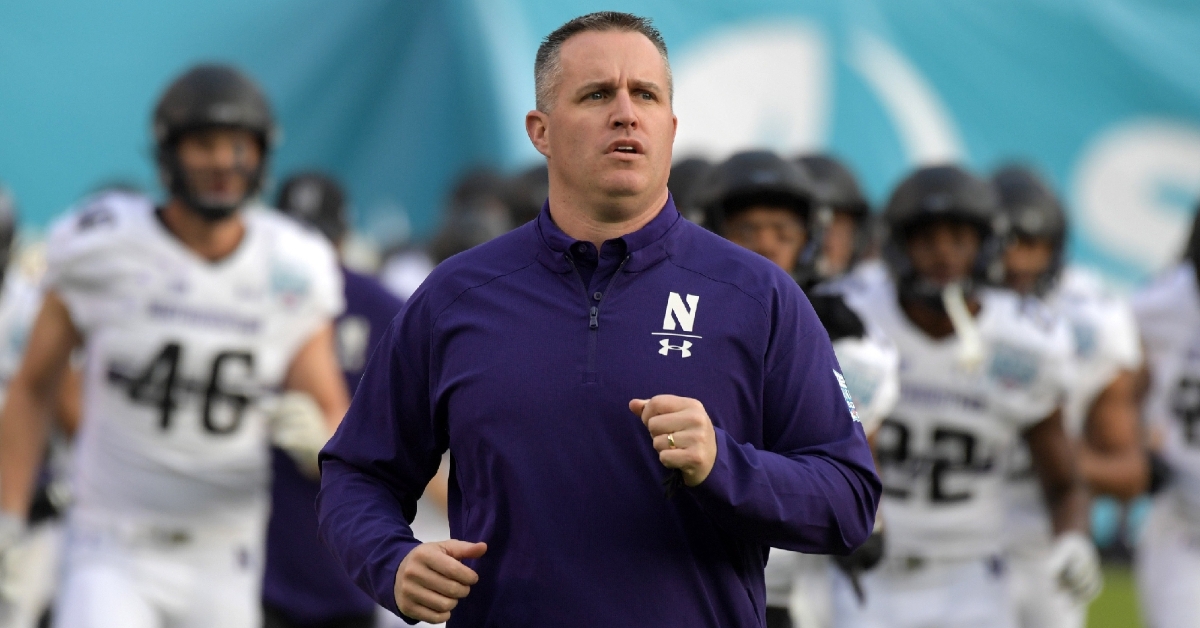 | | |
| --- | --- |
| Hot Seat talk: Possible Head Coaching options for Bears | |
---
Nothing has been made official yet, but it does appear there will be some wholesale changes for the Chicago Bears this offseason, and how could there not be considering where this team has fallen. Those changes could start as high up as the team President but look for it to fall mostly on GM Ryan Pace and Head Coach Matt Nagy.
In my opinion, Pace needs to be the first one to go, but should a new GM come in, expect him to clean house and bring in his own coach. Nagy seems like a nice guy and seems like he could be a good coach somewhere. However, he can't coach this team any longer. The personnel is not there to do what he wants, and the team doesn't seem to back him anymore. When that happens is when things go sour, and that is precisely the case right now. Why was Nagy hired is my question?
A big reason for the hire was because of Andy Reid, who went on record to say Nagy was the best Head Coaching Prospect he has ever had on any of his staffs. That was back in 2017, but those are huge compliments coming from perhaps the second-best Head Coach in the game. One season later, it appeared those remarks by Reid were accurate as Nagy led the Bears to a 12 4 record, NFC North Champions, and their first playoff appearance in years.
Two seasons later, the product on the field has been less than appealing, causing many questions as to whether Nagy is in over his head. Following the Lions' loss on Sunday, it is safe to Nagy's seat is scorching hot at the moment and quite possibly could be in his final four games as a Bears head coach.
Should the Bears move on from Nagy, this could be the year where coaching candidates are abundant as there will be a large pool to choose from. From assistants to retreads to potential first-time hires, the upcoming coaching pool will be extremely deep, and the Bears will be in a position to capture one of these names.
Let's break down the list of possible retread coaches that may get some attention.
Current Buffalo Bills defensive coordinator and former Viking head coach Leslie Frazier is hearing his name in the coaching ranks again, as is former Lions head coach Jim Caldwell. Out of these names, Caldwell would be the best option to look at, as he had a substantial amount of success with both Indianapolis and Detroit. He is an offensive-minded coach, which is undoubtedly something the Bears need. Former Jets Head Coach Todd Bowels is also a name getting a lot of attention, as is Jim Harbaugh from the College ranks.
Speaking of college, Harbaugh isn't the only one attracting some attention from the college ranks as several NCAA coaches could get interviews this season. Lincoln Riley will once again draw some interest after the Packers expressed interest in him two years ago. Fast-rising Brian Campbell at Iowa St is undoubtedly a name to watch, as is Brian Kelly of Notre Dame.
One name the Bears have floated around from the college ranks is Northwestern University Head Coach Pat Fitzgerald. After interviewing for a couple of NFL jobs a few seasons ago, Fitzgerald elected to return to school, helping rebuild this Northwestern program. Should he elect to try his success at the NFL level, the Bears job would be the only one he would consider at this point.
While the retread route is often a familiar role the Bears and other teams play, it may not be wise to go that route this time. This is a franchise that needs new life, which means bringing in someone who has been an assistant for quite some time. First-time head coaches are often a gamble, but as long as the Bears stay away from the college ranks, it certainly could be something to watch this season.
The two assistants that will attract the most attention this season would be Eric Bieniemy and Robert Salah. Both were very close to getting jobs last season, but ultimately it didn't happen. While Salah seems like the hard-nosed coach the Bears need, Bieniemy would be my choice at this point. He is working under Reid much as Nagy did, but he has done a much better job calling plays than Nagy ever did. I expect him to be on the radar of a lot of teams.
If the Bears are looking for offensive-minded coaches once again, several more assistants are looking to get into the head coaching ranks. Byron Leftwich may have the least amount of experience but has received high praises from Bruce Ariens and several league executives. He has been viewed as a head coach in waiting but may not be ready quite yet.
Titans offensive coordinator Arthur Smith, Panthers offensive coordinator Joe Brady, Broncos WR coach Zach Azzanni and Bears QB's coach John DeFillippo are other offensive-minded options. DeFillippo is the one name I would steer as far away from as possible at this point. Even though he has been generating the most head-coaching buzz in recent seasons, all you need to do is look at his success as a play-caller and QB coach the past three seasons. He needs more work.
Azzanni is another intriguing option as he was in Chicago with Coach John Fox. It would be a pleasant surprise to see him return, but the Bears may want to bring in an entirely new face with zero connections to the organization. Bills OC Brian Daboll, Ravens OC Greg Roman, and Packers OL coach Adam Stenavich are other names to watch. Former DC Defenders HC Pep Hamilton could gain surprising interest also.
Getting away from offense and moving to defense, and you will find a lot fewer candidates who are defensive-minded guys. Chuck Pagano has always wanted to become another head coach, but the Bears won't promote him from DC to Head Coach, so take him out of the equation. Bears safety coach Sean Desai is another name to watch, but once again, look for the Bears to clean the house before promoting within.
One name that I could undoubtedly see the Bears bring in would be that of current Rams defensive coordinator Brandon Stanley. In case this name sounds familiar, you would be correct as he coached linebackers under Vic Fangio in Chicago. Now running defense for the first time, Stanley has the Rams as a top 10 unit, and they are a legitimate threat in the postseason. Texans DC Anthony Weaver is a Darkhorse name to be on the lookout for.
Chicago has many tough decisions to make this offseason regarding both the front office and coaching staff. The current staff, the Bears, have doesn't have what it takes to put a winning team on the field. That indicates a change could be made.
This franchise's long-term success will be determined by the direction they go this offseason, and that all starts with the head coach. While some of the best candidates may be defensive-minded, the Bears need to get away from that and focus on Offense first. Their defense is built to succeed, but the offense is lagging.