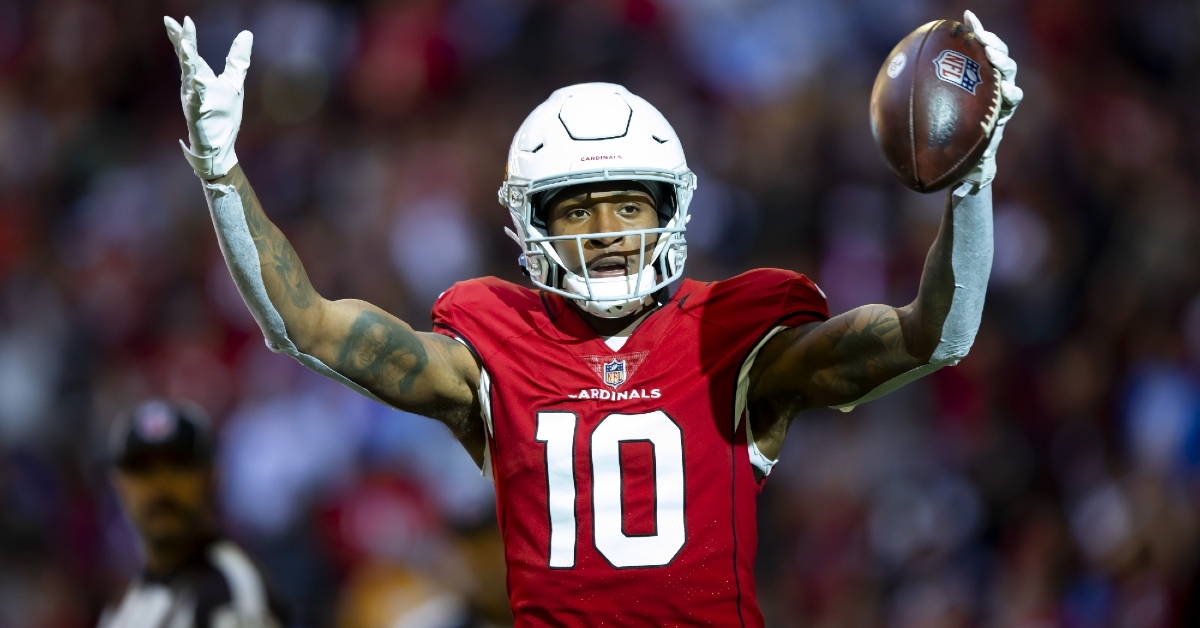 | | |
| --- | --- |
| How the Bears could make a trade for DeAndre Hopkins | |
---
| | | |
| --- | --- | --- |
| 2023-01-13 11:32:04.0 | | |
Chicago desperately needs a wide receiver, particularly an elite receiver, for quarterback Justin Fields to throw to in order for him to develop. Luckily for the Bears, as the Arizona Cardinals are going into rebuilding mode, they are looking to trade their elite wide receiver, DeAndre Hopkins. But can Chicago realistically get Hopkins?
The biggest obstacle is how much the Bears would have to give up in order to acquire Hopkins. Back when the Cardinals traded for Hopkins, the Texans acquired running back David Johnson, along with a second-round draft pick and a fourth-round draft pick. The Cardinals did also receive a fourth-round pick from this trade. The wide receiver market has been raised quite a bit since then, with the Davante Adams trade to the Raiders and the Tyreek Hill trade to the Dolphins, so the Bears would probably have to give up a lot more than the Cardinals did. Both the Adams and the Hill trades involved two first-round draft picks, so that would probably be what the Bears would have to give up, along with probably some lower-level picks. For a team that needs to rebuild, this seems like too high of a price for Chicago.
But, Chicago's favorite coach, Lovie Smith, gave the Bears away around this problem - trade the No. 1 pick before acquiring DeAndre Hopkins. Any trade that the Bears make involving the No. 1 overall pick will give them a first-round pick this season, and an additional first-round pick either later in the 2023 NFL Draft or another first-round pick in the 2024 draft. That would give Chicago three first-round picks in the next two seasons. So, since the Bears would be using two of them to acquire Hopkins, they would only be sacrificing their first-round pick for one year instead of two. It would basically be like using whatever first-round pick they sacrifice to draft Hopkins, which is surely worth it. Trading the first-round pick also still gives the Bears other draft picks in other rounds, even if they have to trade a few of them to acquire Hopkins, so they will still have other picks to address their other needs.
Next, can the Bears afford Hopkins?
With the amount of money they left on their salary cap, Chicago can certainly afford to pay Hopkins. On his current contract, his base salary is $19,450,000, with a $5,500,000 signing bonus. His total cap hit right now is $30,750,000. The way that his contract is structured, any trade involving Hopkins would not occur until after June 1 because his hit against the salary cap prior to June 1 is $22,600,000, but only $11,300,000 this season after June 1. The Bears should be making a number of other trades prior to June 1, but they should have enough room in their salary cap to still pay Hopkins. Realistically, the Bears will have to pay Hopkins more than he is making right now, but he hasn't been putting up the same numbers as Hill has. Maybe the Bears take a salary cap hit for $33 million if they acquire Hopkins, although it will probably be higher than that. Right now, the Bears have $111,609,166 left in the salary cap. If you take $33 million off of that, you are still left with $78,609,166. Even if they have to pay Hopkins more than $33 million, they will have a lot of room left. What they will have left is far more money than any other team has in salary cap space. In fact, the team with the second-highest amount of salary cap space is the Atlanta Falcons, with $58,597,574. Chicago would have to pay Hopkins the salary of an elite quarterback to even come close to that amount, so even with acquiring Hopkins.
The Bears would have plenty of money to spend on their other needs. This actually may make the Bears the most realistic option for the Cardinals because not many teams can afford his large salary and still have money left to pay other players. So, other teams may choose to pursue a wide receiver in the draft instead of trading for Hopkins.
This brings up the question of whether the Bears should wait until the draft to find an elite receiver, or maybe pick up some less expensive receivers in free agency like Marvin Jones. There are certainly positives to making that decision, primarily that the Bears could make their money go further if they did not spend the money on an elite receiver. The 2023 NFL Draft also has a lot of wide receivers available. So, Chicago could certainly go this route, and that would be okay for their rebuilding as well. But, if they want an elite player now to help Fields develop, they can pursue Hopkins and still address their other needs.