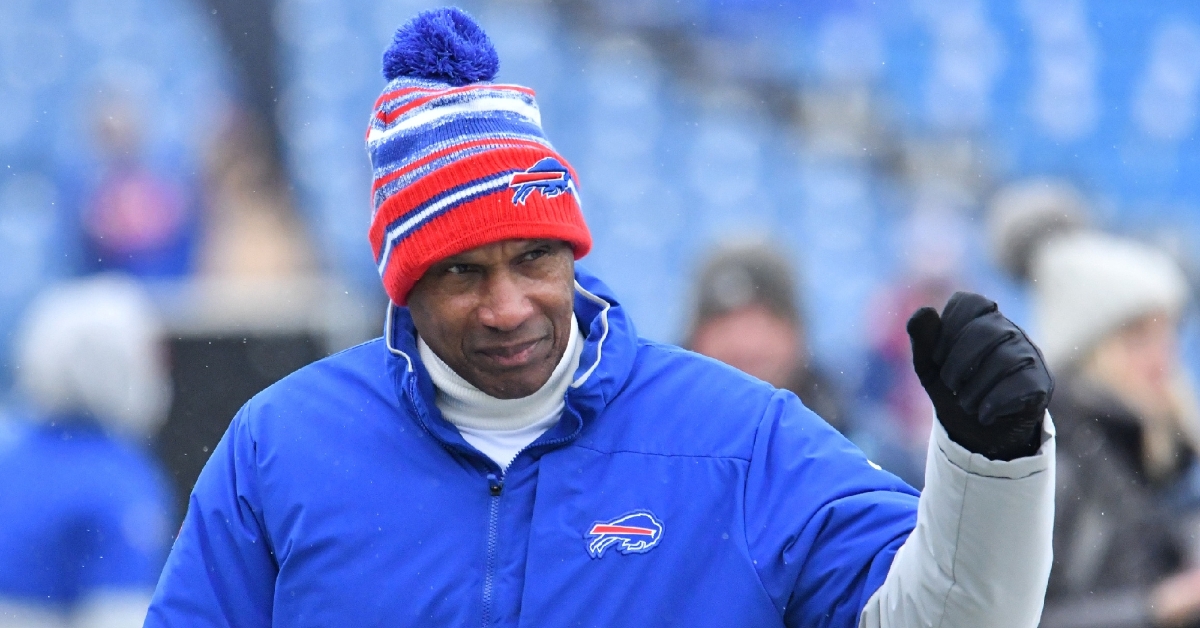 | | |
| --- | --- |
| Leslie Frazier linked to Bears head coaching job | |
---
| | | |
| --- | --- | --- |
| Tuesday, January 4, 2022, 10:35 AM | | |
Although it has not been made formally official, it appears that the Bears are preparing to move on from Matt Nagy following Sunday's game against Minnesota. That means come the dreaded Black Monday for head coaches that Nagy may indeed be out of a job and looking for the next chapter in his coaching career. What the Bears do from there is the next question as they need to make sure they hire not only a leader, but someone who can bring a winning attitude to the franchise.
Not only are the Bears expected to be searching for a new head coach, but as many as five to seven teams could be looking for a new coach, so the interview competition could get interesting. At this point, everyone has their own opinion as to what the Bears will do at the head coach position, so now it's time to see how serious this organization is about winning games.
Most people want the Bears to bring in an up-and-coming assistant coach with Byron Leftwich and Brian Daboll as the two most common names right now. Others want a more experienced head coach to come into the mix as Nagy was a first-time head coach and failed outside his first season. Whatever way you look at it, there is no right or wrong answer, but the consensus is to find the right man for the job.
One of the names starting to pop up on the rumor list is a name Bears fans should be familiar with as Leslie Frazier is starting to see his name linked to Chicago.
ICYMI on CBS pregame of Bills/Pats, Jason LaCanfora suggested Leslie Frazier would be a candidate for the Bears job... that he's highly thought of in that organization. Also mentioned the Jaguars.

Seems to be growing sense he gets a HC job this year.

— Jeremy White (@JeremyWGR) December 27, 2021
The current Buffalo Bills defensive coordinator, Frazier, has had an interesting coaching journey, but does come with some head coaching experience. The 62-year-old coach has plenty of Chicago connections. Consider his playing days from 1981-85, where he was part of the Bears Superbowl winning team.
Outside those five seasons, Frazier has been nothing, but a coach and took three years off before beginning his coaching career in 1988. A head coach for Trinity International University for nine years, Frazier then moved on to the University of Illinois as the DB coach before coming to the NFL in 1999. What started as the defensive backs coach in Philadelphia quickly moved to a defensive coordinator position spending time with both the Bengals and the Colts.
2007 saw Frazier return to the Bears division as part of the Minnesota Vikings, where he was their defensive coordinator that season before moving up to the assistant head coach and defensive coordinator from 2008 to 2010. During that 2010 season, Frazier got his first shot as a head coach taking over for Brad Childress before becoming the Vikings permanent head coach in 2011.
In three-plus seasons as the Vikings head coach, Frazier benefitted from one playoff season when Adrian Peterson carried the entire team, but it didn't go well outside of that. Frazier went 21-32-1 as a head coach, but a 3-13 record was a big reason for those career struggles. Frazier also has that postseason game under his belt, but he lost that game against Green Bay.
After Frazier was fired from Minnesota, he went to Tampa Bay to become the Bucs defensive coordinator for two seasons before moving on to the Ravens and now Bills. Staying with Buffalo for a minute, Frazier has been there since 2017 as part of Sean McDermott's staff, where he started as a defensive coordinator and is now the assistant head coach along with that title.
Frazier may not be the flashiest of the names on this list, but he is a highly respected coach in the NFL. He has also been known as a great defensive coach and a terrific leader when it comes to getting players to play together.
During his first run as head coach, his biggest problem was that he wasn't as vocal as you would like a head coach to be. That tends to happen when you are used to a specific position, but now that he has taken time away, I think he is ready to step in again.
Frazier is not going to be a long-term option which doesn't sit well with fans, but he could be the bridge type of coach for this team. There will be a lot of turnover within the organization this season as the Bears may be on the verge of a mini-rebuild. If that is the case, why bring in a first-time head coach that has to go through that. Why not bring in a veteran who knows the ultimate goal and can come in as a leader to right the ship.
That is how Frazier would fit with this team. He has history inside this organization and knows what it takes to win in Chicago. He may not be the first name on the Bears list, but there are far worst names out there than him at this point.