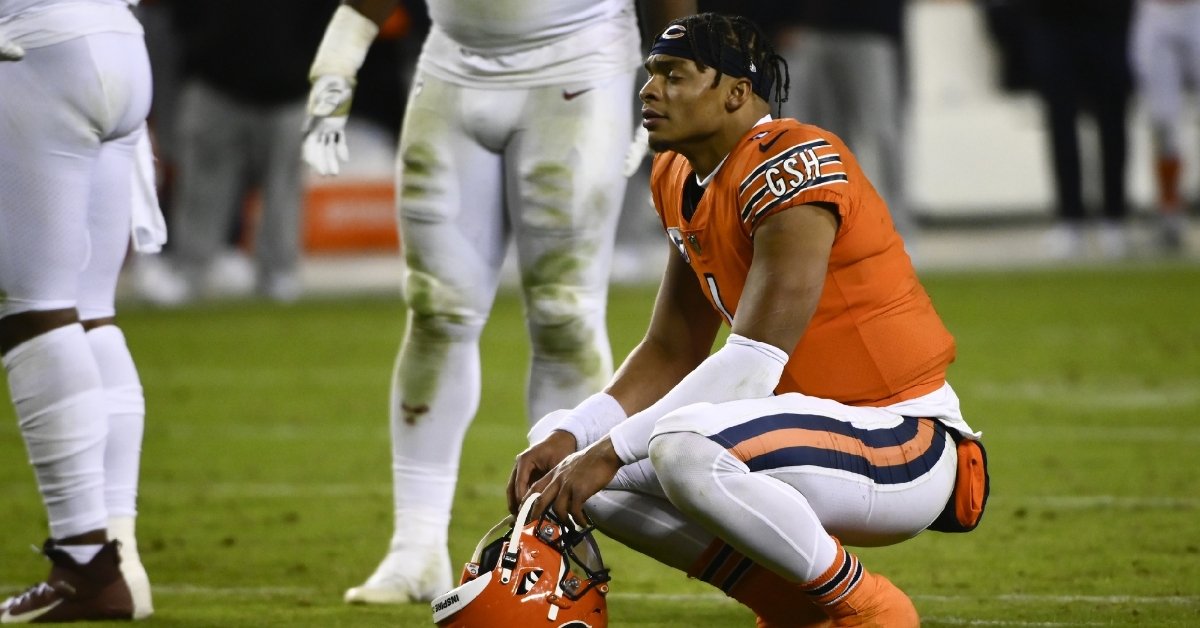 | | |
| --- | --- |
| Mini-bye comes at a perfect time for Bears | |
---
| | | |
| --- | --- | --- |
| Monday, October 17, 2022, 12:00 PM | | |
Let's face it; things haven't been smooth sailing for the Bears, especially regarding their offense. After a 2-1 start to the season, the Bears have dropped three-straight games while their offense continues to look putrid at best.
That can be pointed at Luke Getsy and his lack of experience in calling plays, but you also have to point the finger at other parts of this team. The offensive line continues to be the biggest issue for this team as they continue to struggle in pass protection despite playing very well on the run-blocking side.
Justin Fields needs to also shoulder some of the blame on this one. I understand he hasn't had the best time when it comes to throwing, but when given time, he is flat-out missing his targets. You saw it on Thursday when he overshot Ryan Griffin for a touchdown in the first quarter and continues to lead the league in passes off target with 33%.
That is something that Fields needs to figure out how to fix, and the offensive line can't fix that for him, even if they do give more protection to throw. As much of a disadvantage that Thursday night games can have with a short week for players, it can also serve as an advantage for teams heading into the following week.
The moment that game is over, the teams that play in it get anywhere from 10 to 11 days off before their next game. In essence, Thursday night games can serve as a mini-bye week, which is excellent for the Bears. While the Bears have struggled, especially on Thursday night, their next game is not until Monday, so not only do they have the typical extra three days off, but an additional day before taking the field on Monday night.
This couldn't have come at a more perfect time for the Bears, as this team has some serious soul-searching to do. While most players on this team went about their business last week, some took the extra long weekend off to get away from the team and try and clear their heads.
Regarding Matt Eberflus, this mini-bye had implications for him also, as it allowed him to reflect and look at this team as a whole. He knows changes need to be made to get this team back on track, and he took the extended days off to look at this roster from top to bottom.
While doing that, he was able to look at each individual player and dissect their performance, as he is essentially evaluating this entire team. What this means for the rest of the season remains to be seen, but don't be surprised if the Bears starting lineup looks a little bit different when they take the field on Monday night.
When you ask a lot of teams their thoughts on Thursday night, most of them will say how much they hate the short week as they don't have the standard time to recover. However, getting the extra rest following the game is something every player will take, which is the benefit of a Thursday night game.
The Bears need a jolt of electricity in their locker to, at worst, jumpstart an offense that continues to put up historically low numbers. Where and how that jolt will come is even more of a mystery, but that is something the players and the coaching staff need to figure out.
This is one of the rare cases where a Thursday night game came at the perfect time. I expect a different-looking Bears team in week seven and one that will be more disciplined and focused. Whether the wins translate or not is a different question, but I do not expect this team to look as lackluster as they have been once their season picks back up.