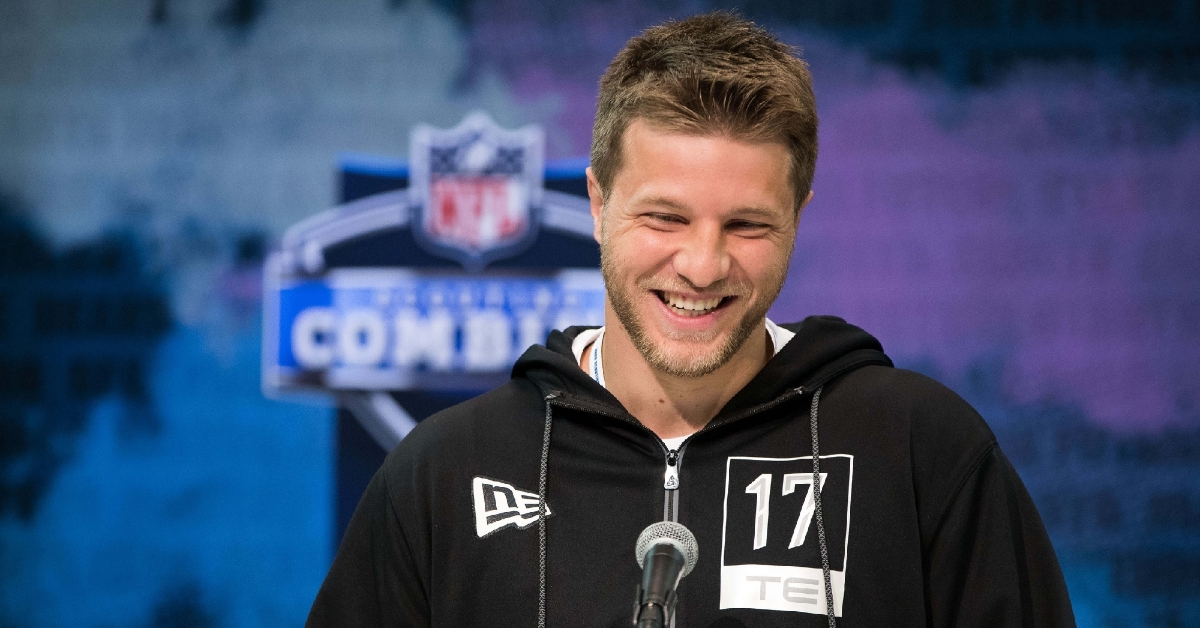 | | |
| --- | --- |
| NFL 2020 prospect profile: TE Adam Trautman | |
---
| | | |
| --- | --- | --- |
| Tuesday, April 21, 2020, 10:36 AM | | |
As we are now 48 hours from the first round of the NFL draft, and a little more than 72 hours from when the Bears are on the clock, things are starting to take shape as to the consensus thought as to what is going to happen in the early rounds of the draft. One thing is evident to this point, and that is the Bears have holes to fill and not a ton of picks to do that with.
While I do expect Chicago to add both secondary help and O-line help early in this draft, it is appearing more and more likely that Chicago will also be targeting the TE position. We have discussed a few options that the Bears could select in the second round if they intend to sign a TE, but what if they hold off until the middle or later rounds and use their early picks to fill other positions of need.
Look no further than the University of Dayton TE Adam Trautman as a possible day three option for the Bears to add to the TE position. At 6-5 255 LBS. Trautman is the perfect size and prototypical TE for the Bears as he offers depth in the run blocking side of things as well as reliable hands in the pass-catching game.
All you need to do is look at what he did in 11 games for the Flyers this season. Not only did he bring in 70 catches, but he finished the season just short of 1000 yards (916) and hauled in 14 scores. That is incredible production even if at the FCS level, not FBS. For his career, Trautman saw action in 44 games and brought in 2295 receiving yards and a ridiculous 31 touchdowns. That would rank near the most all-time in FBS among TE's, so you see why he is worth looking at this point.
While the focus is on the ones we know, Trautman most likely will not make it past the third round as he is graded out as the second or third best TE in the class but would be number one if we looked at production alone. When you ask scouts about what they think of Trautman, they not only see him as a big pass-catching machine but also feel he needs to prove he can translate his game to better competition. An excellent way to do that is by showing you can handle more physical coverage on the field, which only happens once you make your debut.
While the Bears met with him at the senior bowl and haven't been in contact since they are clearly in the market for TE help, so any offensive threat at this position makes sense. Small school prospects are always talented, but for one to be ranked as one of the best prospects at their position is a different story. That is exactly what Trautman is.
While the FCS isn't as good of competition as the FBS, it is way better than Division 2, which is where current Bears TE Adam Shaheen went to school. Not to mention that Trautman has been playing longer and at a much higher level than Shaheen, and it would make sense to draft him and release Shaheen to cut down on the TE jumble at the moment.
What makes Trautman stand out to me, and why I am starting to fall in love with his game is the number of tricks he brings with him to the field. Not only was he used as a TE, but Trautman also lined up in the slot position and even spent some time at QB (which he played in High School before transitioning to TE). That right there shows you his versatility and overall skill set, which could be a blessing in disguise for Matt Nagy and his staff.
The Bears currently have nine TE's on the roster, and Shaheen is one of them. At this point, the only reason I would be drafting anymore TE's is because Shaheen hasn't been healthy enough to stay on this roster and given a chance didn't show us much at all. Even with Jimmy Graham as the teams starting TE, the Bears already cut Trey Burton, meaning none of their current TE's are going to be long term fixtures.
Drafting Trautman in the second round or later depending on trades and what not could certainly solidify that spot both in the short- and long-term side of things. I think taking him in the second round is too risky, but I don't see him lasting until the third round, meaning Ryan Pace may have to wheel and deal to add a pick in the third round to select him potentially. Should that happen, it would be a win for Chicago and someone both Mitch Trubisky and Nick Foles would love to have in their offense.