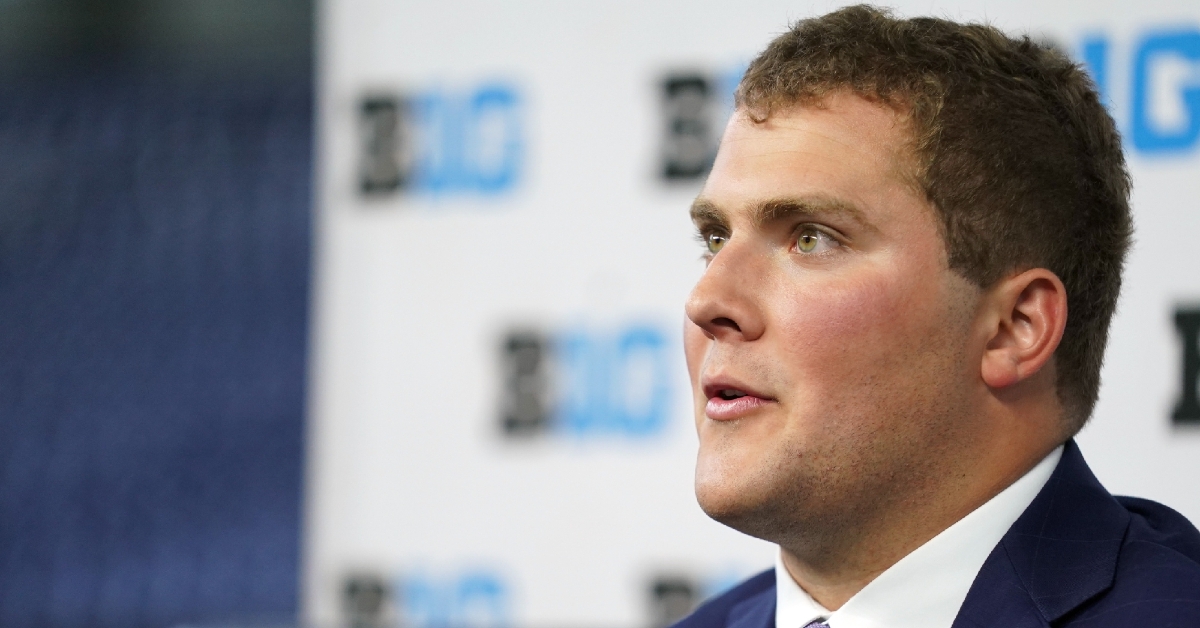 | | |
| --- | --- |
| Northwestern OL Peter Skoronski should be on Bears radar in 2023 | |
---
| | | |
| --- | --- | --- |
| Tuesday, August 30, 2022, 9:07 AM | | |
With the NFL just around the corner, college football returned to the field on Saturday with what is now known as week 0. While most of the games were laughers when you look at the opponents on the field, one game didn't disappoint, and it happened to be Northwestern as they took on Nebraska in Ireland.
Not only was the game filled with back-and-forth action, but there were also a lot of questionable decisions made by Nebraska head coach Scott Frost whose seat is getting hotter and hotter by the minute. When all the dust settled, the Wildcats came away with a massive win as Pat Fitzgerald's squad opened 2022 with an excellent conference win.
Throughout that game, you noticed a ton of standout performances from both sides, but there was one performance that went overlooked. Peter Skoronski is the one we are talking about, and he is already establishing himself as one of the best offensive line prospects for next year's draft.
Despite the Bears doing a good job adding offensive line talent to their team this season, they will most likely be looking for more help, so you can bet they will keep a close on Skoronski, who happens to play his games down the road. Already considered a first-round talent prior to Saturday's game, Skoronski may have solidified himself as a first-round lock and will now aim at being a top 10 or 15 pick in 2023.
When you look at the success the Wildcats offense had on Saturday, you have to give credit where credit is due, and the offensive line played exceptionally well. Skoronski was a big reason for that, and if you look at his stat line, you can see why. Not only did he help pave the way for some huge running lanes, but he stepped into pass protection 39 times.
His overall grade for the game was an impressive 89.8, which ranked No. 1 among offensive linemen in week one, while the most significant stat would be zero sacks allowed from his end. As things sit, he is graded out as the 13th best prospect right now, with plenty of room to grow and improve. Not only is he starting to get a ton of love based on his performance on Saturday, but the 2023 draft class doesn't have a consensus No. 1 player, so there is plenty of time for him to establish himself as the premier offensive tackle in next year's class.
Games like the one Skoronski had on Saturday can help lift his prospect profile. If he can do it again and again as this season evolves, we could see Skoronski as the top lineman prospect in this class. You may ask, what does this have to do with the Bears? With many people expecting the Bears to struggle this season, Skoronski could find himself landing in the area where the Bears would pick, making things interesting come draft day.
With the Bears having a first-round pick next year and a Quarterback in Justin Fields who seems to be taking significant strides, they may want to address the offensive line a bit more to protect him. Skoronski could be that guy, and considering he is playing locally at college; it would be a nice feel-good story to follow.
A first-round offensive lineman prospect with local ties who could secure top prospect status with a dominant showing against Big Ten competition? This guy is about to become the favorite draft-eligible prospect for so many Bears fans. If he is available when Chicago is picking, things will be interesting, especially with another strong receiver class next year.
The Bears knew there was a great receiver class in this year's draft, but chose to prioritize other needs before going after a pass catcher. The same could be said about next season, where another strong receiver group will highlight the draft field, making that a target for the Bears. However, what is more important? Adding a few playmakers around Fields or making sure he stays upright to make those plays.
The answer is simple. Chicago needs to protect Fields for as long as they can as he could become one of the best, if not the best, QB in Bears history. This is nine months away, but it is never too early to start looking at next year's prospects, and you can bet the Bears will be watching Skoronski and his development.