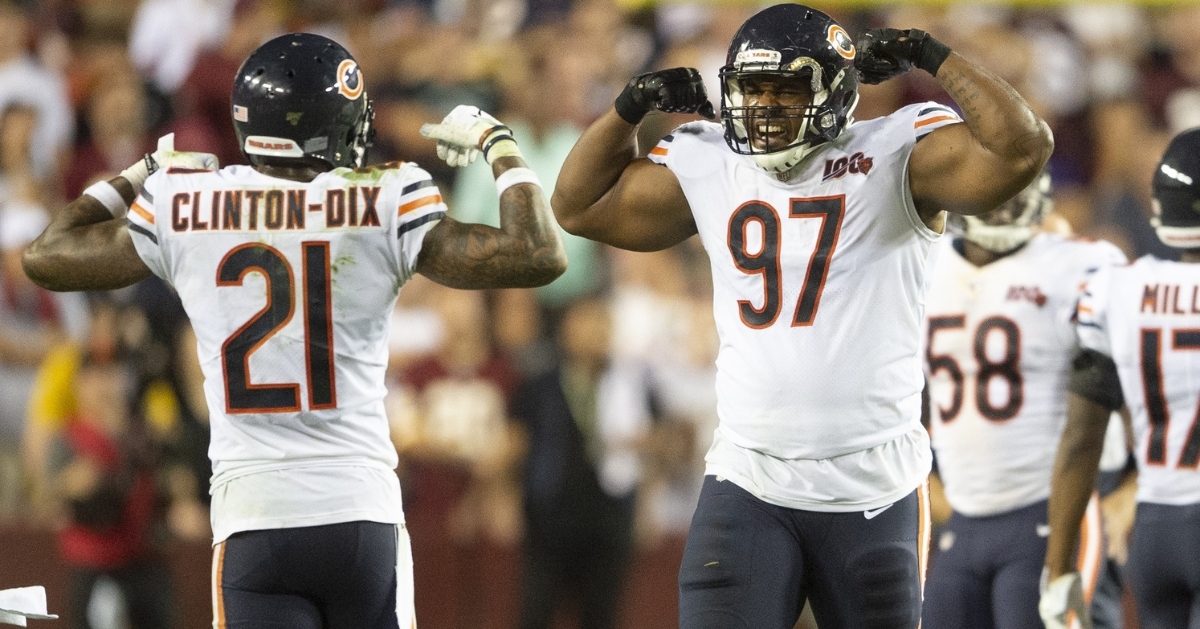 | | |
| --- | --- |
| Prediction, 3 things to look for with Bears-Raiders | |
---
| | | |
| --- | --- | --- |
| Saturday, October 5, 2019, 7:33 AM | | |
Week 5 of the NFL season is the international edition, as the first of four London games are set to take place. It happens to be the Bears and the Raiders ready to do battle at Tottenham Stadium on Sunday as Chicago looks to extend their winning streak to four games.
The Bears will continue to be without several key players which didn't seem to be a problem last week, but this week is an unfamiliar opponent in a different country, so anything can happen. Here are three things to look for that will be the keys to another Bears' win.
Can Chase Daniel duplicate last week? During the game's first series last Sunday, starter Mitchell Trubisky went down with a shoulder injury and did not return. 10-year vet Chase Daniel stepped in and looked impressive most of the game, helping to lead the Bears to a 16-6 win over the Vikings. With Trubisky out for the next few weeks, it is Daniel's team now as he is looking to build on last week's performance.
The only question is, can he duplicate what he did last weeklong term? Well, for starters, he will not be facing as tough of a defense in Oakland as he faced in Minnesota. That alone should make things easier for him and could lead to more significant numbers. Secondly, he has had a full week of reps with the number one offense. That is especially important because it forms continuity and confidence between the quarterback and his players.
Finally, this is not the first time Daniel has been in this offense. Keep in mind; Daniel was the backup to Alex Smith in Kansas City for a few seasons before coming to Chicago. Current Chicago Head Coach Matt Nagy was the offensive coordinator for the Chiefs during Daniel's time, so he knows this offense better than maybe even Trubisky himself. The benefit of playing in this offense with another team is that Nagy knows precisely what Daniel does well. He can then tailor the offense around his skillset to make the Bears go.
Can Chicago continue to survive the injuries: Not only are the Bears down a few on offense, but the defense is missing several vital pieces again this week. That didn't seem to be a problem last week as the reserves stepped in amazingly to deliver maybe the best overall Defensive performance of the season against the Vikings.
The Bears did receive some great news earlier this week as last year's first-round pick Roquan Smith is ready to return to the field after sitting out for personal reasons last week. With two players remaining out on the line, Smith's return is significant to the Bears as they continue their quest to retake the lead in the NFC North.
Khalil Mack motivation: This may be just an ordinary regular-season game on the schedule, but make no mistake about it that Khalil Mack will have extra motivation this week. Mack is facing the team that drafted him in 2014 for not only the first time since his trade to Chicago but the first time in his professional career.
After putting up consistent pro bowl type numbers with the Raiders for four seasons, Mack continued to play at that level in Chicago and maybe even better. He has plenty of relationships on that other sidelines; however, as a lot of those players were teammates of him for at least one season before the deal.
Mack is not going to look at this game any differently than another regular-season game, but you can't hide the fact that he does have some extra motivation this week to show the Raiders what they lost in giving him up. I expect him to have a monster game with the Defense riding his emotion all game long.
Prediction: Bears 20 – Raiders 10: Playing overseas is always tough to predict, given how drastic a change it is from regular NFL life. I do expect both teams to struggle, especially in the first half, as their rhythm may be off due to time zone changes.
Look for the Bears to turn it on in the second half as they will rely on a strong running game to control the clock, while the punishing defense will wreak havoc on David Carr and the Raiders offense. Oakland does have the weapons to make some plays on the outside, which they will, but in the end, it won't be enough to top Chicago as the Bears will move to 4-1.