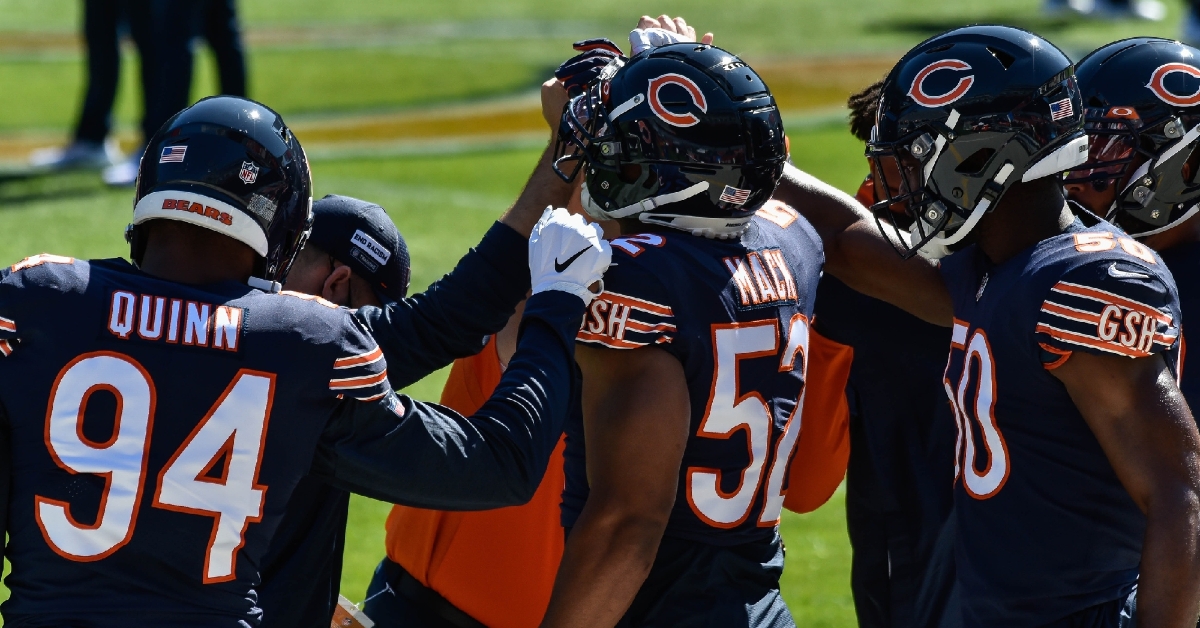 | | |
| --- | --- |
| Prediction, Three things to watch during Bears-Rams | |
---
| | | |
| --- | --- | --- |
| Friday, September 10, 2021, 9:32 AM | | |
The time has almost arrived where the Bears will take the field to kick off their 2021 NFL regular season. There are no more excuses as these games matter, and it will be go-time for the Bears. After spending an entire offseason revamping their offense in hopes of making it better, the Bears now need to take that next step, and Matt Nagy needs to prove he is the great play-caller everyone thought he was when the Bears wanted him to become the head coach.
Standing in their way will be the nasty Rams defense and a Rams team who could be one of the favorites to represent the NFC in the Superbowl this season. Ever since Sean McVay has been in charge, the Rams have been about as consistent as anyone in the NFC, often contending for an NFC West title or, at worst, a playoff spot.
They did that without consistent QB play from Jared Goff which they addressed this offseason by bringing in Matthew Stafford. Very familiar with the Bears and how they do things, this will be the first time in Stafford's career that he has this amount of talent around him. It will be interesting to see how far he can take this team this season.
Los Angeles also has one of the best if not the best defensive units in the NFL, so expect the Bears to be in for a tough battle on both sides of the ball. Not only do the Bears open their season on Sunday, but they do in primetime as the Bears will play on NBC's Sunday night football (7:20 p.m. CDT).
Here are three things to look for ahead of the game:
Bears offensive line vs. Aaron Donald
One of the most significant weaknesses of this Bears team continues to be the offensive line. Although it looks to be better with the addition of Jason Peters and the drafting of Tevon Jenkins, Jenkins remains sidelined with an injury while Peters is off to a slow start with his new team.
For the Bears to reach the level of offensive success they want to achieve, it is imperative that the offensive line plays better, and they will have their hands full this week with Aaron Donald. A player who seemingly is always in the defensive player of the year conversations, Donald is a force on the defensive line, often drawing three players to keep him contained.
He makes the motor go on the Rams defense, and the Bears need to neutralize him as quickly as possible. The more penetration he is getting in the backfield, the tougher things will be for Chicago as they need to keep him quiet to have any chance.
One of the biggest stories of the last few weeks was Nagy's decision to stick with Dalton over rookie Justin Fields who seemed to play better than Dalton this preseason. While it is unclear whether this decision is permanent, given the team Chicago sees this weekend, I will agree that this is the right decision for this week.
Dalton is a seasoned veteran with over a decade of NFL experience, so he has seen almost every defense a team can throw at him. On the other hand, Fields hasn't seen a defense like the Rams yet, and it may not be wise to start him right off the bat if the offensive line can't protect or block Donald.
Dalton is good enough to win you games and put you in playoff contention, but that isn't what the Bears want. They want someone who can get you to the Superbowl, and Dalton isn't that guy no matter how much Nagy believes he is. Another concern heading into this week is Dalton's primetime record as a QB, where he has gone 6-19-1 over his career.
I know wins and losses don't just fall on the QB, but they will be the ones to shoulder the blame more often than not. Dalton is like Kirk Cousins when it comes to primetime, and neither guy likes the spotlight of the entire country watching. That will be the case on Sunday, and it would be a good time for Dalton to pick up his first win with Chicago on Primetime.
#Bears QB Andy Dalton has a 6-17 record in prime time with a 78.7 passer rating and 59.2% completion percentage. Not sure that is a factor entering this season. New team. New offense. New situation. But at least notable as his career numbers are decidedly better in daytime.

— Brad Biggs (@BradBiggs) September 9, 2021
Stafford vs. the Bears secondary
While the offensive line continues to be the biggest area of concern up to this point, the defense has done much this preseason to ease the nerves as they struggled to do much of anything right. The secondary was especially vulnerable as they were gashed all preseason long. I guess that is what happens when you let your best cornerback walk and don't do a lot to replace his importance.
Not only that, but the Bears are carrying just four CBs into their game on Sunday, meaning if someone is lost with an injury, things could get ugly quickly. That doesn't bode well when facing a QB who loves to fling it and can fling it with the best of them. With Cam Akers lost for the season with a knee injury, Stafford will be counted on to lead this Rams offense through the air.
He will have Robert Woods and Cooper Kupp as his primary targets, but the Rams have some of the best overall receiver depth in the league. Knowing what Stafford has done in the past with far less talent and knowing the Bears have secondary issues, this will be a battle to watch all night as that will determine who wins this game.
Cris Collinsworth just said he didn't realize how good Matthew Stafford was. A lot of people are going to realize how good he is now that he's not in Detroit.

— Tony Dombrowski (@tonydombrowski) September 10, 2021
Prediction: Rams 20-13
With an extra regular-season game this year, Chicago will have one more chance to make the playoffs, as every win will matter. That extra week may come in handy down the road because I do not like the Bears chances this week.
From a beat-up and inconsistent offensive line who has to stop one of the best defenses in the league to a secondary who may be in for a long season, the Bears need everything to go right for them this weekend to walk away with a win. I expect their defense to keep them in this game, but scoring points won't come easy as the Rams take this one 20-13.
Bright lights. Big dreams. Let's ride. pic.twitter.com/g9ggBNA64Q

— Chicago Bears (@ChicagoBears) September 10, 2021