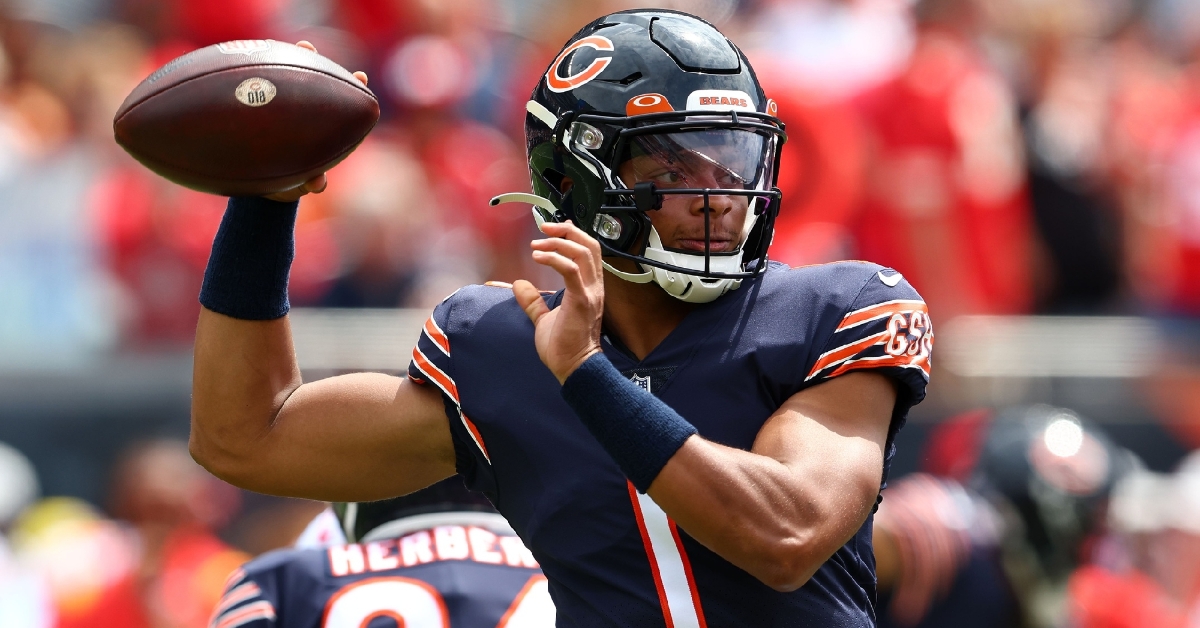 | | |
| --- | --- |
| Prediction, Three things to watch for Bears-49ers | |
---
| | | |
| --- | --- | --- |
| Saturday, September 10, 2022, 9:32 AM | | |
The time has finally arrived, Bears fans, as the 2022 NFL season is upon us. With the Rams and Bills kicking off the season on Thursday night, it is time to get ready for the rest of week one, which will begin on Sunday. Chicago will be a part of that early Sunday window as they welcome the San Francisco 49ers to Soldier Field.
Unlike the last several seasons under Matt Nagy and company, there seems to be more buzz in the air as fans eagerly await this season to see what this team can do. Maybe it is because they are coming off a 3-0 preseason where franchise quarterback Justin Fields looked great, especially in the family. It could also be not having to watch the Nagy brand of football anymore, with fans thinking they can't be any worse.
Regardless of the reasons, it is football season in Chicago, and the Bears are hoping for a strong season. That all starts with a quality opponent that came within one win of the Superbowl last season and still has a ton of talent on this team.
Here are three things to look for and a prediction for Bears-49ers:
Can Justin Fields build on his preseason?
No one will argue with you if you say Fields had an up-and-down rookie season. After not starting until week three and then suffering a midseason injury that saw him miss a few weeks, Year one was a struggle for the young QB.
His passing numbers were inconsistent at best, as he had more interceptions than touchdowns, but he did show off the legs, which makes him a duel threat. However, the Bears have urged Fields to be less of a runner and more of a passer this season, and you saw that in the preseason, especially during his final game when he went 14-16 with three first-half TDs.
While the preseason may not mean much, it is a stepping stone to what is to come this season. If the Bears can get that type of play from Fields all year round, they will surprise a ton of people in the NFC.
Stop Deebo Samuel
Everyone knew Deebo Samuel would be a great player in this league, but no one knew how good until last season. Now entering his fourth season in the league, Samuel has gone from a middle-of-the-road receiver to a top-five WR in just one year, and you can credit his 2021 showing for that.
Samuel led the team in receiving and turned into one of the best rushers on the team, especially during the postseason, where he was the go-to guy. You have to account for his whereabouts when he is on the field, which can open things up for other players like Brandon Aiyuk and George Kittle.
Chicago needs to keep a close on Samuel and where he lines up as they need to make him the focal point of their defense. While I think it is impossible to stop him completely, all the Bears need to do is contain him, and that is where the battle of the minds will begin.
Kyle Shannahan and the QB controversy
While there is no controversy as to the QB in Chicago is, the 49ers have had to go through a bit of offseason drama as Trey Lance was named the starter in the preseason. Last year's No. 4 overall pick saw minimal playing time as a rookie, but did make two starts while putting up solid numbers. San Francisco must have seen enough from him between year one and two to make this move.
Regarding backup QBs, San Francisco now has the best backup in the league as he led the 49ers to the Superbowl three years ago and came within one win of reaching it again last season. Garoppolo may not be the flashiest QB out there, but he is consistent and knows how to win games, so seeing Lance be the starter was a bit of a surprise.
With one of the game's best play callers calling the shots on offense, you have to wonder if Shannahan is fully committed to Lance long-term or if he has specific packages in mind to get Garoppolo on the field. Should Lance struggle or show signs he may not be ready, the 49ers have confidence in Garoppolo and will not hesitate to make the change.
If anything, this makes this team tougher to defend on defense as you essentially have to bring two different game plans with you based on who you see under center. This is a great first test for Matt Eberflus and his team as they look to start 2022 with a bang.
Prediction: 49ers win 20-17
Predictions are fun to make, but they are often way off, making them fun. When it comes to this week's game for the Bears, consider this a measuring stick to see where they stack up against the top teams in the league. San Francisco is a playoff team that came within one game of reaching another Superbowl, while the Bears went 6-11.
The 49ers also have an established head coach who has been with them for seven seasons, while Eberflus will be coaching in his first regular season game. That alone should give the 49ers the advantage here, but it may not be as big of an advantage as you think.
This will come down to the defense, which the Bears need to improve. I expect Fields and this team to make some mistakes in week one, along with Lance and his team. Look for this to come down to the final minutes, but I have to go with my gut and pick the 49ers to edge out the Bears 20-17 on a late Robbie Gould FG.
https://www.youtube.com/watch?v=dgrGYj2uO-A