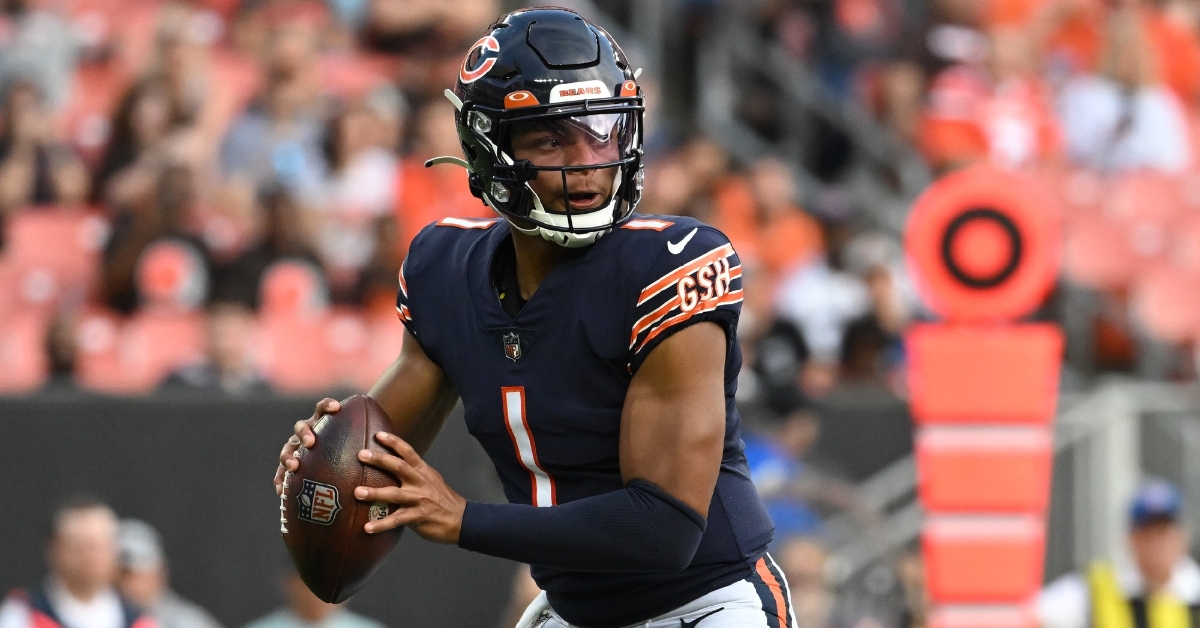 | | |
| --- | --- |
| Prediction: Three things to watch for Bears-Texans | |
---
| | | |
| --- | --- | --- |
| Saturday, September 24, 2022, 12:00 PM | | |
The Chicago Bears return home to Soldier Field on Sunday, where they will host the Houston Texans. I am not going to say any game in the NFL is a gimme game or a game that a team should have, but the bottom line is these are the games the Bears should win.
Playing in a division where wins will be hard to come by this season, the Bears need to bank as many wins as possible outside their division, which started in week one with the 49ers. They now have another shot this week and next week against two beatable opponents, as Chicago is the more talented team in this one.
Granted, this is a season series dominated by Houston, but the Bears won their first-ever meeting with the Texans last time out and will look to build off that.
Here are three things to look for ahead of week 3:
Matt Eberflus and his familiarity
Playing uncommon opponents is always fun for the fans who may not see these teams a ton. As an NFL Head Coach, the most considerable difficulty is the lack of overall scouts that can analyze everything about your opponents.
That is what film is for, but even then, you need someone who has seen this team in action and may know what they like to do. Eberflus is one of those guys, as he knows firsthand what kind of team the Texans are. Granted, they have a new offensive coordinator in Houston; Eberflus was the defensive coordinator with the Colts for several seasons and had to face this Texans team twice a year.
He has seen them at their best with DeShaun Watson and perhaps at their worst when you look at how the season went last year. With that knowledge in hand, Eberflus should be able to prepare more thoroughly than most coaches when facing unfamiliar opponents, which is a huge advantage.
Welcome back, Lovie Smith
Starting at Eberflus on the other sidelines will be one of the most beloved coaches in Bears history Lovie Smith. One a coach who led the Bears to the Superbowl, Chicago ultimately parted ways with him a few seasons later despite having another great season.
In the years since the Bears have had trouble finding a consistent voice to lead their team. Smith was that constant and consistent voice, and the Bears and their fans should be giving him a huge ovation this weekend. He had his best success with the Bears, and Chicago was consistently in the playoff hunt with him.
For whatever reason, the Chicago Bears continue to resort to old habits despite a new play-caller calling the shots. With Luke Getsy now calling the plays in Chicago, many people expected Fields to take the next step forward, primarily if the offense was run like the Packers where Getsy came from.
Instead, here we are, entering week three, and this offense is still searching for answers in the passing game. You saw it in week one, where Fields threw just nine passes in the first half before coming to life in the second. Go to week two at Green Bay, and Getsy allowed Fields to throw just 11 passes, which will not get it done consistently.
The game plan for the past two weeks has been puzzling, and fans are starting to wonder if Fields is the answer or if the coaching has continued to hold him back. The only way to determine if he is your franchise QB would be to trust him to run this offense by maximizing his strengths.
Chicago has yet to do that for him consistently, and it is about time they start to trust him. Fields was a first-round talent for a reason. The sooner they let him be the player he can be, the better things will be for this team moving forward.
Prediction: BEAR DOWN
As expected, the Bears are coming into this game favored, and it should not be a surprise. They have the better QB, and they have the better overall team, so all signs are pointing to another Bears win.
However, don't expect this to be a blowout like in 2020, as Smith will not only have his team prepared, but they will fight for a full 60 minutes. That is the type of game that some teams fear as the team that has more fight will often rise to the occasion. With that being said, I do like the Bears to bounce back in this one, as they top the Texans 24-14 to improve to 2-1.