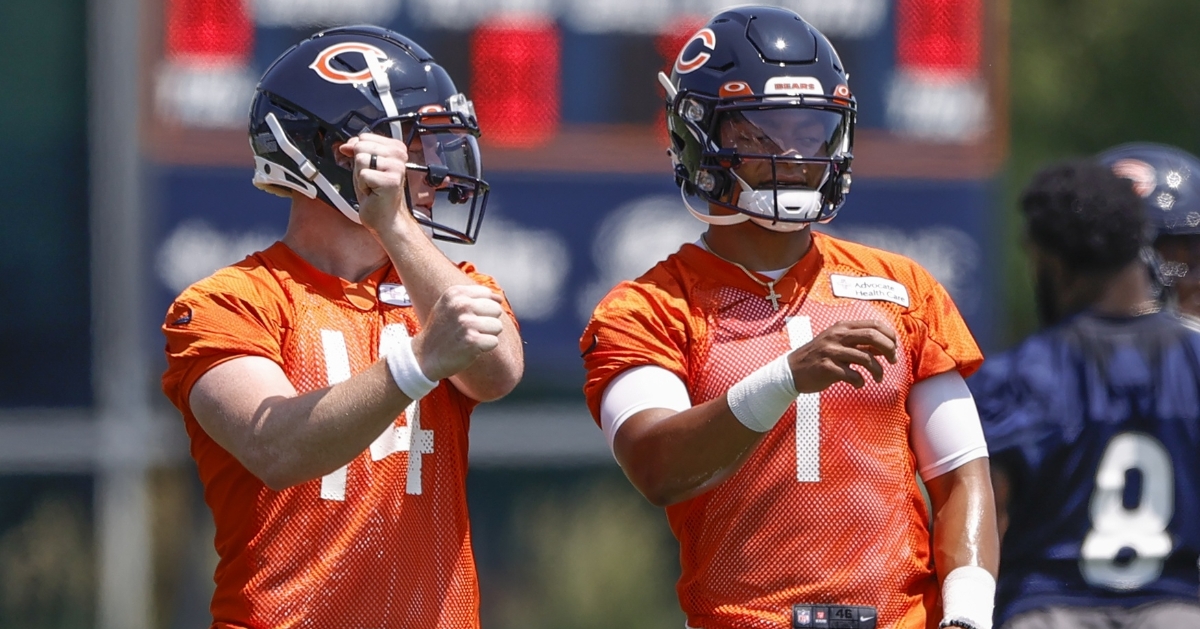 | | |
| --- | --- |
| Preseason Week 3: Three Things to watch during Bears-Titans | |
---
The Bears are hitting the road this weekend for their final preseason game of 2021. Coming off a beatdown at the hands of the Buffalo Bills, the Bears (1-1) would love to make a statement in their final game ahead of the extended regular season this year.
Things won't come easy as the Titans enter this contest with a pair of road wins this preseason, including a 34-3 win on the road at Tampa last week.
The Titans have also been one of the more impressive teams in the AFC for the better part of the last two seasons and have used Derrick Henry as their primary option on offense.
This game may not count towards the standings, but week three is often the dress rehearsal for teams during the preseason. It is unclear if that will be the case this year, but one thing is for sure the Bears need to figure a lot of things out heading into week one this season. Here are some things to look for ahead of the game that will be played on Saturday at 7 p.m. ET on NFL Network.
Justin Fields to start
Through two preseason games, Andy Dalton has started and, for the most part, hasn't played all that well. He did have an excellent 73-yard connection with Rodney Adams against Buffalo, but outside of that, his play has been less than appealing for most Bears fans.
On the other hand, Fields has looked great in his role-playing, primarily with the second and third stringers. With one week to go until the regular season, Matt Nagy continues to reiterate that Dalton is the starter, and unless something drastic happens, that will be the case when week one gets underway.
However, if there were ever a time for Fields to make a lasting impression, this week would be it as he will be the starter for the Bears preseason game. Not only will he play at least one half of football, but this will be the first time he is on the field with the No. 1 offense and offensive line.
Chicago has seen what he can do with the second and third stringers during game action. Now they want to see how he handles the first team.
Justin Fields is outperforming Andy Dalton, despite the fact that Fields is the only first-round rookie quarterback who apparently isn't allowed to play with the starters. Is it too early to say that Matt Nagy is out of his depth here? pic.twitter.com/LvE2QrDgfX

— Doug Farrar (@NFL_DougFarrar) August 26, 2021
Should Fields play out of his mind and prove he can lead this team, Nagy may want to reconsider who his week one starter is. Although I think Dalton has the job locked down, Fields isn't going to give up that easy, and should he play well, look for some changes in Chicago sooner than later.
What will this Titans team look like?
While we have an idea of what the Bears will look like on Saturday, predicting what the Titans will look like is an entirely different scenario. The Titans are dealing with a COVID outbreak for the second season in a row as nine players and coaches have been placed in COVID protocols. That includes head coach Mike Vrabel and Ryan Tannehill, although Tannehill could be cleared by today.
Tennessee is one of the hot spots in the United States as they had to recently cancel a minor league baseball series for the same reasons. With so many people in COVID protocols, the Bears may not get the measuring stick they had hoped for as there is no telling how many starters will play.
If I am the Titans organization, there wouldn't be a single starter suiting up for this game as I would leave them at home. Instead, I would be going with all second and third stringers in the first half while mixing in the practice guys the second half.
It will also be interesting to see how Chicago turns out following this week. Given the effects Tennessee has had to go through in recent weeks with COVID outbreaks, the Bears need to be hopeful that none of their players and coaches hit the COVID list upon returning home. That could significantly alter this roster to begin the season, which is not something any team wants to go through.
From @NFLTotalAccess: A look at today's COVID-19 related events, with #Titans QB Ryan Tannehill going on the COVID-19 reserve list, two #Bills players fined, and the NFL proposing weekly testing. pic.twitter.com/bNmUbtYPg4

— Ian Rapoport (@RapSheet) August 26, 2021
Time for the defense to step up
While the offensive line continues to be an issue for this team, the defense is now a growing concern, especially after watching Mitch Trubisky tear them apart last week. What has been the strength of this team for years has been put to the test, and it is time for that unit to respond to the challenge.
What better way than to put it all together in your final preseason game. Meaningless or not, players thrive off improvements, and they know they need to get better on defense. Not having potentially Henry in the lineup will help, but at the same time, you know they wanted him in there to prove they can be the elite run-stopping team they have always been.
Last season the Titans had an underrated offense that was a top-five unit in all of football. While most of the attention is focused on Henry, and for a good reason, Tannehill continues to play at an all-pro level since arriving in Tennessee. That has led to the Titans being transformed into a great offensive team and one of the best in all of football.
The Bears would love for the Titans to be at full strength on Saturday, but most importantly, they want to play a complete game. That all starts with the defense setting the tone and getting back to what they do best.
Bears fans watching Mitch Trubisky carve up Chicago's defense ?? pic.twitter.com/SyWH4V7ydE

— PFF (@PFF) August 21, 2021
Upgrade Your Account
Unlock premium boards and exclusive features (e.g. ad-free) by upgrading your account today.
Upgrade Now