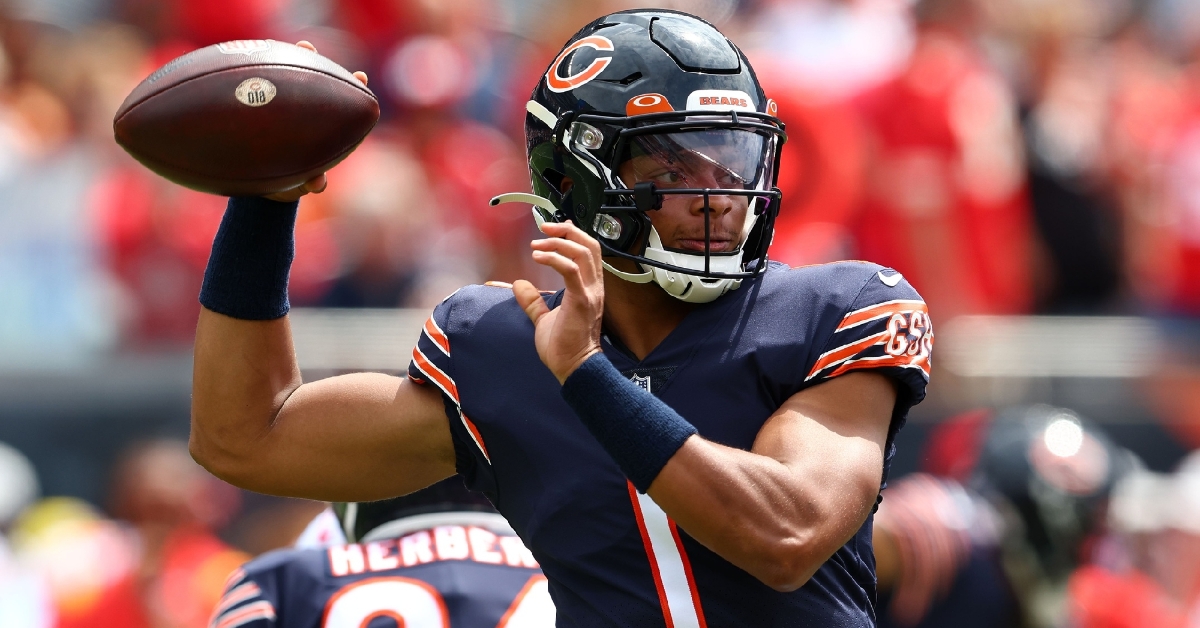 | | |
| --- | --- |
| Bears vs. Cowboys: Preview and Prediction | |
---
Coming off the win the Bears had on Monday night, Sunday can't get here fast enough as Chicago will look to climb back to .500. To do that, the Bears will need to have another game like the one they played against New England as this weeks opponent will be a challenge.
No one will discredit that win at New England, especially when you look at a team that came into that game on a three-game skid and winless all-time at Foxborough. However, the 5-2 Dallas Cowboys present an even bigger challenge as they have Dak Prescott back at the QB position while their incredible defense will be hungry to get after Justin Fields.
Although they are only considered America's team by the NFL media, Dallas has been very impressive under Mike McCarthy the last two seasons as he continues to show he is a better coach than what others give him credit for. However, as good as he has been, Dan Quinn deserves even more credit as he has been the main reason for the Cowboys turnaround.
The defensive coordinator for the Cowboys was expected to interview for the Bears job last offseason only to opt into staying with the Cowboys. That has worked out in his favor, as his defense is playing lights out right now and is ranked in the top three in virtually every category. If the Bears win this game, they will have to earn it, but here are some things to look for heading into Sunday.
Who picks up the slack for Robert Quinn?
Fans have heard the Robert Quinn trade rumors for the better part of five months only to have him remain on this Bears roster. However, those days are done, as Quinn was traded to the Eagles for a fourth-round pick on Wednesday. That will be a significant loss for the Bears and one that will come with serious complications.
Sure, Quinn is not having a great season this year with just one sack, but he did have 18.5 sacks a season ago and had plenty left in the tank. Some would argue that not having Akiem Hicks and Khalil Mack have hurt Quinn this season as he has more attention on him, making it harder for him to get after the QB. he will have all the help in the world with the Eagles.
With Quinn gone, the Bears only have Trevis Gibson as a top-tier pass rusher, and that will be difficult once they start facing better QBs like Prescott. For the Bears to continue to have defensive success, they need to generate more QB pressure. Where that pressure will come from is the mystery, and hopefully, the Bears will figure it out soon.
The Bears offensive line vs. Micah Parsons
We discussed the Cowboys defense earlier and how challenging it will be for Chicago to deal with. No matter where you look, the Cowboys have weapons on the defensive side of the ball, with Trevon Diggs anchoring the secondary, Anthony Barr looking like the Barr of old at LB, and the freakishly good Parsons on the edge.
Parsons is the one to focus on this week, as he could make life a living nightmare for the Bears offensive line. Although they showed some minor improvements against the Patriots, this offensive line unit still ranks 24th in the NFL in pass protection, which needs to improve. You put that up against a guy like Parsons, and Fields may be running for his life more than he would like.
An encore performance from Justin Fields
Bravo, young man, Bravo, take a bow. After listening to plenty of criticism the last several weeks, Fields took that with a grain of salt and went out and played what was perhaps the best game of his life on Monday. Credit offensive coordinator Luke Getsy for helping with that and putting Fields in that position to succeed.
However, next comes the consistency factor, which Fields needs to work on. Since becoming the starter last season, Fields has always shown the ability to do what he did on Monday. However, those games were few and far between, as his lack of consistency has hurt his development dearly.
If he wants to be taken seriously as a franchise QB, those types of games need to happen much more, and what better way than by doing it against one of the best defenses in the game? Things won't come easy, but Fields is ready for the challenge ahead, as are the Bears.
Prediction: Cowboys over Bears
If Chicago goes out and plays close to how they played on Monday, they have an excellent chance of beating Dallas. However, that will be much easier said than done, especially against this Cowboys defense.
There is no way Chicago is scoring 33 points against the Cowboys this weekend, and if they do, something is going on at Halas Hall that they better keep a secret. For the Bears to win this game, they will have to contain Parsons and score when they have an opportunity.
Defensively, they should be able to keep the Cowboys grounded for most of the game, as I don't expect Dallas to get off too many big plays. However, it will be the offense that comes away with the struggles as the Bears give Dallas a fight, but fall 21-13.