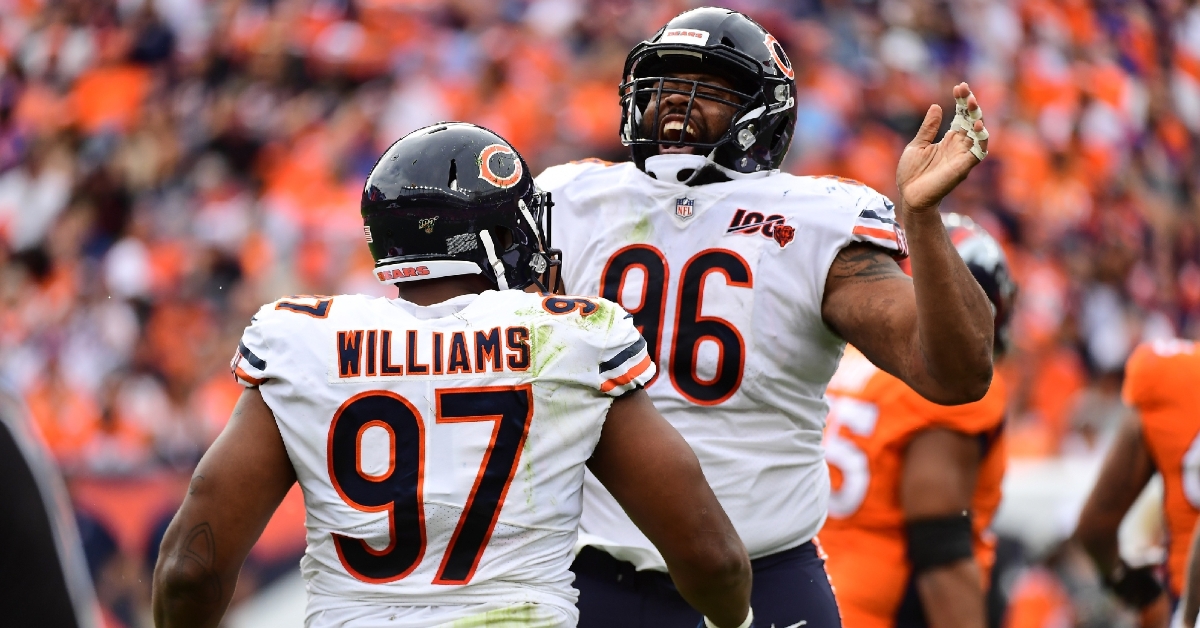 | | |
| --- | --- |
| Projecting the Chicago Bears Depth Chart: Defense | |
---
Yesterday I wrote a column discussing whom I expect to be the Bears starters and reserves on offense come week one this season. Today we switch over the defensive side of the ball as there are a lot of changes you will see this season.
If one unit needs to get back to the way they played in 2018, it would have to be the defensive side of the ball as now second-year coordinator Chuck Pagano has a lot to work with, but tons to prove at the same time. Chicago was not bad defensively last year as they still ranked in the top 10, but compared to 2018, they were bad.
A large part of their struggles on defense last year had to do with injuries to key players as they were never able to overcome some of those losses. However, you can't use injuries as an excuse as the biggest issue was consistency as they didn't seem to have the same type of killer instinct in the past. Now in his second year as the defensive mind and with more weapons at his disposal, look for better and more consistent results this year.
Defensive Line: Starter DE Akiem Hicks (backup Roy Robertson-Harris) DT Eddie Goldman (backup John Jenkins).
The Bears are going to be one of the rare teams that play with just two down lineman as they use a four LB formation. The good thing about that is two of those four LB's are pass-rushing specialists, so it mostly ends up being like a 3-4 set. Hicks battled injuries all season last year, and that was a massive hit to the Bears pass rushing game. Should he stay healthy, you have another player capable of getting ten plus sacks this season.
Linebackers: Starter OLB Khalil Mack (backup Barkevious Mingo) OLB Robert Quinn (Backup Trevis Gibson and Ledrious Mack) ILB Roquan Smith (backup Josh Woods) ILB Danny Trevathan (backup Devante Bond).
Looking at this list of names and you will see nothing but pure talent. The list of the four starters for the Bears at this unit quite possible gives them the best linebacking core in all of football. Add in Mingo who could be a starter for a lot of teams, and you can see the skill and depth they have at this level.
This will be the backbone of the defensive unit, and many sacks will come from the duo Quinn and Mack on the outside. Should these two continuously put pressure on the QB, the Bears will be become the monsters of the midway once again, creating problems all season.
Corners: Starter Kyler Fuller (backup Tre Roberson) Starter Jaylon Johnson (backup Sherrick McManis and Kindle Vildor) starter Buster Skrine (backup Artie Burns).
Losing Prince Amukamara was a huge blow, but adding Johnson through the draft was a huge pickup alongside Fuller. Plus look at some of the free agents they brought in including Burns and Roberson who was one of the best in the game for the CFL last season and the Bears have depth and skill.
A big part of their defensive success is their ability to force turnovers, which didn't happen as much last season compared to the past. A large part of that had to do with less pressure on the QB, but even then, so the playmakers weren't making plays consistently. With more playmakers on the outside and hopefully a better pass rush this season, the Bears defense is going to be one tough unit to crack in 2020.
Safeties: Starter Eddie Jackson (Backup DeAndre Houston-Carson) starter Tashaun Gipson (Backups Deon Bush and Jordan Lucas).
It has been a revolving door next to Jackson the past few seasons as the Bears are looking for his long-term running mate. Gipson, I don't feel is that option, but he at least has the experience to get things done next to him on the back end.
The safety position will be all about developing for the future this year as I feel the Bears may look to move some of their corners to the safety spot moving forward. They do have the athletes and skill players to do just that, so it may not be as hard as what some may think. Regardless of what happens, teams are going to stay away from Jackson, so it is up to Gipson, and whoever else lines up next to him to pick up the slack and be that final line of defense on the back end.

Tags: Bears Football
,
Akiem Hicks
,
Roy Robertson-Harris
,
Eddie Goldman
,
Khalil Mack
,
Roquan Smith
,
Josh Woods
,
Danny Trevathan
,
Sherrick McManis
,
Buster Skrine
,
Prince Amukamara
,
Eddie Jackson
,
DeAndre Houston-Carson
,
Deon Bush