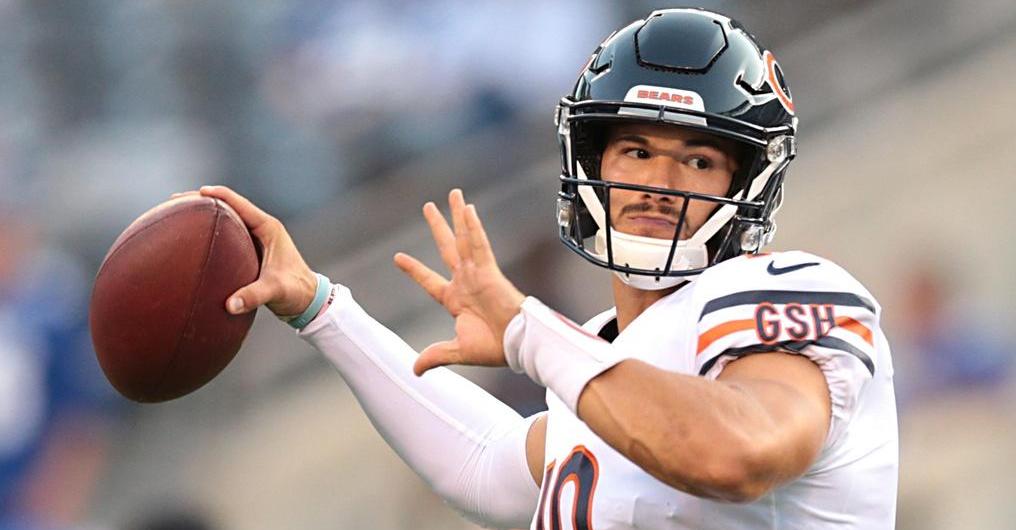 | | |
| --- | --- |
| Re-grading the 2017 Bears draft class | |
---
| | | |
| --- | --- | --- |
| Thursday, June 11, 2020, 9:36 AM | | |
Coming off one of the best drafts of the decade, the Bears were once again picking in the top 10 in 2016 as another poor season on the field resulted in a bunch of losses.
Change was on the horizon, and you got a sense of that during the offseason when the Bears signed free-agent quarterback Mike Glennon to be their starter in hopes his magic in Tampa traveled well.
Round 1 Mitch Trubisky (QB UNC): Despite signing Glennon to be their starting quarterback for the season, the Bears were still thinking long term and had their sights set on the future. With players like Patrick Mahomes and Deshaun Watson on the board, when the Bears made the trade to move up to No. 2, everyone expected one of those two names to be called. Instead, the Bears did the unthinkable and drafted the most questionable pick in the entire draft in Mitch Trubisky.
Trubisky has the talent don't get me wrong, but he was just a one-year starter in college and played in the same conference as Watson. That is the biggest mystery to me as to how the Bears thought he would be better when Watson led his team to a national title. Trubisky also put on a very impressive showing at the NFL Combine, which also led to his fast-rising stock.
Since then, things have been a rough go for him as he has not lived up to the bill of a No. 2 pick. Now in his fourth season, Trubisky has struggled to find consistency despite helping lead the Bears to the playoffs in 2018.
His 8554 yards, 48 touchdowns are decent, but his 29 interceptions shows off his decision making on the field. He is at his best when he can use his legs, but that isn't what you want long term.
Now, it appears it is now or never for Trubisky as the Bears elected not to pick up his fifth-year option leaving his future in doubt beyond this season. Not to mention Chicago traded for Nick Foles this offseason to compete with Trubisky, and things could get worse before they get better for the former first-rounder.
Round 2 Adam Shaheen (TE Ashland): In another somewhat surprising selection in round 2, the Bears went offense yet again in drafting the big tight end Shaheen.
From a physical standpoint, Shaheen has all the measurables of a pro-TE, and someone teams would love to throw too. Athletically, while he isn't the fleetest footed person on the field, he is good enough to make plays if given a chance.
That is the biggest issue with him thus far as he hasn't produced at the level people expected him to through three seasons. You can notice that when you see what he has done as he has hauled in just 26 catches for 249 yards and four scores. Most of those numbers came last season when he was given his first real chance to shine following a Trey Burton injury, but didn't produce. Now in his fourth season and with a plethora of TE's on the roster, Shaheen may be battling for his life.
Round 4 Eddie Jackson (S Alabama): The fourth round is where the Bears made some progress, and it all starts with Jackson at safety. The former standout for the Crimson Tide defense has been one of the leaders of the Bears defense since his arrival and has been a playmaking machine. So far, through four NFL seasons, Jackson has picked up 184 tackles to go with two sacks, but that is not where he makes his presence felt.
It is the turnover game that stands alone as Jackson has logged ten career interceptions to go with five fumble recoveries leading to five career scores on the defensive end. He has been the best playmaker on the defensive side of the ball, which led the Bears to sign him to a nice extension this offseason making him the highest-paid safety in the game. Now it is time to find him a running mate long term to rebuild the Monsters of the Midway mantra on defense.
Round 4 Tarik Cohen (RB North Carolina A&T): With their second pick in round 4, the Bears went back to offense in drafting FCS RB Tarik Cohen. A standout back in college who accumulated nearly 6000 yards and 56 touchdowns on the ground over four years in school, Cohen was looked at being the perfect change of pace back behind Jordan Howard, who could do so much more on the field.
Not only is he a good runner, but Cohen excels in the passing game as well as the punt return game making him a swiss army knife for the Bears play calling. The 2018 Pro-Bowler hasn't done too much to impress, but he has been solid and will continue to be that way if used properly. Through three seasons, Cohen has surpassed 1000 yards on the ground, 1500 yards in receiving, 1600 yards in returns adding 17 total touchdowns to his name.
All that was done in a primary reserve or specialty role, and he was expected to be the full-time starter last season until the Bears drafted David Montgomery. Entering what looks to be the final year of his deal unless his option is picked up, Cohen will look to continue doing what he always does and make plays in a variety of ways.
Round 5 Jordan Morgan (G Kutztown): The only way to keep an offense going is to keep them protected so adding any form of depth at this point is a good thing. Jordan Morgan from Kutztown was viewed as a nice depth piece, especially with a 6-4 frame and coming in at 313 pounds. The Division II standout played in 43 games during his college career and earned a call on draft weekend to continue his playing career.
Unfortunately for him, that playing career appears to be short-lived, at least in terms of the NFL. Not only did Morgan not play a single game in his one season with the Bears, but he was also waived before the start of the season and didn't return to the game until 2018. He was on the Titans practice squad that season before joining both the Jets and Calgary Stampeders practice squads in 2019. In an attempt to come back once again this season, Morgan signed with the DC Defenders of the XFL, but once again failed to make the roster cut.
Draft Grade D: Had it not been for Jackson and Cohen, the Bears would have received an F for this draft. Not only did they take an unproven tight end in the second round who has not produced at all, but they blew it with their franchise quarterback in the first round when both Patrick Mahomes and Deshaun Watson were still sitting there ripe for the taking.
I am not saying both of those guys would be as good as they are in Chicago, but both are far more talented than Trubisky and with a strong defense would have no trouble winning games. This is going to be the draft the Bears look back on and think what the heck were we thinking.