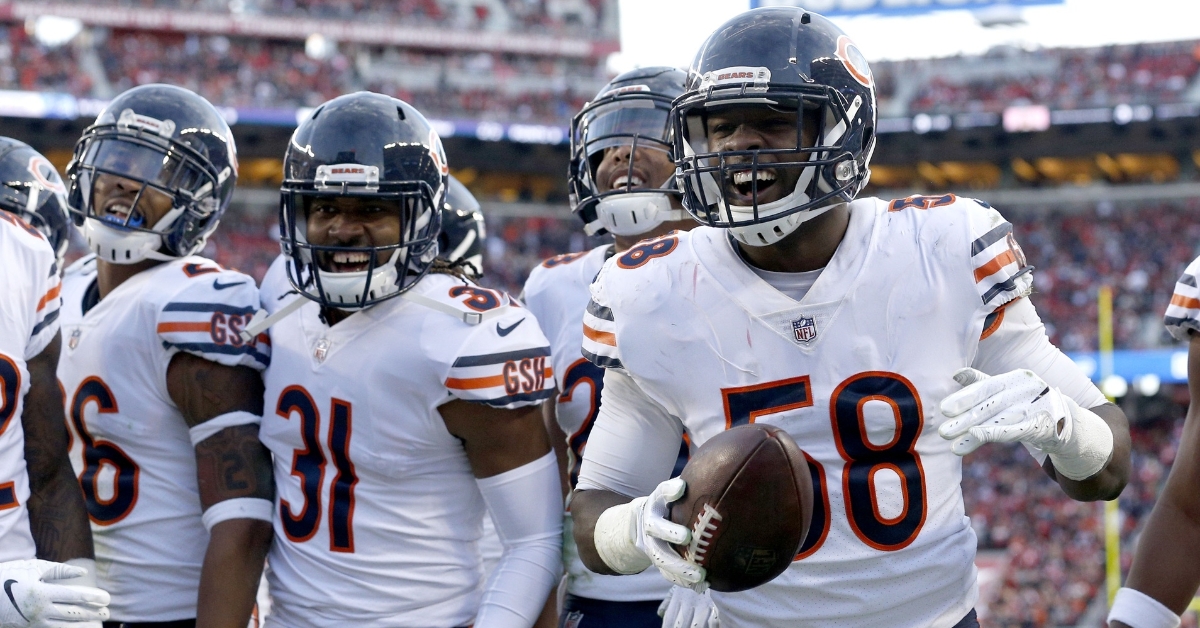 | | |
| --- | --- |
| Re-grading the 2018 Bears draft class | |
---
| | | |
| --- | --- | --- |
| Friday, June 12, 2020, 10:44 AM | | |
Coming off one of their best drafts in a long time, the Bears made a big splash that offseason by acquiring Khalil Mack to anchor the Bears defense. Add in several free-agent acquisitions to improve the offense and a new Head Coach in Matt Nagy, and it appeared the Bears were pushing all their chips to the table. Add in seven more picks in the upcoming draft, and the Bears were in position to shine in 2018.
Round 1 Roquan Smith (LB Georgia): Picking in the top is certainly not where the Bears wanted to be in 2018, but getting a guy like Smith was a dream. The former Georgia Bulldog has been nothing but impressive since coming to Chicago and has been a focal point in the Bears defense for his first two seasons.
Along with making an all-rookie team in 2018, Smith went on to lead the Bears in tackles that year before putting together another solid campaign in 2019. His 222 tackles over the past two seasons have him ranked in the top three in all the NFL, and his seven sacks and two interceptions prove he can make plays across the defensive front.
Round 2 James Daniels (C Iowa): Before the Bears decided to move Cody Whitehair back to C, Chicago was focused on finding a starting C and went right after Daniels. He may have been a C in college, but once he came to the Bears, Chicago felt he was a better fit at the Guard position and moved him there immediately following training camp.
That was a great decision on the Bears part as he has played in all 32 games over the past two seasons, starting 26 of those games. With Daniels at Guard and Whitehair anchored at the C spot, Chicago has two players that are familiar with each other and can help build the line around their strengths.
Round 2 Anthony Miller (WR Memphis): Just 12 picks later, the Bears were on the clock again and went offense with Miller. At that time, no one knew what to expect from the former Memphis Tiger, who put together 3590 yards and 37 TD's for his three seasons in college. After two years in Chicago, the Bears certainly found someone special as he has emerged as the team's NO. 2 option.
After playing behind Allen Robinson, Taylor Gabriel, and others as a rookie, Miller emerged in year two in this league and is now without question the teams No. 2 receiver paired on the outside with Robinson. His 84 receptions, 1074 yards, and nine scores are not eye-popping, but keep in mind he didn't see consistent starting time until the second half of this season when he took off. Look for year three to be a massive breakthrough for him.
Round 4 Joel Iyiegbuniwe (LB Western Kentucky): I would not want to be the one pronouncing his last name daily, but the Bears did add Iyiegbuniwe to their defense in the fourth round. After an impressive career for Western Kentucky that saw him log nearly 200 career tackles, 16 sacks, and five forced fumbles, he was going to be thrown into a reserve role in Chicago looking to contribute for an ever-improving defense.
Through two NFL seasons, Iyiegbuniwe has not seen the field much spending more time on the practice squad than on the actual roster. His 13 career tackles are clearly evident in the overall lack of playing time he has seen. Expect this to be a make or break camp for him if he wants to stick on this roster long term.
Round 5 Bilal Nichols (DT Delaware): Continue to add depth to the defense, Nichols was drafted in the fifth round looking to represent the Blue Hens in a big way. The big 306-pound run stuffer had a solid college career collecting 56 tackles, 6.5 tackles for a loss, 5.5 sacks four pass knockdowns, and a blocked kick, which shows he had a knack for being around the football.
Once he was drafted, Nichols was not expected to start, but he was going to compete for playing time given his work ethic on the field. That work ethic has paid off as he has not only seen more playing time but has gotten some starts in each of the past seasons resulting in 55 tackles and three sacks thus far. Nichols continues to assert himself in the Bears lineup and is working his way to a nice free-agent payday.
Round 6 Kyle Fitts (DE Utah): A bit undersized for a DE at 263 pounds, Chicago liked the athleticism and quickness they say from Fitts and took him in the sixth round. It was a shocking move, to say the least, as he missed one season due to an injury and transferred into Utah after his freshman season leaving much more to be desired from his film.
Hoping to make something happen in Chicago, Fitts' time was short-lived as he was cut following the final pre-season game and left searching for work. It wasn't until the 2019 season when he was back in an organization when the Arizona Cardinals scooped him and placed him on their practice squad, adding him to the active roster in December. With no career stats thus far through two years, let's see if he carves a more prominent role for Arizona this year.
Round 7 Javon Wims (WR Georgia): A college teammate of Smith at Georgia, Wims, was often overlooked in the draft but did bring a lot of great measurables to the table. At nearly 6-3 and 222 pounds, Wims is a big WR who offers decent speed in the 4.53 range. After playing one year in the Junior College circuit, Wims signed with the Bulldogs, where he became a big part of their offense the next few years that included a 720-yard seven touchdown season leading into the draft.
Expecting to be a work in progress, Wims has made some excellent strides in Chicago and is starting to see the field a bit more in terms of snap count. His 22 catches, 218 yards, and one score all came during the 2019 season as he played in all 16 games after seeing just one in 2018. With Gabriel no longer a part of the Bears WR plans, Wims will be one of a handful of guys competing for the No. 3 or 4 spots on the team in 2020.
Draft Grade B: Although it wasn't as good as 2017, the Bears put together a solid draft for the second straight year, adding some nice pieces to the table. Guys like Miller, Smith, Daniels, Wims, and Nichols all have panned out in some way to a point, but the other two players haven't done anything at all. While only three of these draft picks can be considered starters, five have played significant roles with the Bears thus far and will only get better.


Tags: Bears Football
,
Khalil Mack
,
Roquan Smith
,
James Daniels
,
Cody Whitehair
,
Anthony Miller
,
Allen Robinson
,
Taylor Gabriel
,
Joel Iyiegbuniwe
,
Bilal Nichols
,
Javon Wims