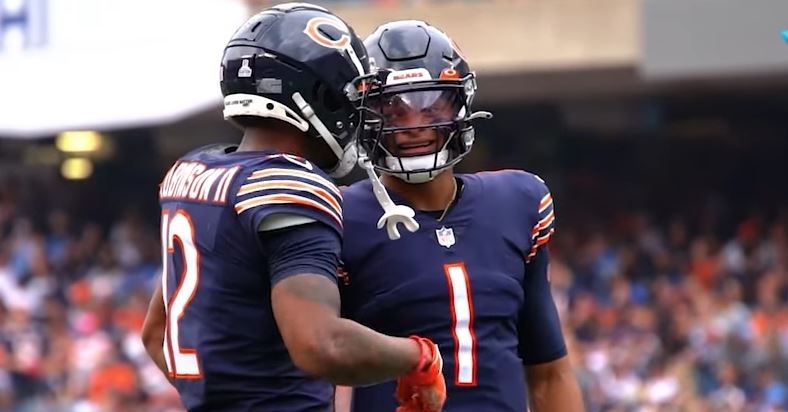 | | |
| --- | --- |
| Bears News: Robinson says Justin Fields didn't get enough reps in training camp | |
---
There has been so much to dissect with the Bears the last few days, but last night something came across ESPN that needs to be touched on. Bears No. 1 receiver Allen Robinson has been adamant about getting a new contract to stay in Chicago. Now that he is going another season without an extension, you can tell he is counting down the days until he can sign elsewhere.
Although his production is way down this season than his previous three years with the team, he is doing his best to continue being a good teammate. Part of being a good teammate is being as honest as possible; even if it is brutally honest to the point, it hurts. This week was all about honesty within the Bears organization, and it brings to the surface how many internal problems they seem to have.
From the Bears higher-ups appearing to reach a breaking point with Matt Nagy to Jason Peters talking about injury issues and schematic issues that have hurt this team, it is what Robinson said that twists the knife a little deeper and has fans irate. All offseason long, Nagy was adamant that Andy Dalton would be the team's No.1 coming into the regular season.
Although he said that, he also noted that Justin Fields would get plenty of reps and would be ready when his number was called. Whether that was all just smoke and mirrors to tell fans what they wanted to hear or the plan all along, something happened along the way, and it could be the reason why Fields has looked the way he has so far.
Robinson talked about his chemistry with Fields and why the two can't seem to be on the same page consistently. Robinson went a little deeper with that, saying that Fields never got many reps during training camp and the real reps he took were in the preseason. Keep in mind when Fields came in during the preseason Robinson and most starters were out of the game, which is why Fields and Rodney Adams had such a great connection.
Typically, training camp is the time when rookies and players alike get on the same page. Those are the weeks where teams usually iron out the kinks, so everyone is on the same page come week one. To hear that Fields never got many reps during camp and the chemistry between the team's best WR and the QB are lacking because of it is disheartening.
That leads me to believe that Fields never had a fair shot at earning the starting job and that Nagy had his mind made up on Dalton since the day he
signed. Despite being a first-round pick and perhaps playing better than Dalton in the preseason, Fields was never the team's starter unless an injury occurred. While that did happen in week 2, Fields hasn't done much to gain the confidence of Bears fans just yet, but most of that blame is shouldering on Nagy.
As a head coach, your job is to lead this team and put them in the best position to win games. Nagy constantly felt that Fields wasn't quite ready to be a starter yet, and at this point, maybe he was right. I give him credit for being open and honest about that, but whose fault is it that he isn't ready. Ultimately, it is on the coaching staff to get these guys ready, especially rookies, and training camp is the primary place where that takes place.
To not only announce Dalton as the starter without giving Fields a chance, but to then limit him to very few reps in camp is a real slap in the face to Fields and the Bears fans. At this point, it seems as if Nagy wants Fields to fail to prove a point. I know that is not true, but what has he done to help Fields out at this point.
Fans know that Fields is the future of this organization, but after watching what happened to Mitch Trubisky, there is a lot of concern in Chicago right now. At this point, Fields needs to be the starter to improve and figure things out heading into year two. However, the team may not make the playoffs if that is the case which ultimately will cost Nagy his job.
Should Nagy and the Bears want a fighting shot at the postseason, maybe going back to Dalton is the best option right now. We saw what happened when the team shifted through QBs last season, and despite the struggles, they made the playoffs because they went with the best option to win games. Fields is far more talented in every aspect than Dalton outside of experience.
That alone is huge in the NFL, and Dalton makes this team better for the short term. He is an 11-year veteran who knows how to read defenses and will get rid of the ball much faster than Fields does. Whether the Bears make the postseason or not, it will be a short exit which is why Fields and his receivers will have the entire rest of the season to work on chemistry issues.