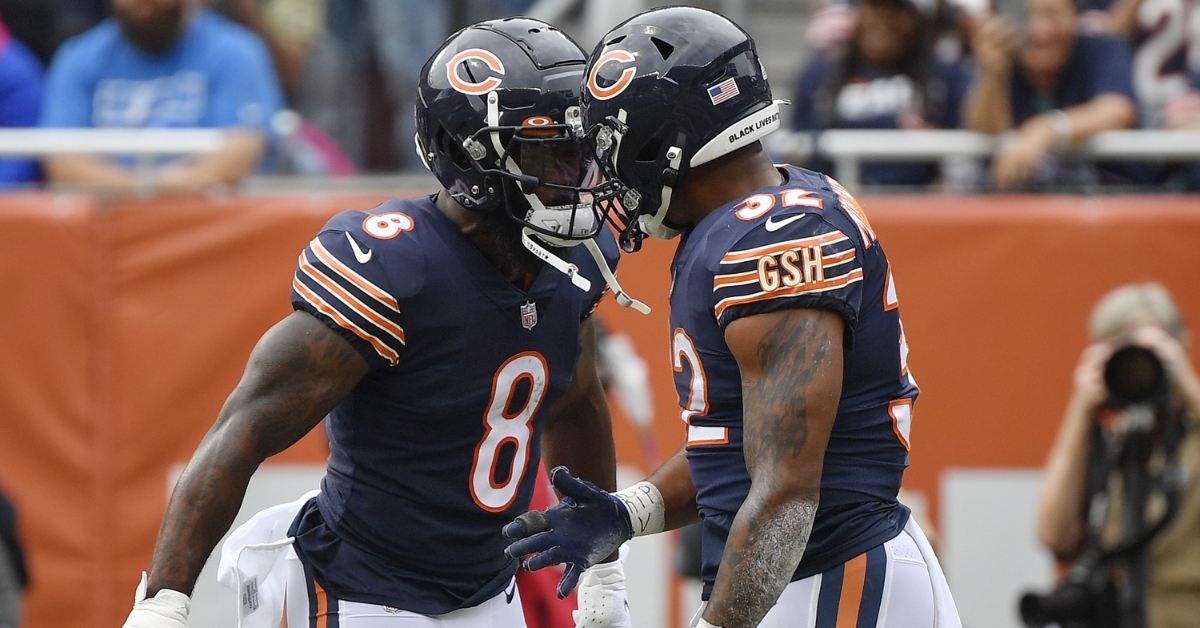 | | |
| --- | --- |
| Bears News: Season in Review: David Montgomery, Khalil Herbert, Damien Williams | |
---
| | | |
| --- | --- | --- |
| Friday, February 4, 2022, 1:32 PM | | |
About a week ago, we started the season in review report cards series. Sure, a little late, but there was so much offseason chatter surrounding the new GM and new head coach that it was difficult to avoid all that right away. Now that the coaching and front office side of things is taken care of, we can get back to the report card grades for the season, which starts back up with the running backs.
One of the things that Matt Nagy preached last season was that he wanted the Bears to become more of a run-first team. When you have a bell-cow back in David Montgomery, who rushed for more than 1000 yards in his second season, you can see why Nagy wanted to become that team. However, inconsistencies on the offensive line and injuries to several running backs saw the Bears rushing attack less than ideal this season which didn't help their cause at all.
David Montgomery
Now entering his fourth year in the league since being drafted out of Iowa St., David Montgomery has cemented himself as an every-down back that the Bears haven't had since Jordan Howard and Matt Forte. Montgomery was eased into action before finishing with more than 700 yards rushing as a rookie. He stepped up his game last season, topping the 1000 yard mark and showing many people what he was truly capable of.
He was expecting another big season last year, and he saw a minor slip up as he missed four games with a knee injury. He still led the team in rushing, where he picked up 849 yards and seven touchdowns. He will need to improve on his YPC, where he was held to just 3.8 this season. Should he stay healthy in 2022, look for another great year.
Grade B: Montgomery had another solid season, but it wasn't nearly as good as his second season. Injury aside, his numbers would be close to what they were in 2020, but he just never got into the rhythm he was in one year ago. Montgomery displayed much better-receiving skills this season as he hauled in 301 yards through the air, proving he is more than just a ground and pound back.
One of the more intriguing draft picks by the Bears this season was the addition of Khalil Herbert. Entering camp as the No. 3 back, Herbert was thought to be the Bears primary kick returner, given his potential to make things happen. Just like when he was attending UNC, Herbert showed the ability to score every time he touched the ball and earned more playing time where he became the team's No. 2 option.
Despite limited touches early in the season, Herbert still managed to play in all 17 games, which not many players can say they did. His 4.2 YPC led the team for RBS, and he finished second on the team with 433 yards and a pair of scores. He also amassed 96 yards receiving, as that will be the next part of his game that he needs to develop.
Grade B+: I love the pick in Herbert as he has a bright future in this league. Given the injury and uncertainty of Tarik Cohen next season, Herbert could be that guy Chicago counts on to be their No. 2 back for years to come. He is a playmaker with the ball in his hand and can hurt you in many different ways. Look for him to be more involved in year two now that he is more comfortable.
One of the more under-the-radar signings last offseason was bringing in former Superbowl MVP Damien Williams. Signed to replace the injured Cohen last season, Williams had a great preseason and was off to a good start to open the year. As expected, the speedy RB was the team's No. 2 to begin the season until an injury and the vast improvement by Herbert pushed him out of that role and saw him finishing the year with limited action.
Williams played in 12 games for the season, but didn't even eclipse 200 yards on the ground. In fact, he nearly had as many receiving yards as rushing yards, and that wasn't a ton. Williams managed to score three touchdowns, but this was not the player the Bears expected to see.
Grade D: Williams was brought in to be an X-Factor type of piece for the offense, but instead turned out to be a huge bust. Not only did he fall to No.3 on the depth chart, but outside of one or two games, he did next to nothing in terms of production. Chicago needs to figure out what they want to do with him going forward, as his role in Chicago is not what it once was.
Tarik Cohen
Season Grade N/A: There isn't anything you can say about Cohen at this point except that you feel for the guy. He will be going on nearly two years since playing a game, and that is never an easy thing to do. Before tearing his ACL in 2020, Cohen was arguably the most essential piece to this offense, given how valuable he was in different roles.
After having several setbacks that forced him to miss last season, people are starting to wonder if his days in Chicago are ending. Cohen is a talented player, but he may be looking for work elsewhere next season as Chicago can't bank on him being the same player he once was.