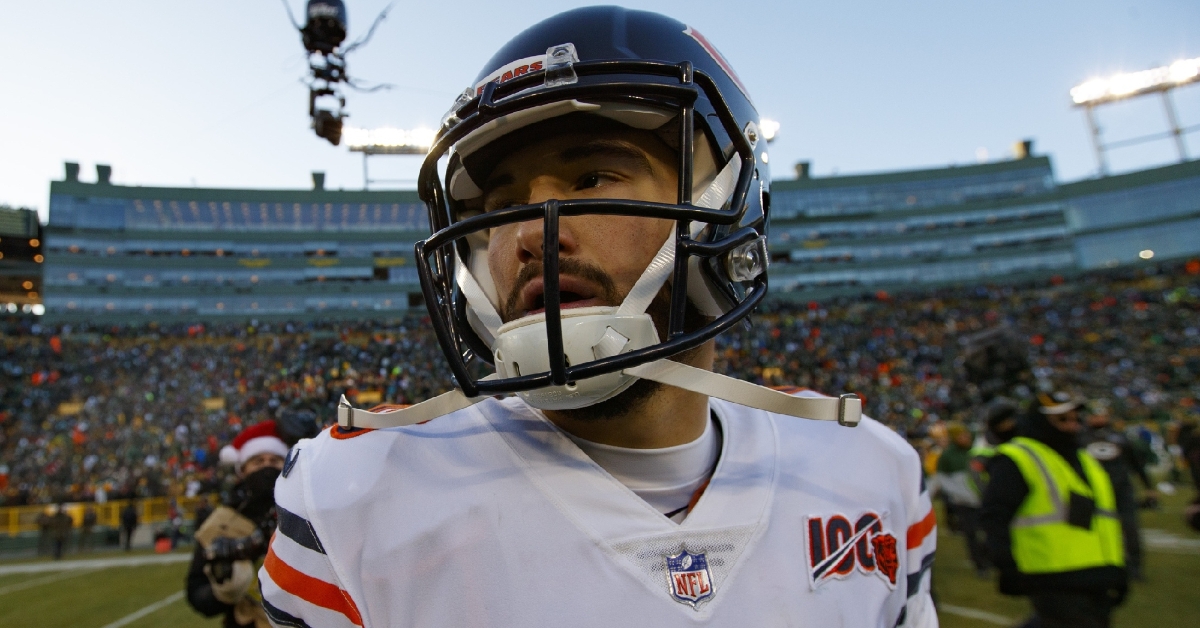 | | |
| --- | --- |
| Season in Review: QB Grades for Bears | |
---
We continue our season in review series by moving to the quarterback position. This has indeed been a position that the Bears have struggled at for a long time, as seemingly no solution has been found. Even when the Bears had the good Jay Cutler in town, even he had moments that made you wonder what the Bears were thinking by keeping him around.
Now freshly off his third year as a starter and second full season as a starter, Mitch Trubisky continues to pilot the offense in hopes of becoming the man long term for this franchise. However, the jury is still out on him as plenty of fans are mixed with what they see on the field thus far. Regardless of where you stand, it appears Trubisky will be here for at least two more seasons pending a trade, so we cannot give up on him just yet. Here is how I would grade the quarterback play from this season.
Mitch Trubisky: In his second season as a full-time starter, Trubisky continued to struggle at times, but did improve on a lot of his overall game. For the record, he didn't make it through an entire season uninjured yet, as that will be something to watch based on his style of play. He did manage to play in a career-high 15 games winning eight games this season after picking up ten wins last year.
Ideally, not a guy you want to throw a ton of passes, Trubisky uncorked over 500 attempts this season, completing his passes at a 63.2% clip. Put that in perspective, and it ranked second in the division only behind Kirk Cousins. Trubisky also threw for 3138 yards, becoming the first Bears QB to have consecutive 3000-yard seasons since Cutler did it five seasons in a row.
His 17 touchdowns and ten interceptions does still need to improve, but he managed to have a three-game stretch where he threw seven touchdowns to one interception before running into the GB defense late in the year. Trubisky also ranked third on the team in rushing with 193 yards as his legs continue to be a considerable part of his game.
Part of the fan's frustrations regarding Trubisky is his lack of consistency as he tends to play one or two good games and then follows that up with a few bad ones. Yes, I get play-calling is part of that and that he is still learning, but he will be in his fourth season next year, and that needs to improve. The Trubisky we saw during the Bears 1-4 stretch during the midway point of the season is not what Chicago wants moving forward.
Instead, they want the guy that went 7-4 with 14 touchdowns and six interceptions in those 11 games who used his legs to make things happen along with his arm. We have seen his pocket awareness, but the bottom line is Trubisky is much better when he is on the move, and the coaching staff needs to realize that and design the offense around that.
Season grade D: Yes, Trubisky did play better down the stretch, but outside of his completion percentage, his numbers were down from last season. His interceptions were lower, which means he is learning not to make as many mistakes, but his lack of consistency from one week to the next is still alarming. For the Bears to even think about making him their franchise man, he needs to play well every week to prove he is worthy.
Chase Daniel: Most teams find a hard time finding a reliable back up QB in case their starter goes down. Well, the Bears are not one of those teams as Chase Daniel may not be the best QB on the market, but he is certainly capable of filling in when needed. Over the last two seasons, Daniel has played in 6 games, starting three of them in which he has gone 2-1 as a starter.
This season, Daniel played in three games, making one start when Trubisky was injured, losing that game to the Raiders in London. Daniel did, however, lead the Bears to a week four victory over the Vikings at home, filling in for Trubisky after just one series on the afternoon. For the season, Daniel was 45-65 through the air for 435 yards 3 TD and 2 INT. Not terrible for someone who doesn't see the field a whole lot.
Season Grade B-: Grading a backup QB is never easy, especially when they don't play much. Despite his poor play against Oakland in the loss, Daniel did lead the Bears back in the fourth and nearly completed the comeback. Although a limited sample size in his seven-year career, Daniel has been in the Nagy system before and knows what needs to happen for the team to be successful. He wouldn't be a long-term option, but should the Bears need someone for a few games; it could be a lot worse.