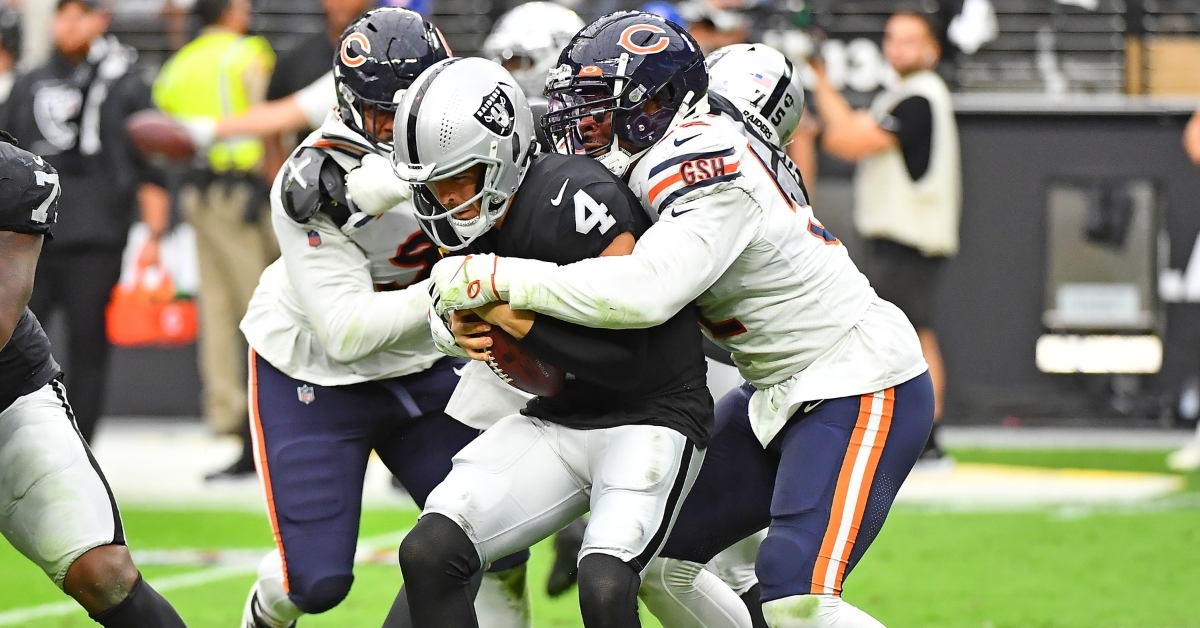 | | |
| --- | --- |
| Bears News: Season Report Cards: Khalil Mack, Robert Quinn, more | |
---
| | | |
| --- | --- | --- |
| Thursday, February 17, 2022, 9:12 AM | | |
There were plenty of disappointing things surrounding the Bears this season. From the team's overall record to another lackluster offensive performance, this is an organization that has more questions than answers right now. Because of that, Chicago implemented a brand new regime as Ryan Poles (GM) and Matt Eberflus (HC) are now in charge of this franchise.
For the Bears to get back to contending once again, they need to do a better job playing with consistency. Most of that falls on the offense as they have been stuck in neutral for the better part of three seasons, but you also have to blame a defense that hasn't played that well either. Whether it be age or just the overall scheme remains to be seen, but the bottom line is this defense continues to decline, which doesn't bode well.
Injuries and age have certainly taken a toll on the defensive side of things the last few years, but you have to look at the lack of overall production. One of the positions that did produce was the linebacker position, especially the Bears pass rushers who make a living on the outside.
The big acquisition of the 2018 offseason, Mack has been one of the premier pass rushers since coming to the league. All that production came with a hefty price as the Bears found out that it sometimes takes mortgaging your future to bring in talented pieces. Mack instantly produced the moment he stepped on the field, but things haven't gone as planned in the years since.
I am not saying Mack hasn't produced in his last three seasons because he has. It hasn't been at the level of 2018, which is a concern for Bears fans. 2021 was the icing on the cake as Mack produced in a big way early only to have a foot injury end his season. Despite being inactive since October, Mack still logged 19 tackles, with six coming as sacks. That is a significant percentage which makes you wonder what could have been.
Season Grade B: Mack may not have been healthy this season, but he was a man on a mission early. Looking at his season, you see that nearly 33% of his tackles resulted in sacks. Having a 19 tackle season is nothing to get excited about, but had he kept that percentage up for the entire year, he would have been on pace for 15-20 sacks.
No one benefitted from Sean Desai more than Quinn. After a lackluster first season in Chicago, Quinn was looking to prove his doubters wrong in 2021. The former North Carolina Tar Heel not only silenced his critics, but had his best season as a pro while putting up one of the best seasons in Bears history.
While Mack may get the most attention on the defensive end, Quinn not only proved he deserves as much if not more attention, but was the Bears best player on defense this year. His 49 tackles with 38 solo may not be that great, but it is what he did with those tackles that stand out. Not only did he force four fumbles, but he was a part of 23 tackles for a loss this season. 18.5 of those were sacks as Quinn set a new franchise record with that performance.
Season Grade A+: This was the easiest grade to dish out this season as Quinn was nothing short of amazing. After the first year he had with the team, had you told me this was the type of production he would give you, everyone would have laughed. Now that they saw what he can do, this is the Quinn the Bears paid for. The question will be what will he do for an encore, and can he do this consistently year in and year out.
While the Bears had plenty of linebacker talent to go around, these were the primary outside linebackers to take note of. Guys like Alec Ogletree, who accumulated 55 tackles, had plenty of playing time, as did Christian Jones. Combined, they earned a grade of a B+ as they had to fill the void left by Mack after his injury.