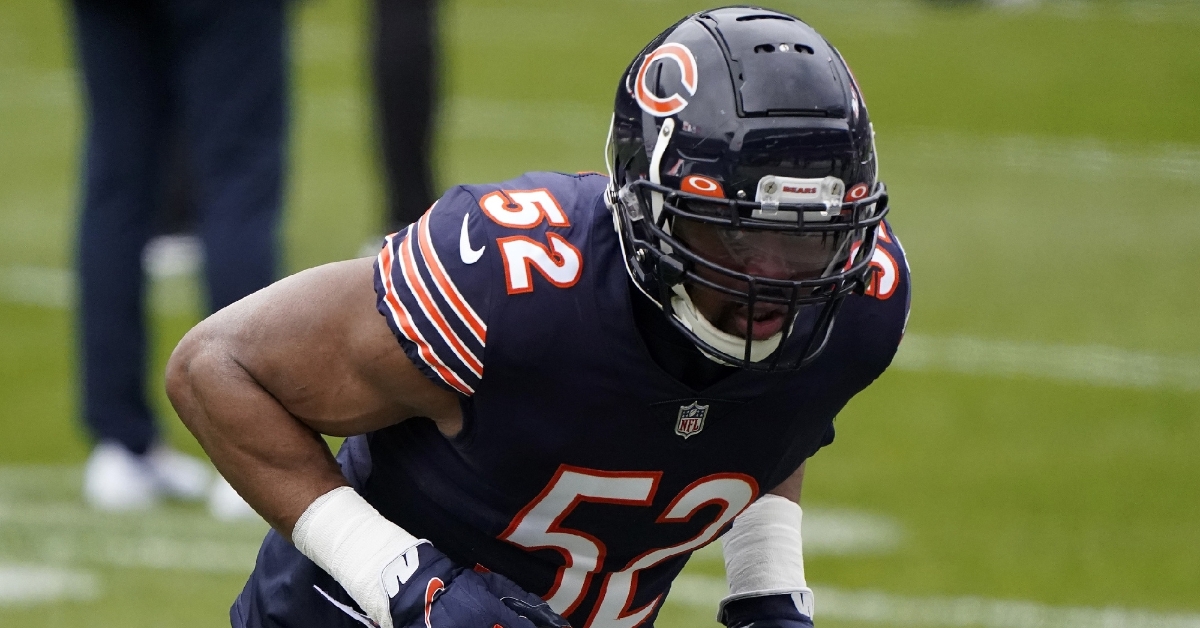 | | |
| --- | --- |
| Should Bears trade star linebacker Khalil Mack? | |
---
Now that a new front office is in place for the 2022 NFL season and beyond, Ryan Poles will be faced with making plenty of tough decisions. One of the easiest decisions he will make is Justin Fields, as that will be the Bears starting going forward. Outside of that, Poles will take a long look at this roster and figure out what needs to change to get better.
Given that the Bears are still near the bottom of the NFL in total cap space, you have to think there will be some trades or player restructuring to create more money to make things easier for this team. That brings us to the biggest question, which surrounds Khalil Mack and his future in Chicago.
Five years ago, the Bears not only shocked the NFL, but pulled off one of the biggest trades of the NFL offseason when they went to get Mack from the Raiders. At the time, that trade gave the Bears precisely what they were looking for as Mack earned defensive player of the year honors while the Bears defense rose to the top of the NFL. It was a deal made to improve their defense, but came with significant costs also.
In the last four years, Mack has been productive, but he hasn't produced at the level he did in 2018, and now he is coming off a foot injury that sidelined him most of last season. You also have to consider the cost of getting Mack, as the Bears gave away tons of draft capital to make that happen. Not only did they lose their first-round picks in 2020 and 2021 with that trade, but they still do not have a first-round pick this season as the Bears mortgaged their future in that deal.
What looked to be a great trade is starting to have some repercussions, and now the Bears are faced with a tough decision whether or not to keep Mack. Trading Mack away would hurt this defense, but at the same time, it could help them in the long run as they do need more pieces in play. If the Bears intend to build up a competitive roster instead of trading for pieces, Mack could be a casualty for a team looking to improve their defense and is in win-now mode.
As tough of a pill to swallow as that would be, you have to think this is the best move the Bears could make at this point because it would not only free up cap space to do more things, but it could give them more picks in the draft to work with. For as good as the Bears defense has been the last few years, they are aging at many positions, and that is starting to become an issue.
With age comes a lack of production and injuries, as the Bears have seen their share of injuries on the defensive side of the ball the last few seasons. Unable to do a ton in free agency, at least when it comes to signing a big-name player, trading Mack away would free up tons of cap space which the Bears could use to add to their roster.
Whether it would be on the offense to help Fields or adding to the defense, so they get younger, Mack is an asset that would help this team in the short-run if he stays with the team or the long-run if he leaves the team. Another thing Mack would bring to the table is the acquisition of draft picks which the Bears would love more of.
Don't get me wrong, Mack will not bring back multiple or even one first-round pick like in his first trade, but that doesn't mean you can't get something out of him. He is still a valuable asset on defense that would bring back a couple of picks in the round 2-4 range. For as bad as the Bears have drafted in the past, they have made a living on day two selections which is where this could fall under.
Most recently, David Montgomery (round 3), Darnell Mooney (round 5), and Larry Borom (round 5) have all made lasting impacts for the Bears, especially on the offensive side of the ball. Trading away Mack to get more mid-round picks could help the Bears land more talented players like this, which could help them become a contending team in the near future.
Upgrade Your Account
Unlock premium boards and exclusive features (e.g. ad-free) by upgrading your account today.
Upgrade Now