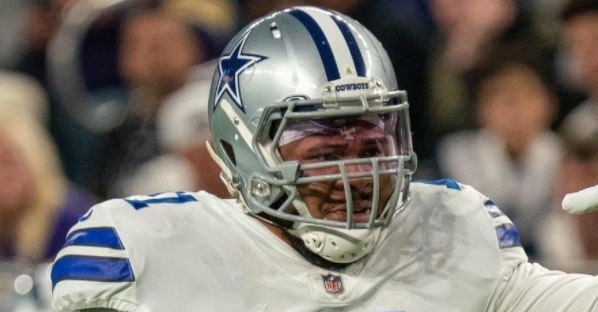 | | |
| --- | --- |
| Should the Bears pursue La'el Collins? | |
---
| | | |
| --- | --- | --- |
| Wednesday, March 16, 2022, 11:49 AM | | |
With the NFL new year officially underway and the free agency period hot and heavy, teams are trying to figure out many things to get under the cap. Some of that is done by trades, but more often than not, you see teams restructure deals or flat out trade people to make room. The Bears know first hand what that is like as they had to go through similar hoops last season to add minimal pieces.
This year things are different as the Bears have cleared away a lot more money to make a run at specific pieces this offseason. If you ask fans, the offensive line should be the focus, but where do the Bears go to find that help without overpaying. I got an idea. How about calling the Dallas Cowboys and seeing La'el Collins and seeing what it would take to lure him to Chicago.
As things stand right now, the Cowboys are just over a million dollars over the cap, which isn't terrible. However, until they can get under the cap, they can't make any moves to improve their team, which is never a good thing. Even though that isn't a big hurdle to climb over, the Cowboys appear to be struggling to free up that money which is where Collins comes into play.
A mainstay on the Cowboys offensive line since 2015, Collins is due 10 million this season, and because of that enormous hit, the Cowboys have been fielding his interest on the trade market. They have found out that he has a very high demand in terms of who is interested, but are the Bears one of those teams. If not, they should be as Collins would instantly make this offensive line better.
Since 2015, the 28-year-old Collins has played in 74 games, 71 coming as starts. Not only is he durable, but he plays at an extremely high level, where he landed an 80.2 PFF grade which ranked him 15th out of 83 qualified players. Outside of him missing 2020 with a hip injury, Collins has been durable, and that is something the Bears offensive line lacked a season ago.
Looking at his base salary, you can see the value and how good of a player he is. The Cowboys don't want to see him leave, but if there is this much interest from other teams, a trade makes sense if it helps them get under the cap. Parting ways with Collins would create 1.3 million in cap space, and that right there would put them under the cap.
However, if they wait until after June 1 to trade him, they will clear 10 million in cap space which seems to be the route they will be taking. Given the Bears, new GM wasn't happy with how the unit played last season and has made it a point to improve that this offseason. Would Ryan Poles be interested in making this deal happen?
It makes sense for the Cowboys for financial reasons and it makes sense for the Bears as they will improve the one part of their team that has struggled for five years. This will also give Justin Fields one of the best tackles in the game, protecting him, which will help his overall development as a QB.
The one problem I see with the Bears going for Collins at this point would be the assets they would have to give up. I wonder if they even have the pieces or investments to field such a trade. This team doesn't have much draft capital to give up, but they know they have to get better in the trenches. Collins will make the Bears better, and this is something the Bears should entertain.