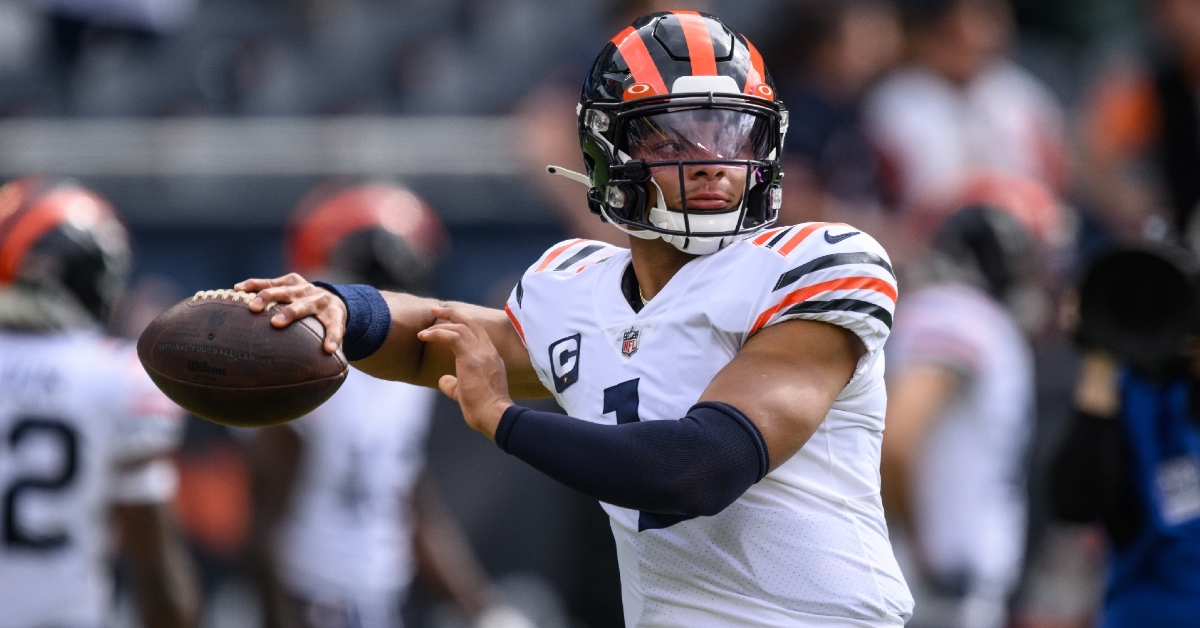 | | |
| --- | --- |
| Sit or Start 'em in Fantasy Football: Bears vs. Vikings | |
---
| | | |
| --- | --- | --- |
| 2022 Oct 7, Fri 18:04 | | |
Running backs for the Chicago Bears always get a fair share of production and fantasy points. With Montgomery still being the top running back for the Bears, it only makes sense to start him if he is healthy. Right now, he is a game-time decision meaning that fantasy owners will have to keep a close eye out for his status right until game time. Montgomery has been decently productive when he is in with 122 rushing yards in his last full game. Furthermore, the Vikings rank No. 23 in the NFL in rushing defense, giving up an average of 131 rushing yards per game. This would seem to be a good game for Montgomery to return to his normal levels of productivity.
Darnell Mooney had his best game of the season last week and almost his first 100-yard game of the season. It looks like despite the loss against the New York Giants, the Bears might have finally developed a little chemistry in the passing game. This could be promising for Mooney, who was the top receiver for the Bears last season. Furthermore, his last 100-yard game was against the Vikings in the season finale last year. The Vikings are also ranked No. 26 in passing defense, which would provide a good opportunity for the passing offense to take some further steps. Mooney is too much of a fantasy risk in an 8- or 10-team leagues. But, if you are in a league with 12 teams or more, the risk may be further the reward.
The third-year tight end is still barely getting any targets, much less receptions, this season. He had two targets through the first two games with no receptions. He finally got two receptions for 40 yards against the Texans, and then another three receptions for 16 yards. His overall rank according to Yahoo is No. 331, a few spots up from last week. The Bears are still last in passing offense, averaging 97.5 passing yards per game (The Giants are 31st with an average of 139.5 passing yards per game). With these dismal stats for the Bears' passing game still lingering, Kmet cannot be started in fantasy leagues, but could be a good pick up later in the season.
The good news for Justin Fields is that he is still in the top 100 fantasy players in the NFL according to Yahoo. The bad news is that he is ranked No. 100. He had his first game of the season without an interception last game, but also his second game in a row without a touchdown. He had a season-high in passing and rushing yards, with 174 and 52 respectively. With the offense failing to put up points on a consistent basis, ranking 31st in the league in points per game with 16, there are other quarterbacks that can be started in fantasy before Fields.
With Montgomery being a game-time decision, fantasy owners need to have a backup to fill his place. While Khalil Herbert disappointed a little bit last week, he is still ranked No. 48 overall and had 19 rushing attempts last game. The key difference between the game against the Houston Texans and the game against the New York Giants is the amount of production with those carries, as well as the fact that he didn't score any touchdowns against the Giants. As previously mentioned, the Vikings ranked No. 23 in rushing defense. So, whichever running back is playing for the Bears, they will have a good amount of production.
Velus Jones Jr - Sit
No. Do not start Velus Jones Jr. He has not gotten involved in the passing game at all. His game against the Giants was his first of the season, and the only time anyone saw Jones was when he muffed the punt with three minutes and four seconds left in the game. He now has a total of -2 fantasy points this season. He cannot even be considered a starter on any fantasy lineup until he at least has a catch from Fields.