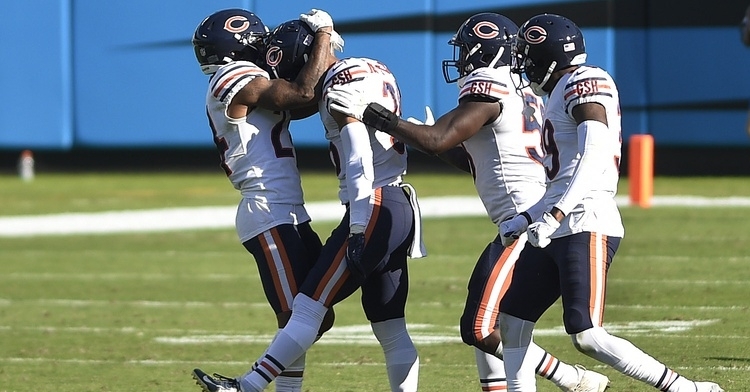 | | |
| --- | --- |
| Things things to watch, Prediction: Bears-Rams | |
---
In a rare treat, the Chicago Bears will be on during primetime tonight as they take on the Los Angeles Rams for Monday night football. With the Seattle Seahawks losing to Arizona last night, a win by the Bears would move them to 6-1 on the season and put them in the NFC's top spot. Standing in their way is a good 4-2 Rams team that can close the gap with Seattle with a win of their own.
This should be a great game tonight, and the Bears are looking to keep their great start rolling. In what is shaping up to be their most challenging part of the schedule, Chicago has won the first two of this grueling six-game stretch and have themselves right in the thick of things. Despite losing to the Rams 17-7 last season, this will be an entirely different ball game as Chicago is a much better team, as are the Rams.
Here are some things to look at ahead of week 7.
MONDAY NIGHT FOOTBALL ??@ChicagoBears ? @RamsNFL pic.twitter.com/BJRRHE0bdV

— ESPN (@espn) October 26, 2020
Try to stay perfect on the road: The Bears are 5-1 on the season, but it is their 3-0 mark away from Soldier field that stands out the most. The last time the Bears accomplished such a feat was in 2006, which was the same year they went to the Superbowl. No one will sit here and compare those two squads, but there are a lot of similarities in those teams.
Instead of Kyle Orton and Rex Grossman leading the way, you have Nick Foles and Mitch Trubisky along with a tenacious defense that is getting after it. They always say if you want to be a great team, you need to take care of business at home and play at or around 500 on the road. Well, the bears are taking care of business both at home and on the road right now, so it will be curious to see if that can continue.
Folks... the CHICAGO BEARS are currently the No. 1 seed in the NFC. pic.twitter.com/3pkry5VGd2

— NFLonCBS (@NFLonCBS) October 26, 2020
Leonard Floyd Revenge Game: Often, when players leave teams for different organizations, there tend to be mixed feelings on the divorce. Leonard Floyd will have his opportunity to come back and haunt the Bears in what could be a revenge game of some sort.
The former first-round pick for Chicago had a solid career with the Bears but never lived up to where he was taking. Chicago elected to let Floyd walk this offseason and signed Robert Quinn, whereas Floyd went to the Rams. This will be the first crack Floyd has against his former team, and you can bet he will be ready to deliver in significant ways. If I'm the Bears, I am looking for him to have a big game as he will undoubtedly want to make his presence felt.
"We love the person. I think Leonard is a really, really awesome person. I think he's a really good player."

Matt Nagy happy for Brandon Staley + Leonard Floyd's success

— Los Angeles Rams (@RamsNFL) October 25, 2020
Contain Aaron Donald: Patrick Mahomes is the best player in the NFL, and no one will argue that. The second-best player may be on the Rams in Aaron Donald as he could be a game-changer in this one. The two-time defensive player of the year is the best defensive start in the NFL, and if it wasn't for Mahomes may be the best overall player. He is a menace to prepare for, and teams need to account for him on every play.
With his mix of size, speed, strength, and athleticism, Donald is impossible to contain 1v1, so teams often must put multiple guys on him to neutralize his success. To me, this will be the biggest key for the Bears. Their offensive line has gotten better, but there are still some holes that Donald will look to attack.
The more disruptive he gets, the worse things will be offensively for Chicago. Establishing the run game is always a key for Chicago, and that will be true once again. However, containing Donald will be a more significant task. Look for Foles to start with a lot of quick passes to get the ball out quickly in hopes of neutralizing the pass rush. The sooner he can do that; the better things will be.
*Wakes up and remembers the Bears are playing tonight.*

*Then remembers they're playing against Aaron Donald.* pic.twitter.com/ktYOSqcu6v

— Robert Mays (@robertmays) October 26, 2020
Prediction: Bears win 21-20 The Bears continue to impress this season as they win the way most expect them. Their offense is doing just enough to win while their defense is getting back to the Vic Fangio days. The Rams have a great offense and an underrated defense led by Donald upfront and Jalen Ramsey on the outside.
Last season when these teams met, it was a defensive struggle in which the Rams won 17-7. Look for that to be the case once again, but more scoring could happen this year as both offenses are playing better.
Chicago holds off the Rams 21-20 as the Bears defense comes up with a huge turnover late to seal the win.