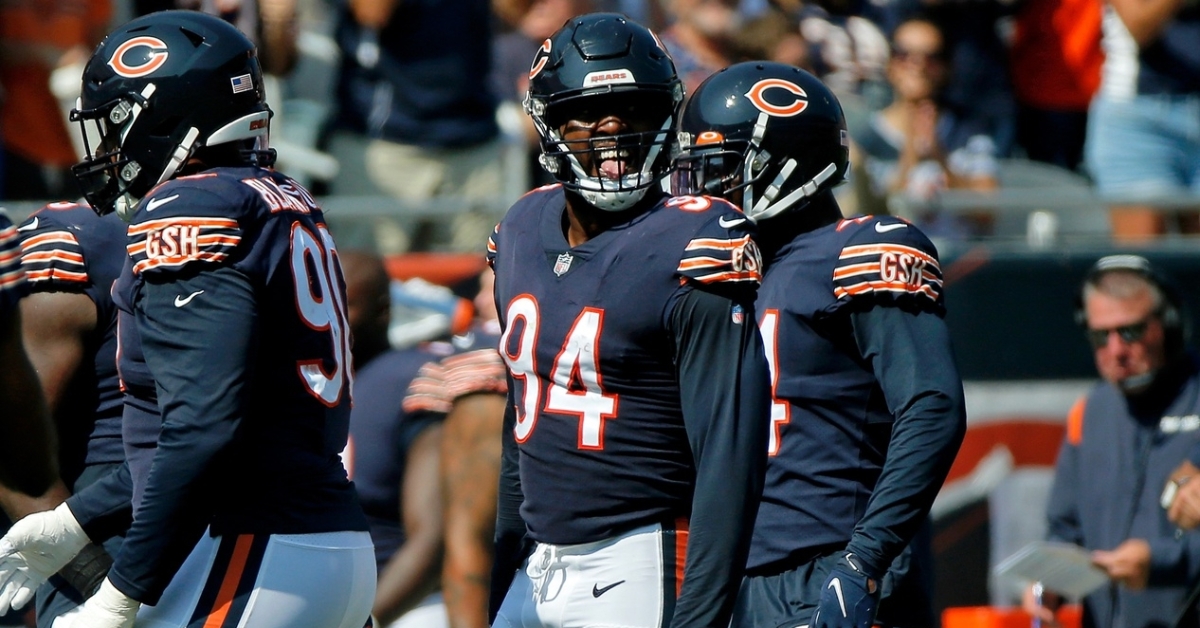 | | |
| --- | --- |
| Three former Bears to play in Super Bowl LVII | |
---
| | | |
| --- | --- | --- |
| Friday, February 10, 2023, 10:01 AM | | |
GLENDALE - While the Bears may not have had such a great season this year, they do have some former talent going to the Super Bowl. Defensive end Robert Quinn for the Philadelphia Eagles, along with free safety Deon Bush and fullback Michael Burton for the Kansas City Chiefs, are going to be playing in Super Bowl LVII this Sunday (5:30 p.m./FOX).
Robert Quinn
The biggest name among these three is Robert Quinn, who Chicago traded midseason in exchange for the Eagles' fourth round pick in the 2023 NFL Draft. Quinn is in his twelfth season in the NFL. He started with the St. Louis, now Los Angeles Rams back in 2011 and remained on the team until March 14, 2018 when he was traded to the Miami Dolphins and was then traded again following the 2018 season to the Dallas Cowboys. He was only in Dallas for one season before coming to the Bears prior to the 2020 season.
In the 2021 season, Quinn had his best season since 2013, recording 18.5 sacks breaking Richard Dent's franchise record for sacks in a season. He also went to the Pro Bowl for the first time since 2014 and was voted second-team All-Pro. The fact that he was not named a first-team All-Pro, and was not even considered for Defensive Player of the Year, seemed to lead to the conclusion that he was being snubbed, perhaps because he was on a team that had not performed so well. Back in 2013, his best NFL season where he had 19 sacks and had 23 tackles for loss, he was a first-team All-Pro and was fourth in Defensive Player of the Year voting (Luke Kuechly of the Carolina Panthers won that year). The Rams were only 7-9 that season, but that is still a little better than the Bears' record of 6-11 in 2021 in Matt Nagy's final season. Quinn was given a large contract following his performance in 2021.
But needing to begin the rebuilding process, Chicago traded him to the Eagles. It is actually possible for Quinn to come back following the end of this season, particularly because he has not started a single game since going to Philadelphia. In fact, he's only recorded two tackles in his time with the Eagles. With the Bears, Quinn started all but two games, so surely he would be open to the idea of returning to Chicago.
Deon Bush
Deon Bush was drafted by Chicago in the fourth round, No. 124 overall, back in the 2016 NFL Draft. The pick belonged to the Seattle Seahawks originally; however, they traded it to the Bears with a second round pick in that draft (No. 56 overall) for the Bears' second round pick at No. 49 overall. Bush played in 79 games for the Bears, starting a total of 12 of them. His biggest contribution to Chicago was in his final season with the team in 2021 when he had two interceptions along with five passes defended. Further, he recorded 40 tackles that season. This season is his first with Kansas City. He has not started any games, but appeared in 16 games during the regular season, the highest for him throughout his career thus far. Bush hasn't made much of an impact, though. He has only defended one pass this season and has a total of 11 tackles. Bush's contract with the Chiefs is only a one-year deal, so he will once again become an unrestricted free agent at the end of the season.
Michael Burton
Fullback Michael Burton was originally drafted by the Detroit Lions back in 2015 in the fifth round (No. 168 overall). He did not have much of an impact for the Lions, particularly because he was not a consistent presence on their roster. After two seasons, Chicago signed Burton, although he did not make much of an impact for the team. He started a total of four games for Chicago, getting a total of 23 scrimmage yards in his two seasons. He then spent part of the 2019 season with Washington before his contract expired in March of 2020. After spending one season with the Saints and getting COVID-19 in the offseason, he was signed by the Chiefs in April of 2021. He hasn't done much on the ground for the Chiefs, with a total of seven rushing yards and 11 receiving yards in the regular season. But, he did record his first rushing touchdown with the team last season.
Upgrade Your Account
Unlock premium boards and exclusive features (e.g. ad-free) by upgrading your account today.
Upgrade Now