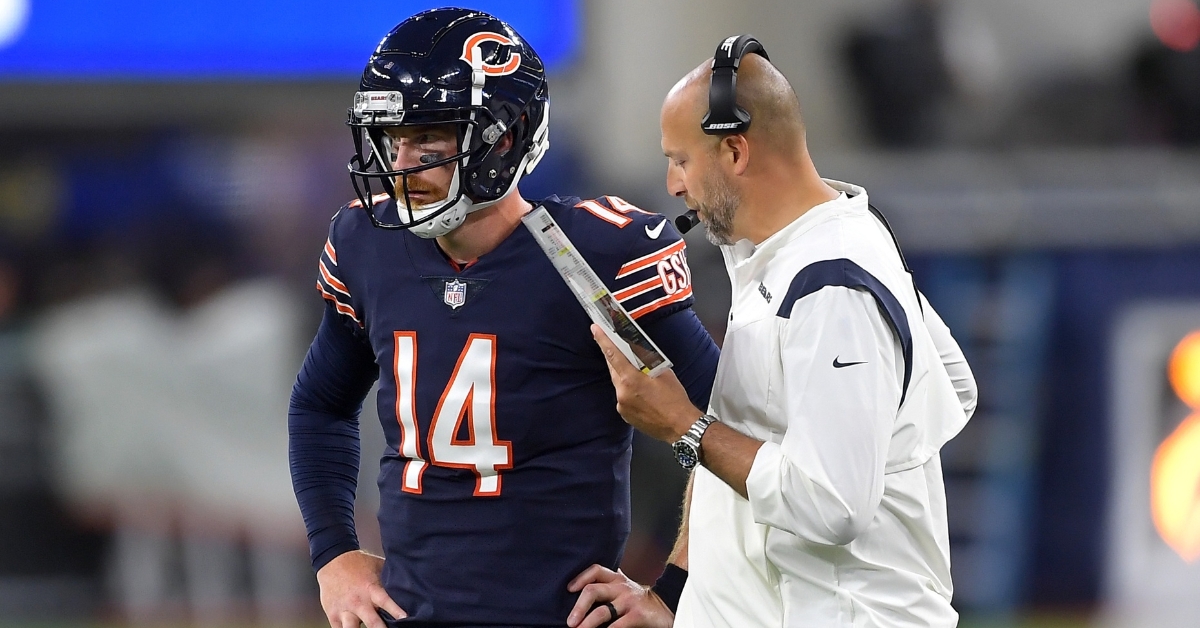 | | |
| --- | --- |
| Three observations from Bears loss to Rams | |
---
While it is exciting football is finally back, the Bears did not get off to the start that we all had hoped for. Coming into the game as 7.5 point underdogs playing on the road in the first NFL game played at Los Angeles' new SoFi stadium, there was not much hope coming from Vegas on bringing home a W. Still, even with being large underdogs, the Bears underperformed more than expected losing 34-14.
Here are my three observations from the game:
Defensive Woes
The defense was very bad. This was my biggest takeaway from the game. The Rams are a top-tier offensive team with Sean McVay calling plays and weapons everywhere, but there is no excuse for letting up as many big plays as the Bears did. Sometimes a picture really is worth 1,000 (four-letter) words:
#Bear secondary needs some work pic.twitter.com/MavrQyXUb9

— ChicagoBearsHQ (@dabearshq) September 14, 2021
The single most concerning part of the defense was Eddie Jackson's performance. After a fantastic 2018 and solid 2019 campaign, Jackson regressed in 2020. His play in the preseason this year did not impress, and last night was maybe his worst night as a pro. He seemed to be around every big play that occurred, on top of taking bad angles at ball carriers all game. He is a good enough football player to turn this around, so let's hope he can turn it around because he is a major piece to this Chicago Bears team.
The good news is that Roquan Smith, Akiem Hicks, and Khalil Mack are all forces to be reckoned with in the front 7. Eddie Goldman coming back will be a much-welcomed addition after opting out of the 2020 season and missing week 1 with an injury. Hopefully, the issues in the secondary level themselves out, and Mack is able to get home on more pass-rushing attempts to help them as much as possible.
Matt Nagy the Playcaller
Matt Nagy did not change a thing about how he called the game last night compared to 2020. The majority of throws coming close to/at the line of scrimmage and the lack of downfield chances taken looked a whole lot like the offense ran with Mitch Trubisky. Andy Dalton had yards per attempt (YPA) of only 5.4 yards. That is not going to get it done.
David Montgomery had a nice game, gaining 108 yards and a TD on only 16 carries. That is a 6.8 average per carry against the 5.4 YPA from Dalton for those keeping track at home. We know that Nagy tends to get away from the run game, but I think if the Bears are not down from the get-go, Montgomery ends up with the 20+ carries he should get. The offensive line had a solid game against a good defensive front that includes the best play in the league, Aaron Donald.
The Justin Fields package provided a TD and proved he should have been on the field much more. It was nice seeing Fields get some playing time, but it is also frustrating how he was used. Using a QB platoon method is always risky in not allowing either QB to get a rhythm. Also, we see Sean Payton use Taysom Hill in New Orleans to his strength of being a runner who is a capable passer. Justin Fields is not that and should not be used as a run-first option. Yes, Fields can run, but he is a very good passer too, and that should be utilized more if you are going to have a package for him.
Chicago Bears HC Matt Nagy is in a McDonald's ad.

(Video via @McDonalds) pic.twitter.com/53fHYdZkyf

— Daniel Greenberg (@ChiSportUpdates) September 13, 2021
The Justin Fields/Andy Dalton Dilemma
We all want to see Justin Fields run this team and be the starter. This headline has been everywhere for months now and, quite frankly, is getting exhausting to hear about. Andy Dalton did not play badly on Sunday night.
The interception in the redzone of the first drive was terrible, but Dalton played a solid game outside of it. Even with Dalton's solid play, I could not stop thinking about how Justin Fields would have made more happen and kept the game close. I do not think the Bears win this game with Fields at the helm, but I do think he keeps it closer and, at a minimum, more exciting to watch. I expect the Fields package to get bigger in week 2, hopefully with him throwing it more.
Justin Fields with his first NFL touchdown! #BearDown pic.twitter.com/YAkNzWherd

— ChicagoBearsHQ (@dabearshq) September 13, 2021
Overall, the game was really not that surprising. The Rams are a very good team who have gone all-in for a run to the Super Bowl this year by acquiring Matthew Stafford, and the Bears are in limbo, trending the other direction. I will admit it is nice seeing Stafford on a team that has a chance to win. He has earned that after 10 years in Detroit. Next week let's hope the Bears can turn it around at home against a Bengals team coming off an OT victory against the Vikings.