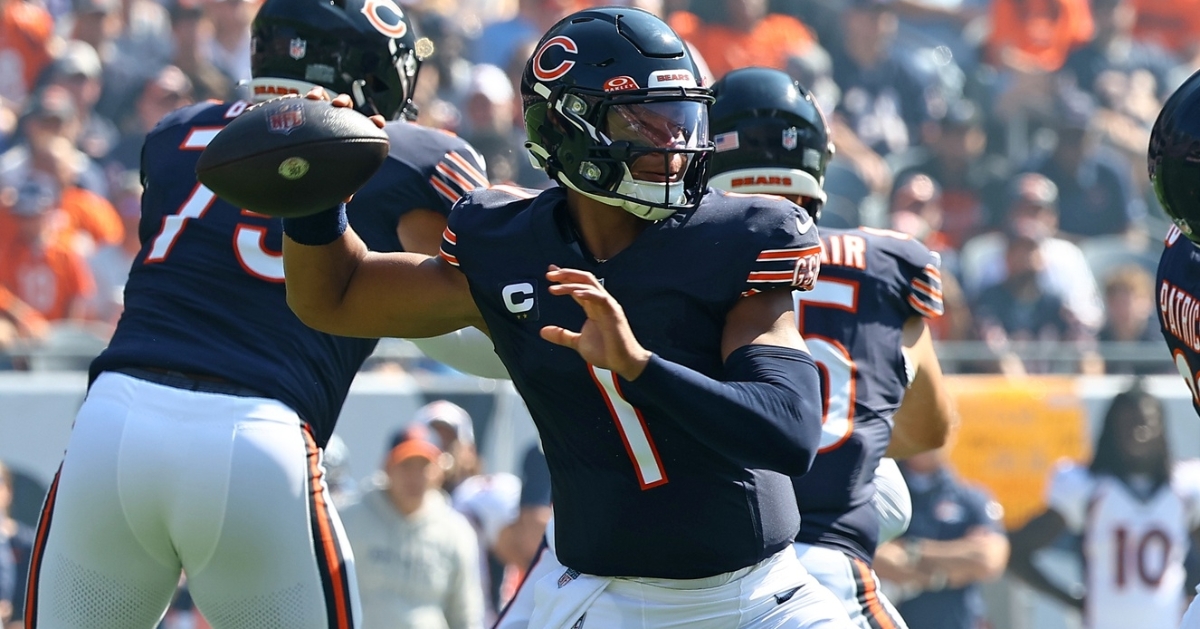 | | |
| --- | --- |
| Three Takeaways from Bears' collapse against Broncos | |
---
What else can we say about the Chicago Bears at this point? Just when it looked like they finally figured things out and put together a dominating performance, they found a new way to lose and brought a whole new meaning to futile. That comes after the team blew a 28-7 second-half lead as they blew their biggest lead in franchise history.
On top of that, the team is now 0-4 on the season, joining Carolina as the only other team without a win, and oddly enough, the Bears have their first-round pick for next year. Going back to last season, this team has lost 14 consecutive games as they are nearing one year without a victory. It would be an understatement to say times are tough, as drastic changes must be made if they want things to change.
Granted, another loss isn't what anyone expected this weekend, but there were some positives to build on if they can use that as a silver lining. The next question will be whether those positives stick long-term, as the Bears desperately need a win to gain some confidence.
Here are some takeaways from the loss:
There has been a lot of chatter in the past few weeks about whether or not the Bears should continue trying to make Fields a pocket passer or let him play freely. He has stated that he would rather play freely and not feel robotic, but he also said he trusts the coaching staff and what they want to do. Well, if Sunday indicates what he can do, Fields has what it takes to be a pocket passer, as he delivered his best showing as a pro.
Not only did Fields throw for more than 330 yards and four TDs, he completed 28-35 passes and had 16 straight completions at one point in the game. That is the type of game the Bears have been waiting for from him, and Sunday showed what the Luke Getsy offense is capable of doing. Yes, Fields continues to struggle with turnovers, as he made two costly turnovers late in the game, but this was a game the fans needed to see as Fields showed everyone what he is not only about, but what he can do if the Bears are content to leave him a pocket passer.
Time for Matt Eberflus to go
Every organization is different in how they handle their business, and the Bears tend to hang onto coaches until the season is over. If there was ever a time to break that mold and shake things up, this might be it, as the Matt Eberflus tenure is treading water right now, and many feel he should be shown the door after that performance Sunday.
Not only has he lost the last 14 games he has coached, but with a 3-18 overall record through 21 games, something isn't working. Having a lack of talent last season was an issue, but you can't say that about this season, given what Ryan Poles has done this offseason. Also, Eberflus took over the defensive playcalling duties after Alan Williams stepped away, and the defense has looked even worse.
That culminated in their blown 21-point lead on Sunday as the Eberflus-led defense couldn't do anything in the second half and let the Broncos back in to steal the game. This is coming from a guy who was seen as one of the better defensive coordinators in the game, and yet, for whatever reason, that is the part of the team that is struggling the most. Many people believe in Eberflus, but to salvage this season, it may be time to part ways with him and find someone new to lead them into the future.
Bears in line for a historic draft
Not only did the Bears have the No. 1 pick last season before trading it away to Carolina for DJ Moore, but the Bears also have the Panthers No.1 pick this season and could be in line for a historic first round of the NFL draft. As things sit right now, Chicago not only has the No. 1 overall pick but also the No. 2 overall pick, which has never happened before.
The closest thing to that was last season when the Houston Texans picked No. 2 and No. 3 and drafted CJ Stroud, who looks to be the real deal and then went after Will Anderson Jr., who has only improved each week. While the Bears may not end up with the No. 1 and No. 2 pick, it looks like a foregone conclusion that they have two picks in the top five, giving them a great chance to land impactful players.
Granted, it is still up to Poles to hit on these players, which the Bears have struggled with in recent seasons, but if you look at the latest mock draft, you may like what the Mock is showing. Currently, they have Chicago going with USC QB Caleb Williams at No.1, meaning it could be the end of the line for Fields. Immediately after, they have the Bears going after Marvin Harrison Jr. from Ohio State, as they could form a legitimate tandem for years to come.
My only argument is how sold you are on Williams over Fields. Williams may be the best prospect in the nation, but we have only seen him under Lincoln Riley and his system. Who is to say that he struggles with a new system and isn't the same guy he was under the Riley system? If that is the direction the Bears are leaning, I would make the case for the Bears to part ways with Eberflus and try to bring Riley into Chicago to draft Williams and keep him under that system.