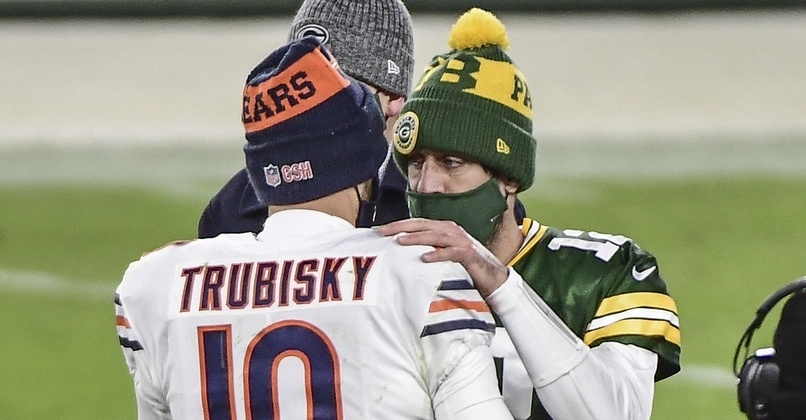 | | |
| --- | --- |
| Three Takeaways from Bears' cringeworthy loss to Packers | |
---
| | | |
| --- | --- | --- |
| Monday, November 30, 2020, 10:02 AM | | |
Well, that was certainly worth the wait, wasn't it? After getting to their bye week at what seemed to be a perfect time, Chicago was set to take on Green Bay on Sunday night with a chance to get right back into the NFC North race. Instead, we got a team that is stuck in reverse and has no way out of it.
Not only did Chicago fall behind early and often, but the defense allowed 41 points before the fourth quarter even started and had the offense trailing by 31. Add in two critical turnovers in the second quarter, and the Bears continue to frustrate everyone who is a fan. The one positive to take away from this game was the Bears scoring 25 points, but that was all in garbage time as the Packers crush the Bears 41-25.
Here are some takeaways from yet another big-time disappointment on prime time.
David Montgomery shines: For the most part, the Chicago Bears rushing attack has been nonexistent this season, but it has been terrible since Tarik Cohen has been hurt. Saddled with a concussion in his last game, David Montgomery returned to action Sunday and was one of the Bears' lone bright spots.
He was a big reason for the Bears first-half points, and he topped the century mark on the ground with 102 yards on fewer than 20 carries. That alone is one of his better performances as a pro. Both Mike Torico and Tony Dungy said it themselves yesterday that the Bears need to become a running team that can use play-action to their advantage.
That becomes next to impossible when you can't run the ball consistently. Maybe Montgomery's recent performance is a sign to come as a consistent running game should help this offense find more rhythm.
David Montgomery making a couple guys miss ?? @MontgomerDavid @ChicagoBears

?? #CHIvsGB on NBC pic.twitter.com/oxYILrR9Zo

— The Checkdown (@thecheckdown) November 30, 2020
Turnovers proved to be costly: Not only does Chicago have tough time scoring points, but giving the ball away doesn't help their cause. That is precisely what the Bears did in the second quarter as a pair of turnovers ultimately led to a 21-point swing giving the Packers complete command.
Down by 10 and driving, Mitch Trubisky was looking for Darnell Mooney in the end zone on a deep post route. Unfortunately, Trubisky should not have thrown the pass as he threw into double coverage, and Darnell Savage came down with an interception. Trubisky has been criticized for not reading a defense, and that was one of those instances.
That interception ultimately led to an Allen Lazard Touchdown reception, but things went from bad to worse on Chicago's next possession. Deep in their territory, Trubisky tried to escape pressure and put the ball on the turf. Despite a face mask that wasn't called, Preston Smith pounced on the ball and raced 27 yards for the score to make things 27-3 Green Bay.
In two drives, the Bears went from potentially being down just seven to down 24. Those are the kinds of things that cannot happen to teams who are struggling to score points. Ultimately, that is what the Bears in as Trubisky played well after that, but a reason was that the Packers had such a big lead.
Week 12 QB passer ratings

?? Deshaun Watson - 150.4
??Patrick Mahomes - 124.7

?? Mitchell Trubisky - 74.7 pic.twitter.com/4kMX8y65VV

— PFF (@PFF) November 30, 2020
What does this loss mean for the rest of the season? Not only does this loss basically all but eliminate the Bears from NFC North contention, it pushes them further down the playoff ladder. Entering Sunday, Chicago was on the outside looking in but occupied the eighth overall seed. With talks of the postseason expanding by one team, the Bears would still have a shot to get in.
This loss, added with a Minnesota Vikings and San Francisco 49ers win, has the Bears even further down the postseason list as they have fallen to the 10th seed now. Chicago needs to figure things out fast, or things will be unpleasant this offseason.
Granted, the Bears schedule does get a lot easier the rest of the way, but fans trust that any game is an easy game. Chicago flat out can't score, and it will not matter how bad teams are if the Bears can't score. This team needs a shot in the arm, and unless someone is fired as a wake-up call, I don't know where that shot will be coming from.
Chicago Bears HC Matt Nagy said that he isn't worried about his job with the team.

(Via Bears FB Live)

— Daniel Greenberg (@ChiSportUpdates) November 30, 2020
The part about last night's loss that bothers me the most is the lack of fight the Bears showed when they fell behind. This was a massive game for the division and playoff positioning and laid an egg on national TV. You would think a team fighting for their lives would have some fight in them, but that wasn't the case. This team looks defeated, and their play is an indication of just that.