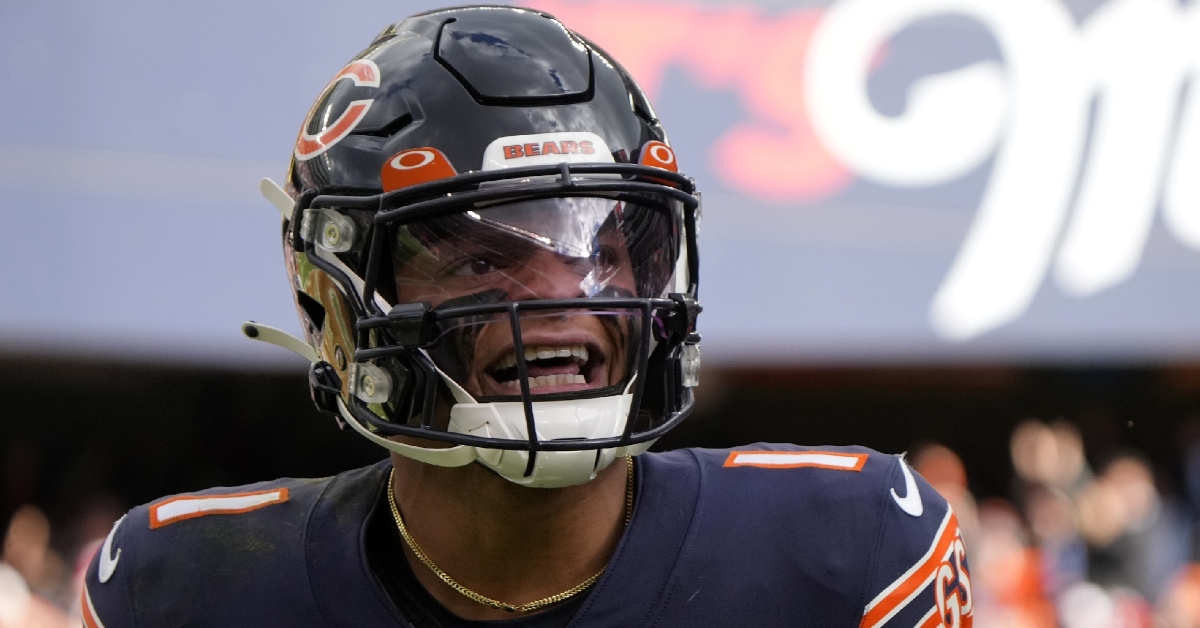 | | |
| --- | --- |
| Three Takeaways from Bears loss to 49ers | |
---
The Bears were back on the field Sunday afternoon, and once again, they faced a team they should beat. After playing a sound first half that saw the offense produce when called upon and the defense shut down the 49ers offense, it was a second-half meltdown that saw the Bears allow three second-half touchdowns before falling 33-22.
Chris Tabor filled in for Matt Nagy, who missed the game due to COVID and showed a lot in his first game as a head coach. No one is saying that this game will get him a head coaching opportunity in the near future, but he did more than enough to prove he can handle leading a team on Sunday. After struggling on offense for the better part of the last month, the offense played well this week and looked the way the fans had hoped they would with Justin Fields in at QB.
However, the defense showed struggles late, conceding 24 second-half points and countless big plays that ultimately gave the 49ers the advantage and the win. Chicago is now eight games into the season posting a 3-5 record, and they have yet to play a complete four-quarter football game. That is a considerable concern as no one knows what this team will look like should they play a full 60-minute game. The question is, can they?
Fields needs to use his legs more
When the Bears drafted Fields in the first round this season, there was immediate excitement as he gave the Bears something they have never had at QB. Sure, Mitch Trubisky had similar tools to that of Fields, but Fields is the true definition of a dual-threat QB which the Bears are unfamiliar with.
Going back to college, Fields has always displayed a big-time arm capable of making all the throws, but it was his legs that were the biggest X-Factor. When you have 4.4 speed as a QB, that becomes a nightmare for defenders as he is faster than most players on the defensive side of the ball.
In his six games and now five starts, Fields continues to show off his strong and accurate arm, but the passing game is still not where this team needs it to be. However, Fields hasn't used his legs as much as fans would like him to, and that all changed on Sunday when he rushed for 103 yards to lead the team.
Not to mention, he turned a busted play into a 22-yard touchdown showing how dangerous he can be in the open field. That play alone makes Fields a unique QB, and the Bears finally saw what he could do when they let him run. Ideally, he would be a better passer, but that will all come with more time under center.
For the time being, the Bears need to utilize Fields strengths, and one of those strengths is his legs. Look for Bill Lazor and Nagy to take note of what he did on Sunday and perhaps use more designed runs to maximize his talents.
Santos has become automatic on field goals
There hasn't been much to get excited about when it comes to the Bears this season, but Cairo Santos is one of those things. Despite missing an extra point during the second half on Sunday, Santos has been about as automatic as you can get going back to last season and continues to be one of the best kickers in the game this season.
Not only is he perfect in his field-goal attempts this year, but going back to last season and Santos has now connected on 38 consecutive field goals after earning the starting job last year due to an injury. Santos was always a solid kicker, but his accuracy was never at the level it is now.
Whatever he did, from being a free agent to arriving in Chicago, has worked, and the Bears have the best kicker they have had since Robbie Gould. Although this team needs to come away with more touchdowns as opposed to field goals, whenever Santos lines up to kick a field goal, it is getting to the point where he is automatic. Good kickers are hard to come by, and the Bears have a great one in Santos.
A long streak comes to an end
We talked about this before the game on Sunday that if History repeated itself, then the 49ers would come away with the win. That indeed was the case as these teams continued to exchange wins from one year to the next.
Unlike the previous meetings where field goals made the difference, San Francisco finally found the endzone ending what was a long streak without a touchdown. After Jimmy Garropolo ran in an early second-half touchdown to close the Bears lead to 16-15, it ended a six-year touchdown drought against Chicago. That score was the first touchdown the 49ers had scored against this Bears defense since 2015.
I don't care who you are. That stat is an impressive feat and one that is hard to fathom when you think about it. However, all good things must come to an end, and once the 49ers ended that streak, it was all downhill as they scored a touchdown on three straight drives. That proved to be the difference in the game on Sunday as the Bears continue to search for consistency on the field.