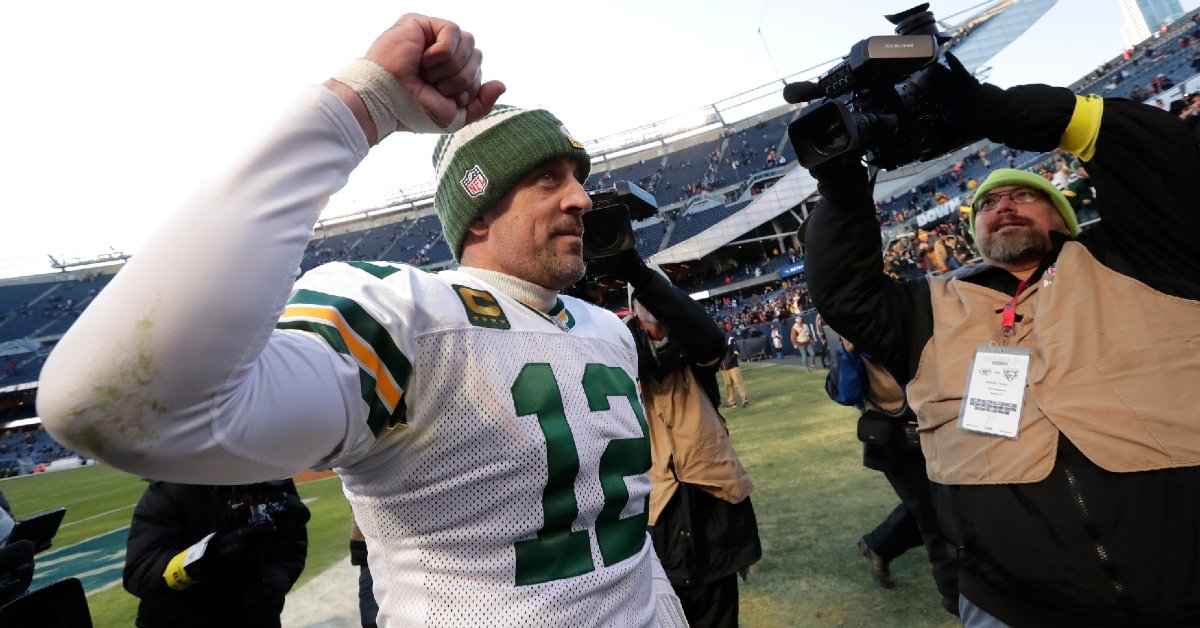 | | |
| --- | --- |
| Three Takeaways from Bears loss to Packers | |
---
| | | |
| --- | --- | --- |
| Monday, December 5, 2022, 9:32 AM | | |
Aaron Rodgers can leave the Packers any day now, as the pain he has caused for the Bears is too much. Not only is he 24-5 in his career and 11-1 in the last six years, but Rodgers brought the Packers back from the dead on Sunday to score 18 unanswered fourth-quarter points.
That was the difference in the game as the Packers trailed 19-10 entering the fourth before pulling out the 28-19 win. It was another painful ending for the Bears to endure against this Packers team despite Justin Fields showing tons of improvements in the passing game. That is not bad for someone who was not expected to play until in the week. Here are some takeaways from Sunday.
Time for Fields to build off that showing
I was a little skeptical about putting Fields out there yesterday, even if the doctors said he was good to go. He is the future of this franchise, and with the season over in terms of playoff contention, they should sit him the rest of the way.
Not only did the Bears see it differently and allow him to play, but he played exceptionally well, as he has done for the better part of two months. However, unlike his previous six games, where the rushing aspect took over, his passing took center stage. Not only did he complete 20-25 passes for a career-best completion percentage, but he had better than 250 yards through the air.
Sure, he did throw two interceptions with no touchdowns, but this was a significant step in the right direction. Now it is up to him and Luke Getsy to build off this performance.
Is it time to tank?
Tanking has long been a part of every sport, especially when rebuilding teams are looking to secure a better pick. Unlike most sports enthusiasts, I have never condoned tanking as it is a slap in the face to fans. Tanking means you are giving up and not trying, so why would fans turn out if you are not going to try and win?
However, given the Bears season's state and this team's current direction, it may be time to tank without actually tanking. What that means is simple. The Bears are 3-10, last in the NFC North, and have four games left. Three games are against Philadelphia, Buffalo, and Minnesota, while the other is against Detroit. That is a challenging schedule and one in which the Bears could lose all four games.
Looking at how many injuries this team currently has, it may be best for the Bears to start resting a lot of their starters to get a look at some of their reserve players. The ones who don't see much time on the field are the ones who are going to be fighting for a roster spot next season. Who knows, there are some diamonds in the rough, like Jake Sanborn, that could help this team going forward.
Rodgers can leave any time
As much as Bears fans hated that I OWN YOU remark that Rodgers shouted out last season, he isn't wrong. The numbers, stats, and overall success rate back that up, and the Bears physically can't do anything to stop it. Only Rodgers can stop himself from beating Chicago, and that won't happen until he is no longer playing or at least no longer a Packer.
Give the Bears and their defense a ton of credit. As bad as that side of the ball has been this season, they put together three of their more impressive quarters this season up until the fourth. Once the miscues started, it was a downward spiral for this team and one they couldn't recover from.
This has been the harsh reality that Bears fans have had to deal with for years. The good news is that Rodgers and his playing days will end sooner rather than later, so perhaps luck will go Chicago's way.