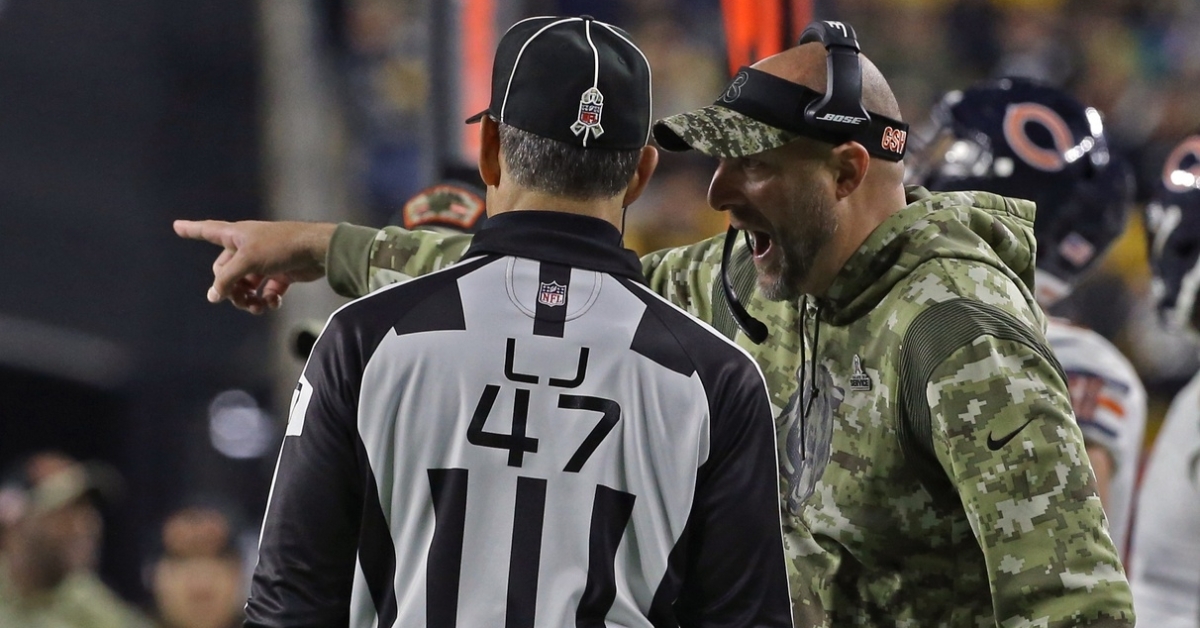 | | |
| --- | --- |
| Three Takeaways from Bears loss to Steelers and Refs | |
---
| | | |
| --- | --- | --- |
| Wednesday, November 10, 2021, 3:01 PM | | |
With every passing week, the losses are starting to pile up for the Bears. It is like a broken record at some point as the team knows what they need to do better, but continues to fail at doing those things better.
Through three-quarters of play, the Bears offense looked lifeless as they trailed the Steelers 20-6. At that point, something clicked for Justin Fields as the rookie balled out in the fourth quarter, helping to lead the Bears back to take a 27-26. Had it not been for some questionable calls, things may have turned out differently, but the bottom line is the Bears have now lost four straight games, with this one coming 29-27.
Justin Fields was impressive
As exciting as the future may be for Justin Fields, he is still a rookie and continues to go through the growing pains that you would expect. A big reason for that is the terrible offensive line that often has him running for his life and inept play-calling that tends to hold him back.
Fields started to show what he could against the 49ers in week 8, using his legs in a big way to lead the team in rushing. That was also an aspect of his game that the Bears were hoping to see, but it hasn't happened as often as they would like. While Fields is getting better at making plays with his feet, he struggles in the passing game, where he has only hit 200 yards passing once this season.
If the Bears want to take that next step offensively, they need him to pass more to keep defenses guessing. Monday was a significant step in the right direction as Fields torched the Steelers secondary for a career-high 291 yards. Yes, he had an interception, but it was off a great play by Cam Heyward. These are the types of games that give Bears fans plenty of hope for the future, and something Fields can build upon as the season continues.
.@MelKiperESPN on Justin Fields ??

"Elite talent is on display. ... Think about that division moving forward. Who may have the best QB for the next 10 or 12 years? Could be the Chicago Bears." pic.twitter.com/4R1Hi2IGMM

— ESPN (@espn) November 10, 2021
Refs can determine the outcome
I am not one to ever complain about officiating because I have never felt one call can determine a game. However, after witnessing what happened on Monday night, that tone is starting to change as officials can most certainly determine the outcome of a game.
You could see it all game long that the officiating seemed to favor the Steelers, especially late in the game. Ben Roethlisberger was hit quite a few times resulting in roughing the passer calls, but when Fields was hit similarly, and there was nothing. There is an old saying that if you are a veteran, you tend to get more calls. Cam Newton was criticized a few years ago for openly admitting that, and now it seems like it is happening to Fields.
However, no call was more blatant than the taunting penalty thrown on the Bears in the fourth quarter. To make matters worse, the official purposely stuck his hip out, forcing contact from the Bears, which could have led to an ejection in some cases. That taunting call was not only terrible, but it essentially cost the Bears the game because the Steelers were allowed to keep the ball longer, chewing more time off the clock.
Had the Bears gotten the ball back when they should have, they would have had more time during that final drive, leading to a shorter field goal try. It is time the NFL starts holding its officials accountable. Otherwise, players are not going to hesitate and will not hold back.
Refs gifted the Steelers 10 free points in a game the Bears lost by 2 ?? pic.twitter.com/37whWJJJpr

— TPS (@TotalProSports) November 9, 2021
Why kick a 65-yard field goal?
After the Steelers took the lead late after a Chris Boswell field goal, Chicago had a chance to at worst try a game-winning field goal attempt. After moving the ball through the air finding Cole Kmet twice, Chicago was faced with a tough decision as the ball sat around midfield with less than 10 seconds left.
Matt Nagy called on his kicker Cairo Santos who had an NFL-best 40-straight made field goals, to attempt a game-winning try. However, this was not an ordinary attempt. Not known for a big leg, Santos was called on to attempt a 65-yard try at a stadium where 50 yarders are hard to make. I get the thought process seeing how good Santos has been, but Nagy should have known that he doesn't have the leg to make a kick that far.
Nagy should have let Fields wind up and fire a pass towards the end zone. He has already shown his huge arm, and there is no question he could have put that ball in the endzone. Who knows what could have happened on that play. Aaron Rodgers, Kyler Murray, and Russell Wilson have had plenty of success tossing Hail Mary's to the endzone, and with guys like Jimmy Graham and Allen Robinson, a play could have been made.
Even if a catch wasn't made, there is always a chance at PI in the end Zone, which spots the ball at the one-yard line for a shorter field goal try. I am not saying the Bears convert on a Hail Mary attempt, but it would have given them a better chance to win than the kick itself. Just another one of the head-scratching decisions by Nagy.
Cairo Santos misses a 65 yard field goal and the Refs win a wild one that counts for the Steelers

Bears +7 ??
OVER 39.5 ??

Final Score: Steelers 29, Bears 27 pic.twitter.com/A7HBN5Cv7s

— BetOnline.ag (@betonline_ag) November 9, 2021