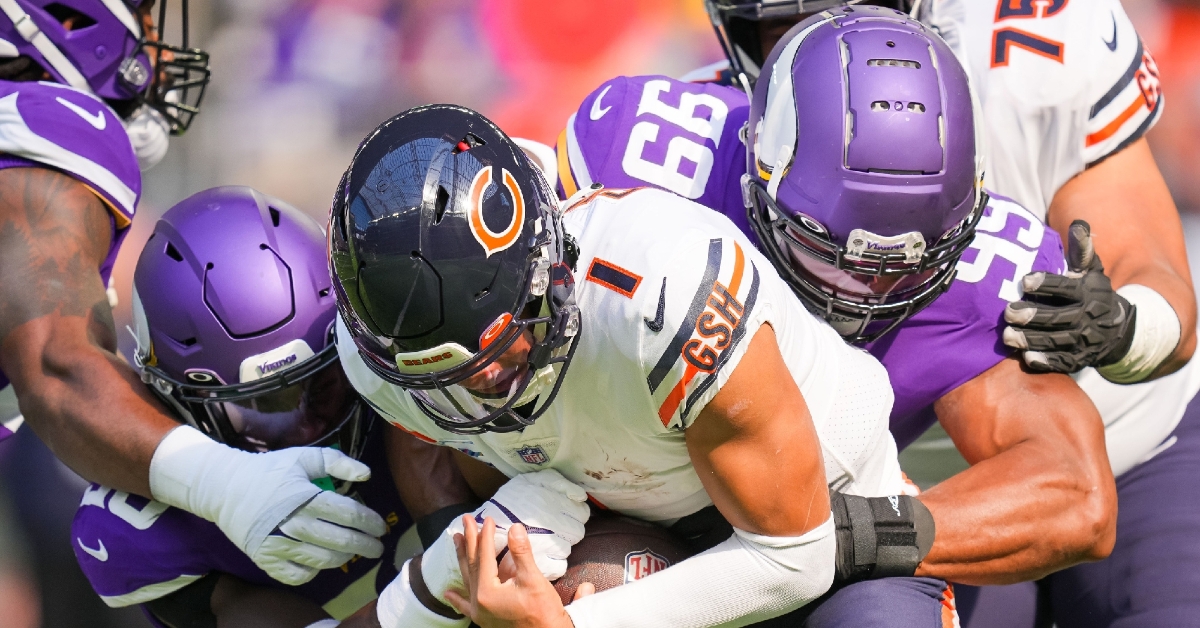 | | |
| --- | --- |
| Three Takeaways from Bears loss to Vikings | |
---
Although Week 5 saw the Bears fall to 2-3 on the season, it was nice to see them get much more aggressive on the offensive end. In return, the team scored a season-high 22 points and had the first-place Minnesota Vikings on the ropes until a late-game turnover stalled their upset bid.
That is something the Bears are going to be kicking themselves over. Still, with a short week this week and Washington coming to Chicago on Thursday, the Bears need to forget about what happened and get focused on getting back to .500. This team is in rebuild mode, so yes, the losses hurt. Still, as long as you find some silver linings in those losses, it can go a long way.
Being able to hang with Minnesota and clawing back from an early 18-point deficit has to be a vote of confidence for this team, as they found out they can play with anyone.
Here are some takeaways from the game on Sunday:
We have talked about this for a while now that Luke Getsy and the Bears need to open things up offensively. Well, they did that on Sunday, and the results were excellent, as the Bears offense looked the best it has all season.
Fields led the team in rushing with 47 yards, and he had a 52-yard touchdown run called back, or he would have had more than 90 yards on the ground. That is something he has always been capable of doing. However, his inconsistency in the passing game has held this team back, and a lot of that has to do with the playcalling.
Fields not only threw a season-high 21 passes on Sunday, but topped the 200-yard mark for the first time. He had several passing plays greater than 20 yards and showed off his arm in the first half when he hooked up with Darnell Mooney. Hopefully, this is a sign of things to continue for him, as the Bears offense looked really good.
This is a phenomenal response by #Bears quarterback Justin Fields following Sunday's loss to the #Vikings.

A great move by one of the leaders of the franchise. pic.twitter.com/AvTCd0pfWk

— Usayd (@usaydkoshul) October 10, 2022
This team will never quit
I know no one wants to hear about moral victories or anything like that, but there was something I liked about this loss. Despite being down 21-3 early in the first half, the Bears not only battled back but also took a 22-21 lead before falling late.
That tells me that this team has a ton of heart, loves playing for their coach, and will never quit, no matter the situation. Like every rebuilding team, wins may be few and far between, and that can sometimes get the best of even the most die-hard fans.
However, this is a process that the Bears know will take time for them to be in the position they want to be in the long term. The fight this team showed on Sunday will go a long way in helping them reach the point they want to be at sooner. They showed what their offense is capable of and learned they could play with one of the better teams in the league.
Next comes learning how to win those games and not fall behind by double digits. Once they do that, the results will speak for themselves, and this team will be in a much better place going forward.
Zone coverage doesn't work right now
Going back to Friday, the question came up as to who would guard Justin Jefferson when previewing this game. One of the best, if not the best, WR in the game has burst onto the scene in his first three seasons, and without Jaylon Johnson, the Bears needed to get creative on defending him.
Chicago took a different approach in this one and chose to have no one guard him as they went with a zone coverage look against him. The result was a 10 catch 122 yard first half before he finished with 12 catches (career high) for 154 yards receiving.
If there is a silver lining to take away from that, Chicago did manage to keep him out of the endzone, but their coverage strategy against him didn't work. I understand that the Bears best cover corner is out, and Jefferson is a matchup nightmare, but you have to do a better job in coverage against him than what the Bears showed.
However, that can't be done playing zone coverage, and Chicago learned the hard way early and often that if you choose not to guard him, he will carve you up. He single-handedly almost had more yards on his own than the Bears did in the first half as a team, adding 23 yards passing to his receiving line. The good news is that Chicago made some adjustments as the game continued, but it was too late, as he came away with some clutch catches in crunch time.