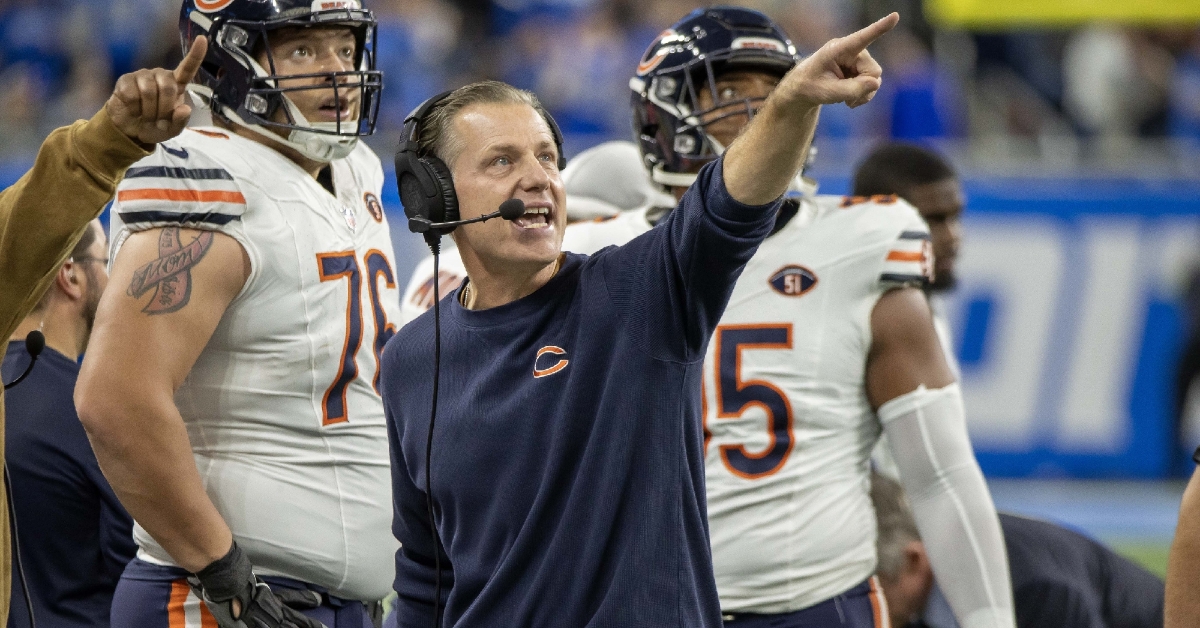 | | |
| --- | --- |
| Three Takeaways from Bears' stunning loss to Lions | |
---
When you talk about a gut punch, Sunday's loss to the Detroit Lions was the definition of just that. After playing arguably their best game of the season for 55 minutes, the Bears forgot that an NFL game is 60 minutes and didn't close things out.
Leading 26-14 with less than five minutes to go, the Bears allowed Jared Goff and the Lions to score one TD and two TDS in those final minutes to take the lead while a late-game safety sealed the fate for Chicago. That can't happen when you want to win games, and for the Bears, that loss hurts them even more because a win would have put them in the running for a potential playoff spot compared to now, they appear destined to miss once again.
Any time the Bears are mentioned in the playoff hunt, most fans will sit here and laugh about it. However, the bottom line is the Vikings, who the Bears play next Monday, are 6-5 and hold down that final wild-card spot. Behind them are the Green Bay Packers at 4-6 and a bevy of four-win teams. A win for the Bears would have given them four wins, and they would have been mixed in with all of those other teams.
Even with the loss, there was a lot to love about this game apart from the ending, and it is something the Bears can build off of heading into week 12 and then their bye week. Here are some takeaways from the game on Sunday.
You play to win the game
Whenever you have a rebuilding team, the object is to improve from one game to the next, more so than worrying about wins and losses. However, when you have a chance to win, especially against a division leader, you need to capitalize, and the Bears simply let this one get away.
Leading by 12 with less than five minutes to go and somehow losing by five is just inexcusable. Matt Eberflus and his staff have to be held accountable for that, as they have no idea how to win games when it matters. I get that when you have a lead like that, you're trying to protect it, but you need to play to win the game and not play to lose.
That is what the Bears did over their final minutes. They played less aggressively and went with a more passive approach, the playing not to lose approach. That seldom works out in any team's favor, let alone a team that needs to learn how to win right now. This is a game the coaching staff will kick themselves over, as they had a golden opportunity to put the Lions away for good.
Earlier in the season when the Bears opened the year with three straight losses, there was a quote from Justin Fields throwing the coaches under the bus. He later went back on that quote and said that he didn't mean it the way it was reported, but he still has had issues with the offensive coaches and what they want him to do as a QB.
Let's be honest here. When Fields is at his best, he is a run-first QB that makes things happen with his legs. Ideally, you want to avoid that from your QB, especially knowing the hits the body will take, but Fields knows how to play, and that is his style. Earlier this season, the Bears made it a point to not only make him a pocket passer but didn't want him running much, if at all.
Sure, the passing numbers significantly improved, but the offense looked lackluster, as Fields is the IT factor and never had an opportunity to play like that. Fresh off a dislocated finger that sidelined him for a month, Fields returned to lead the offense and got back to playing his old ways. Despite only throwing for 169 yards, he rushed for 108 yards to lead the team while the offense looked as good as ever. It's time for the coaching staff to realize that this is the Fields everyone loves, and this is how he needs to play for you to win games.
Where has this defense been all season?
I know the final score shows the Bears gave up 31 points, but 17 came in the last five minutes. Before that, you had a defense that looked like the 2018 Bears defense and had most fans wondering where that defense has been all season.
Against one of the best offenses in the NFL, the Bears not only came to play, but held their own in a big way. They forced three interceptions of Goff, with two coming from Tremaine Edmunds, and forced an additional turnover. Anytime you force four turnovers in any game, you have to like your chances, and the Bears certainly had an excellent opportunity to win.
Along with the turnovers came a defense that allowed just 14 points through 55 minutes, the lowest total for the Lions apart from their loss in Baltimore. Then came the final five minutes, which was the Bears of old, but their defense has improved drastically over the past month, and the addition of Montez Sweat could be the single most reason why.