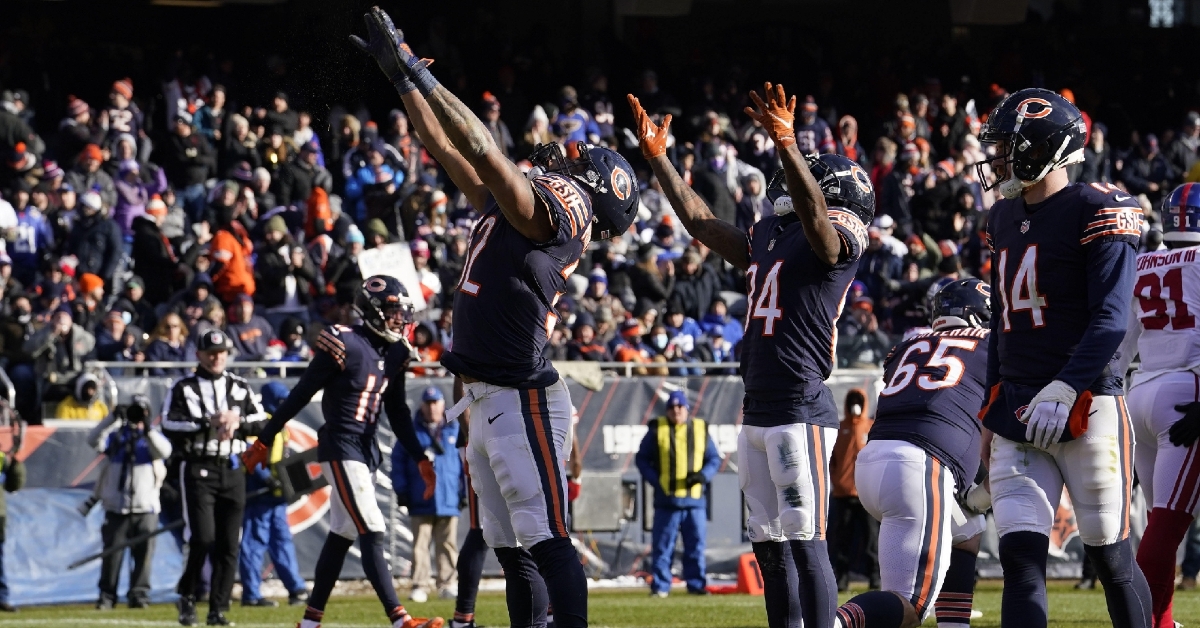 | | |
| --- | --- |
| Three Takeaways from Bears win over Giants | |
---
It took long enough for the Bears to look like a playoff-caliber team, but that is precisely what they looked like Sunday against the Giants. Granted, a 6-10 record isn't going to get fans excited, but at least this team continues to show some fight and refuses to go down quietly even with the season nearing its end.
Say what you want about this Bears team, but they have endured plenty of drama and plenty of injuries this season so credit them for sticking together. This team started the year 3-2 and has now won two straight games, so that is a 5-2 mark across seven games. However, the middle part of their schedule did them in as Chicago went 1-8, including losing seven straight at one point to eliminate themselves from playoff contention with about a month left to go.
That has been the story for Matt Nagy since he arrived in Chicago and is a big reason why the Bears may be looking for new leadership in a week. Take away his 12-4 season in his first year, and Nagy has been nothing more than a .500 coach who is now below .500 with this season. He has ripped off six three-game winning streaks during his tenure and can add a seventh should they win next week.
However, he has also had three losing streaks of at least five games, with two reaching six games or more. That is the inconsistency we are talking about and a big reason why this team is where they are. The Bears looked great against the Giants, winning 29-3, but it is the Giants, so don't get too excited. Here are some takeaways from the Bears dominating win.
Linebacker duo makes history
All eyes were on the defensive side of the ball on Sunday as a pair of Bears had a chance at history. Ironically, both those players play the linebacker position, and both accomplished their goals and made team history. I am talking about Robert Quinn and Roquan Smith.
Entering the game, Quinn needed just .5 sacks to tie the all-time team record and one sack to become the single-season sack leader. He may not have had a big game, but he did what he needed to do getting that sack to give him 18 on the season. That is the most for a single season in franchise history. With one game left, Quinn has his sights set on 20, as that would be a huge accomplishment for him.
On the other hand, Smith has been a tackle machine since coming into the league and has ranked in the top five every year. This year was no exception, as the LB was all over the field again. Entering the game Sunday, Smith needed four tackles to become the single-season leader in tackles and finished the game with six tackles to give him that mark. He will look to build on that next week and set a number that will be tough to beat.
Congrats on breaking the regular season @ChicagoBears sacks record #RobertQuinn #DaBears #NFL #NYGvsCHI #EndureSeason
pic.twitter.com/EBwzpWldGQ

— Tommie Harris (@Tommieharris90) January 2, 2022
Tashaun Gipson with a Pro-Bowl type game
Four names come to mind when you talk about the Bears and their defense. Two of those names made history yesterday, one was on the IR, and the other is finishing up one of his worst seasons as a pro. However, as impressive as Quinn and Smith were this season, Tashaun Gipson may have played one of the better games this season by any Bears defensive player.
The backup safety has seen an increased role as the season has gone on, and he has been playing alongside Eddie Jackson for a while. Not known as a playmaker, Gipson was not only a playmaker on Sunday, but played a pro-bowl type of game should he play at that level for an entire season. Not only did Gipson come away with a strip-sack on the Giants first possession, but he added a second one later in the game.
Mix that in with his interception, and Gipson was not only all over the field, but making plays as he was part of three of the Giants four turnovers. Those are the types of games you would expect from Jackson, but when you look at the season he has had, it is nice to see others step up. The Bears will take note of this game, and Gipson may have a home in Chicago for many more years because of it.
The @chicagobears defense came to play today ??

??: #NYGvsCHI on CBS
??: NFL app pic.twitter.com/YMGhgzZsc3

— NFL (@NFL) January 2, 2022
Giving the fans something to cheer about
2021 had been rough for Bears fans, but at least they rang in the new year in style. Through 15 weeks, this organization has struggled to get anything going and again underachieved with their talent on the field. With expected changes coming in the next couple of weeks, Chicago is looking to ride out the next couple of weeks with what they have and see what happens from there.
One way to send positive vibes going forward is to open the new year with a convincing win, which they did on Sunday. The Giants did next to nothing offensively and were held to under 200 yards as the Bears hit them in the mouth early and often. Considering that fans have shouted plenty of FIRE NAGY chants in recent home games, the Bears rang in the new year by at the very least giving fans the most exciting game at Soldier Field this season. That is something to build on for week 18 and then move forward toward the future.